Announcement of Judges for TECH PLAN DEMO DAY in UK 2018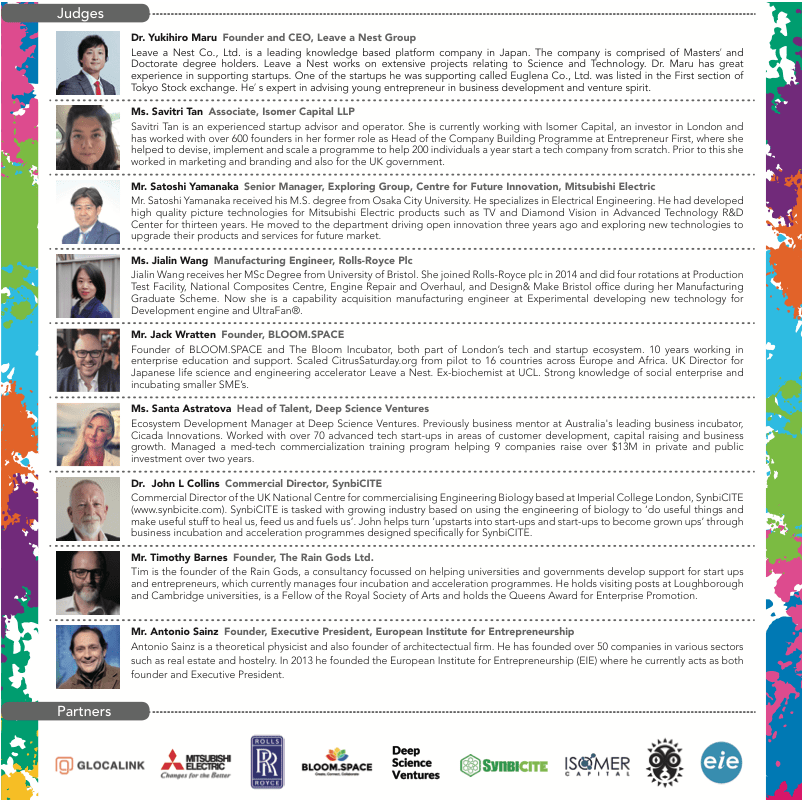 Counting the days until TECH PLAN DEMO DAY in UK 2018 on 27 Oct 2018!
TECH PLANTER in UK is an acceleration program specifically designed for deep-tech startups & pre-startup researchers who are passionate about solving issues faced by locally or globally, and business especially in the field of Biotech, robotics, agri-tech, healthcare, IoT, nanotech.
For the final round of TECH PLAN DEMO DAY in UK 2018, nine top finalists will pitch their business ideas to judges who are from Japanese corporations, UK corporations, startup accelarators and startup incubators.
We are honored to announce the judges for TECH PLAN DEMO DAY in UK 2018 as below:
Dr. Yukihiro Maru
Founder and CEO, Leave a Nest Group
Ms. Savitri Tan
Associate, Isomer Capital LLP
Mr. Satoshi Yamanaka
Senior Manager, Exploring Group, Centre for Future Innovation, Mitsubishi Electric
Ms. Jialin Wang,
Manufacturing Engineer, Rolls-Royce Plc
Mr. Jack Wratten
Founder, BLOOM.SPACE
Ms. Santa Astratova
Head of Talent, Deep Science Ventures
Dr.  John L Collins
Commercial Director, SynbiCITE
Mr. Timothy Barnes
Founder, The Rain Gods Ltd.
Mr. Antonio Sainz
Founder, Executive President, European Institute for Entrepreneurship
TECH PLAN DEMO DAY in UK 2018 details:
* Date: 27 Oct 2018 (Saturday)
* Time: 13:00hrs-19:00hrs UK Time
* Location: Living Centre, Francis Crick Institute
Ossulston Street, London, NW1 1DF
*Contents: Presentation, Judges review, Networking
* Website: https://en.techplanter.com/tpuk2018/
For any inquiries about TECH PLAN DEMO DAY in UK, please contact:
Mr. Shohei Michael Maekawa or Dr. Tsuyoshi Inoue
Email: [email protected]
Tel: +81-3-5227-4198