Leave a Nest to start new programme with TECH NATION to support UK startup enter Japan Market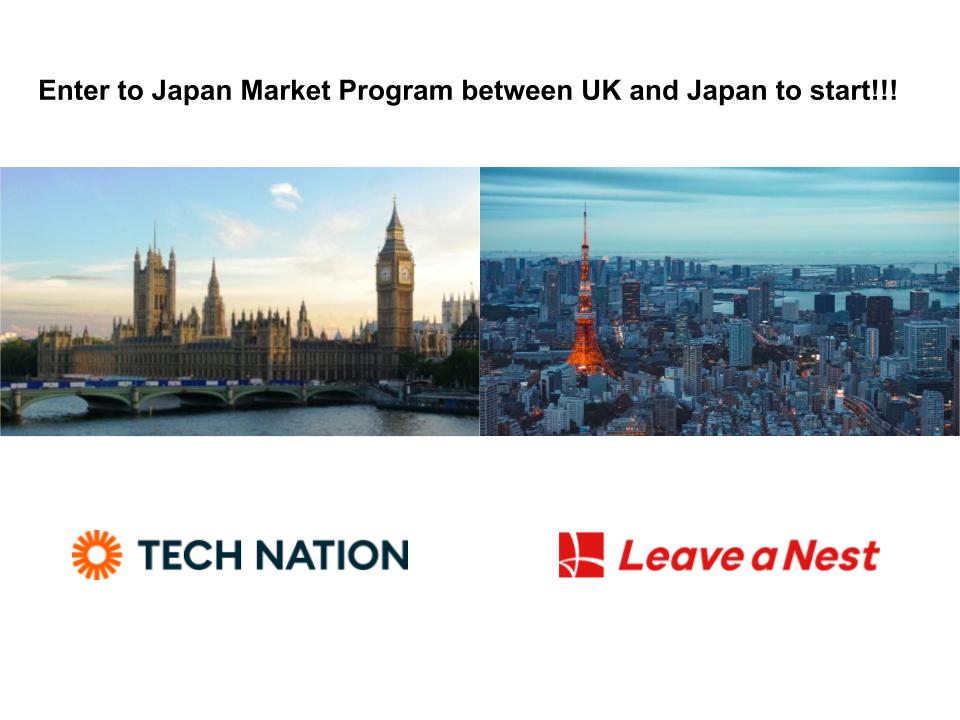 Leave a Nest United Kingdom Ltd. is happy to announce the partnership with TECH NATION to support UK startups to enter the Japan Market. This time 2 organizations will partner to conduct a "Enter to Japan Market Program" to support UK startups interested in working with Japanese companies or entering the Japan market. Through this activity Leave a Nest is envisioned to enhance further connection between Japan and the UK tech ecosystem.
Leave a Nest has established its UK subsidiary back in 2016 after the Brexit referendum. From the  mission to support UK startups and academia from the effect of Brexit, Leave a Nest have conducted multiple activities in the UK such as TECH PLANTER and L-Grant in the UK. Through these activities, we have realized that there is interest towards the Japanese market by UK startups as Japan is a place with many multinational companies and technologies but a unique ecosystem which makes it difficult for UK startups to enter by themselves. To cater towards the needs of these startups, this time in the "Enter to Japan Market Program" with TECH NATION. 5 startups will be selected in this program and each of the selected teams will receive a customized plan based on the needs of each startup.  For example, startups will be able to discuss with Leave a Nest communicator about strategies to take in Japan as well as use the network that Leave a Nest have in Japan to connect to the right players there. By having a customized programme, we will be able to contribute to increased success for collaboration. 

※Application can be made from TECH NATION system
Leave a Nest have been working on this ecosystem connection project not only between UK and Japan but also in other areas such as Singapore and Japan in collaboration with Singapore Government agency "Enterprise Singapore" (for more details please see here). Leave a Nest Group will continue to work closely with key players from the local ecosystem to connect ecosystems from different parts of the world and enhance collaboration for creation of new knowledge and hence solving deep issues around the world. 
About TECH NATION
TECH NATION is a national network for entrepreneurs and tech startups from the UK. Providing different types of growth programs for the startups, including expansion to markets outside the UK.
About TECH NATION International Program: https://technation.io/international/