Announcement of 9 Finalists for TECH PLAN DEMO DAY in SINGAPORE 2020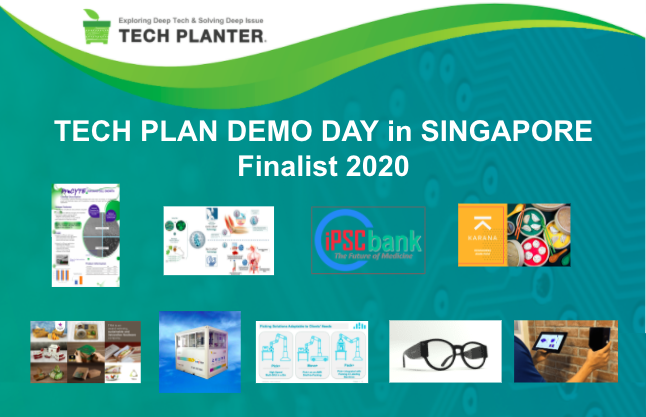 Leave A Nest is pleased to announce the finalists for TECH PLAN Demo Day in SINGAPORE 2020. We successfully received 38 applications from various fields, backgrounds and institutions. After going through the interviews and selection process, 9 finalist teams have been selected for this round.
All finalists will be presenting their technology and business ideas at TECH PLAN DEMO DAY in the SINGAPORE 2020 via online meeting platform on 22nd Aug 2020.
List of selected finalists are as shown:
1
Team name: Cellivate Technologies

Theme: Accelerating Clean Meat technologies

2
Team name: Austria Nova

Theme: Living cell encapsulation for therapy

3
Team name: CytoMed

Theme: Cell therapy products for cancer immunotherapy

4
Team name: Karana

Theme: Plant based meat alternatives

5
Team name: TRIA BIO24

Theme: Waste Management & circular economy

6
Team name: V flow Tech

Theme: Reliable storage solutions to unlock the full power of renewables

7
Team name: Hand Plus Robotics

Theme: Robotics for Unstructured Picking in Logistics and Manufacturing

8
Team name: Lucent wearables

Theme: Smart Glasses for Paramedics

9
Team name: Wave scan

Theme: Non-Contact see through imaging scanner for use in construction, oil & gas industry
All applicants of TECH PLANTER in SINGAPORE 2020 are invited to attend Demo Day event on 22 Aug 2020 as an audience. More information will be provided nearing the date.
Overview of TECH PLAN DEMO DAY in the PHILIPPINES 2020:
* Date: 22 Aug 2020 (Saturday)
* Time: 13:00hrs – 17:00hrs (SG Local Time)
* Online Platform: Microsoft Team Meet
* Contents: Presentation, Judges review
* Website: TECH PLANTER SINGAPORE
For those who are interested in joining the event as an observer, please express your interest in the link here.