Mr. Maekawa is invited as a guest speaker at "FYIstival  The Japan Edition: Power of Digital Transformation"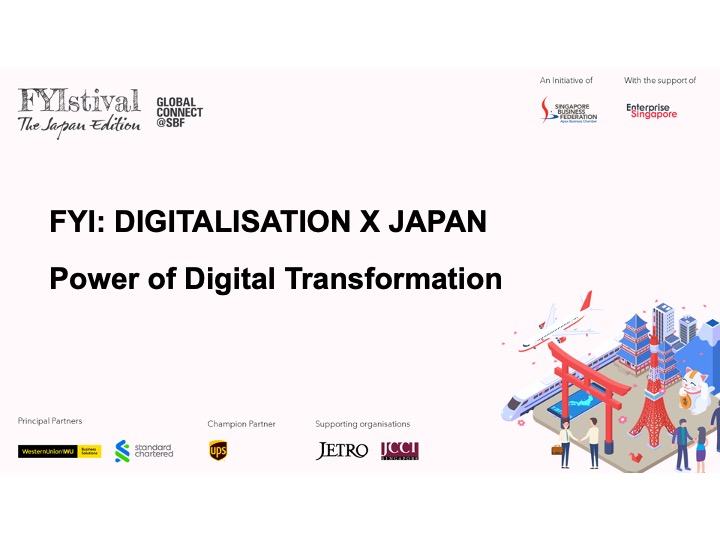 Mr. Shohei Michael Maekawa, Director of Leave a Nest Singapore Pte. Ltd.,  is invited to the event called "FYIstival  The Japan Edition: Power of Digital Transformation" on 11th May 2021, organized by Singapore Business Federations.
He is invited as one of the speakers to talk about GIA Enter to Japan Market program, which is an initiative conducted in collaboration with Enterprise Singapore and Leave a Nest to help collaboration between Singaporean and Japanese companies.
The details of the event are as follows:
Event:"FYI Japan: Power of Digital Transformation"
Date: 11th May 2021 (Tuesday)
Time: 3:00 pm – 4:30 pm (SGT)
Venue: Online via ZOOM
During the event, There will be speakers from both Government as well as members from private sectors from Singapore and Japan to give a presentation as well. The theme of this event will be focusing on digitalization after COVID-19 pandemic outbreak started and how companies in both countries have adopted digital transformation and created new opportunities from here.
Timeline of the event:
Time
Agenda
3.00pm
Welcome remarks
by Mr Lam Yi Young, CEO, Singapore Business Federation
3.05pm
Opening remarks
by Ambassador of Singapore to Japan, Mr Peter Tan
3.15pm
Opening remarks
by Ambassador from Japan to Singapore, Mr Jun Yamazaki
3.25pm
Sharing on Japan's Digitalisation Roadmap
by Mr Eiji Hisamoto, Managing Director, JETRO Singapore
3.35pm
Sharing on Global Innovation Alliance
by Mr. Shohei Michael Maekawa, Director, Leave a Nest Singapore
3.45pm
Presentation by Hashkey Group
3.55pm
Presentation by FOMO Pay
4.05pm
Presentation by Hitachi Asia
4.15pm
Presentation by Sansan Corporation (https://www.sansan.com/)
4.25pm
Closing remarks
If you are interested to join this event, please register from following link.
For more information, kindly contact: [email protected]