Announcing Great Teacher Seminar 2021: Adapting to Changes in Education Due to Pandemic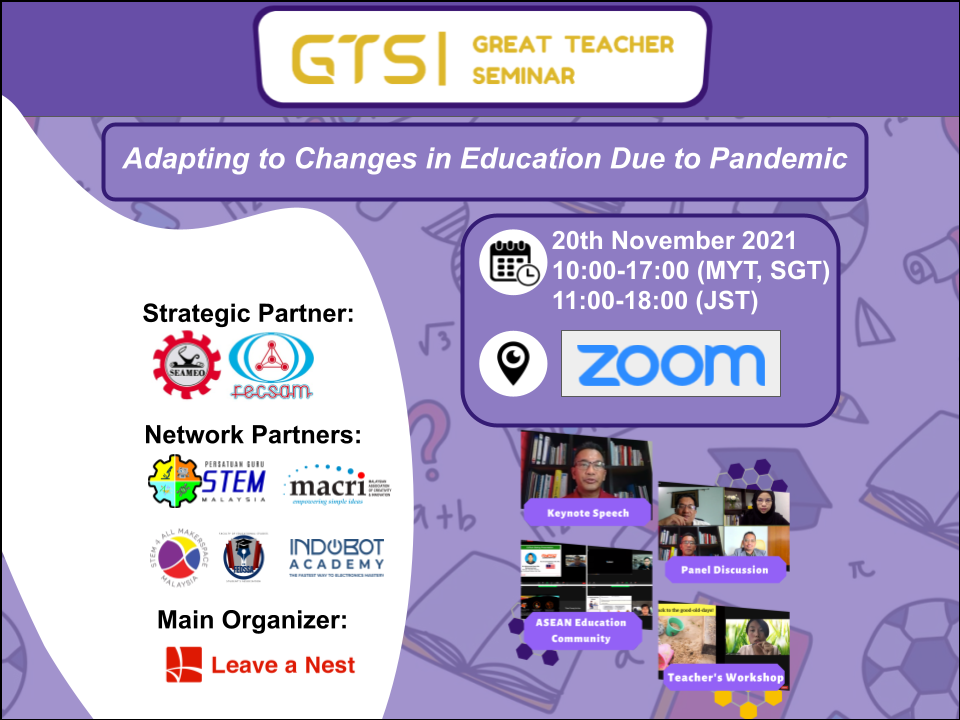 Our Great Teacher Seminar 2021 is around the corner. This is our third year organizing this Great Teacher Seminar and we welcome all teachers, parents, and educators to join this event on 20th November 2021.

Current Covid-19 pandemic brings a challenge for the Teachers and educators to change their approach on nurturing our younger generation. This year's Great Teacher Seminar 2021, we bring the theme Adapting to Changes in Education Due to Pandemic to discuss future challenges that we might face due to post pandemic and equip teachers with required skills to face those challenges.
About Great Teacher Seminar 2021

Great Teacher Seminar is a platform for teachers and parents to discover effective and innovative approaches to enhance STEM education. We invite speakers from local and international organisations to discuss and share their expertise and knowledge on ways to encourage students to be interested in STEM Education. This seminar will revolutionize and reform the way of thinking and teaching for our teachers. A new breed of young global leaders who are capable of carrying the mission of advancing science and technology for global happiness will be born.
Details of event:
Dates : 20th November 2021
Time: 1000-1700
Platform: Online Platform Using Zoom
Teachers/Parent Fees:RM50/pax

Targeted participants :
– Parents
– School teachers

REGISTER HERE! 
*Registration deadline is on 18th November 2021
More details, Please visit our Website page: https://global.lne.st/great-teacher-seminar-2021/

Highlights in Great Teacher Seminar 2021:
No. 
Activity 
Description

1

Panel Discussion

In this Session we will discuss the challenge of education during this pandemic and what will be the future challenge that teachers or educators will face.  

Panel Discussion: "What is The Future of Education Post-Pandemic"

2

Teachers/ Parent Workshop

Sharing from experts and Japan Researcher on possible approaches to spark the interest of students and guide them to explore each subject matters. This workshop will provide teachers the knowledge and know-how to improve their teaching methods and enhance the learning process for the students.

3

ASEAN Community Presentation

This session will give exposure to teachers and parents situations of other Southeast Asia countries and give exposure to teachers and parents on the available platform and services from the education community that could help in nurturing their students and children more effectively via online platforms.