Real Tech Holdings founded as a subsidiary of Leave a Nest Co., Ltd., a global fund focusing on Real Tech startups in Southeast Asia region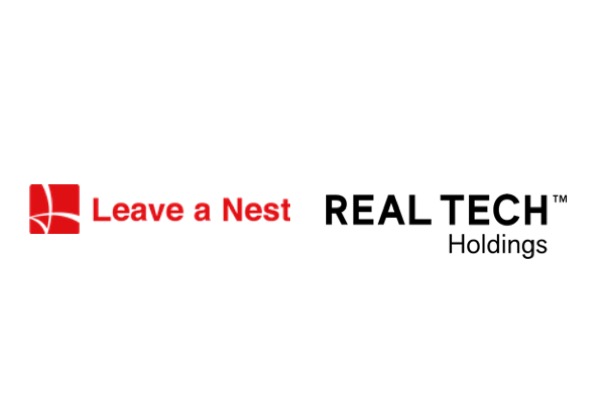 Leave a Nest has established subsidiary in ASEAN region, namely Leave a Nest Singapore in 2010, and Leave a Nest Malaysia in 2013. Through the expansion we have strengthened our collaboration with more than 40 universities across the region. Currently, in six Southeast Asian countries (Singapore, Malaysia, Indonesia, Philippines, Thailand, and Vietnam), have developed an ecosystem which discover and nurture deep tech startups. Through this TECH PLANTER ecosystem, we have more than 800 deep tech startups in our ecosystem.
With the base of deep tech startup ecosystem in Southeast Asia, a comprehensive tie-up with Focustech Ventures (Representative: Kelvin Ong, headquarters: Singapore) was created in Feb. 2018, to co-create with entrepreneurs in Singapore. November 2019 in Malaysia, collaboration in education ecosystem began with Sekolah Berasrama Penuh Integrasi Gombak, the country's top 10 boarding schools, and it was followed by collaboration with local robotics startups MyCRO. Leave a Nest did not stop there and continued to expand their ties with local partners, one of which is the globalization support for Singapore companies with Enterprise Singapore (ESG). We started a new initiative with, InnoSpace Thailand, an accelerator jointly established by the public and the private sectors. In February 2020, we signed a MOU with the University of the Philippines, UPSCALE for the discovery and development of tech startups. We will continue to focus on fostering ecosystems in both Japan and Southeast Asia by creating supporting system in ASEAN as well as in Japan.
In Japan it started earlier than in ASEAN where by April 2015,  Real Tech Fund (formally: euglena SMBC Nikko Leave a Nest Capital LLC, currently Real Tech Japan LLC) was launched. We have built a mechanism to accelerate the growth of R & D style Real Tech startups, where it is difficult to receive funding compared to IT or service business startups. From its start to the present, the Real Tech Fund has invested in 43 technology startups in Japan, and has supported more than 100 alliances with large and small companies, including Real Tech Fund member companies.
Leveraging on our experience in Southeast Asia and know-how accumulated in Japan, we will accelerate the "knowledge manufacturing" that solves deep issues (local but very important and has impact) in Southeast Asia with Japanese technology (deep tech). This is in hope to promote "knowledge manufacturing" through application of deep technologies in both Southeast Asia and Japan. Real Tech Global Fund (official name: Real Tech Global Fund No. 1 investment business limited liabilities partnership) will be launched to foster this ecosystem.
In addition to actively connecting Southeast Asian real tech startups with Japanese companies, this will result not only in assisting solving issues in Southeast Asia. This initiative will allow us to build the world's first ecosystem to revitalise whole Asia through ripple effect to bring better world by solving deep issues with "Real Tech".
Organisation Chart: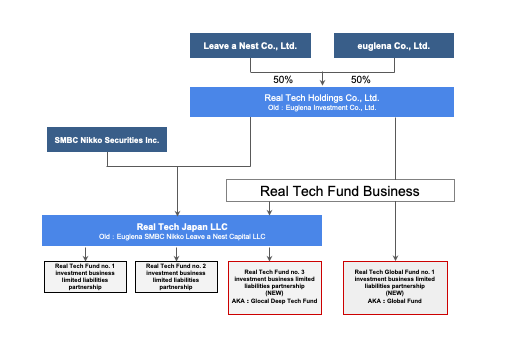 ■ About
Real Tech Holdings Co., Ltd. 
Real Tech Holdings Co., Ltd. is a joint venture between euglena Co., Ltd. and Leave a Nest Co., Ltd. We create a better future with researchers who are the creators of "Real Tech" and entrepreneurs who are committed to their social implementation. "Real Tech" is a research-and-development-type innovative technology that contributes to solving the problems of the earth and humanity. We believe that "Real Tech" is always the one that changes the world.
HP: https://www.realtech.fund/en/
(Disclaimer)
・The unlimited liability partner (general partner) of the Real Tech Fund Global Ⅰ Investment LLP (hereinafter "Partnership") is Real Tech Holdings Ltd., a Specially Permitted Businesses for Qualified Institutional Investors, etc.
 ・Unless specified otherwise, all information in this release is based on information available on the date of this release, and we will not guarantee that the information remains accurate after the date of this release. This release is based on information that we deemed as trustworthy, however, none of the information in this release has been independently verified, and we make no representations or warranties as to the accuracy, adequacy or completeness of the information contained in this release.
 Overview of the Partnership's fees:
Management fee
2.0% to 2.5% of the committed investment or investment balance for each fiscal year.
Carried Interest
Distribution rate = gain on sales of stocks / total paid-out investment amount
If distribution rate is larger than 100% and less than 200%: 20%
If distribution rate is larger than 200%: 30%
Expenses to be paid from the Partnership property
Expenses related to the establishment of the Partnership, expenses related to the acquisition and disposal of the Partnership's assets, and other expenses incurred in connection with the Partnership's business.
・There are various risks associated with investing into the LLP and these risks may result in loss of principal. There are restrictions to voluntary withdrawal and transfer of rights as a member of the LLP. Please thoroughly understand the various risks associated with this engagement and make all investment decisions at your own risk. This release does not provide any investment decision advice.
 ・All rights and responsibilities of partners in this LLP shall be in accordance with the provisions in the final partnership agreement (the "Partnership Agreement "). If any provision of the Partnership Agreement is in conflict with, or inconsistent with, this document and any of the other documents relating to the status as a partner of this LLP, the Partnership Agreement shall prevail.