Leave a Nest Malaysia Sdn. Bhd. announced MoU Signing between SBPI Gombak and My Conceptual Robotics Sdn. Bhd.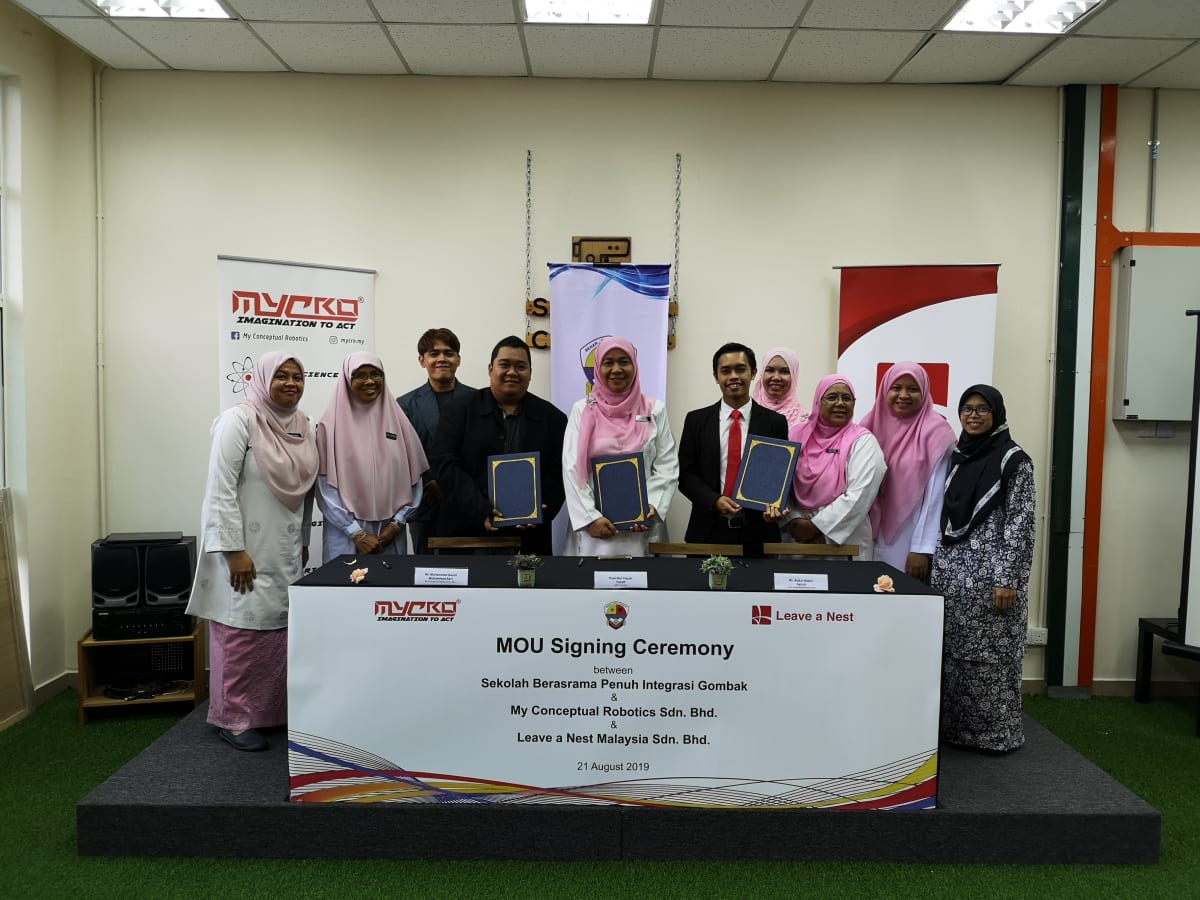 On 21 August 2019, a memorandum of understanding (MoU) was signed between Leave a Nest Malaysia Sdn. Bhd. , Sekolah Berasrama Penuh Integrasi Gombak (INTEGOMB) and My Conceptual Robotics Sdn. Bhd. (MyCRO) at Sandbox Cafe & Co, Universiti Malaya (UM). 
MyCRO Sdn. Bhd. is a Malaysian engineering research company and a manufacturer of 3D Printing machines specifically for education purposes. It was founded in July 2015 to focus on improving people's lives through meaningful innovation in the areas of education and learning, safety and security, manufacturing and automation. MyCRO is one of the alumni of TECH PLANTER, a  Real-Tech seed acceleration program organised by Leave a Nest and had been a close partner in promoting Science and Engineering education in Malaysia. Meanwhile, SBPI Gombak is one of the top ten elite boarding schools in Malaysia and has been listed as one of the 10 School of Global Excellence by Ministry of Education Malaysia. INTEGOMB had participated in many education programs under Leave a Nest Malaysia since 2017. As for the next stage, INTEGOMB would like to implement an innovative practice, knowledge of researched-based learning and 3D Printing Design knowledge to their students throughout this MoU relationship.
The objective of this MoU is  to support the school to create and execute extra-curricular programs for the development of students to become future global leaders and talents in Science and Technology field. 
Commenting on this MoU, Madam Nor Hayati Yusoff, principal of the school said " Before this, we have joined the program organised by Leave a Nest through the good relation between the teacher and the company. We would like to make the official relationship with Leave a Nest through this program so we could have a proper planning and arrangement of programs for the next year. We are so happy and grateful with the support from Leave a Nest and MyCRO". 
Mr. Muhammad Basril, STREAM Lab Director of MyCRO said " Through this MoU, we would like to support the school to become "Design School" where 3D Printing technology will be use as the main tools in learning process. Not only in engineering, but with the collaboration that we have with Leave a Nest, we want to see the implementation of the technology in life sciences projects. I think it will be really exciting."
Mr. Abdul Hakim, Managing Director of Leave a Nest Malaysia said "SBPI Gombak has showing their great participation in our program since 2017. Because of this, we think this MoU will be important in terms of exploring new projects related to Research-Based Education and Science bridge Communicator training to develop the student to become holistic student and future leaders." 
We hope by having this collaboration with these three parties ,we could  advancing the education and nurture the students' interest towards Science and Technology. We look forward to collaborating with more schools and partners to empower and educate young generations to become future global leaders!