"Euglena for ALL" workshop at UTM for students using micro-organisms collaboration with Japanese cutting-edge R&D to develop environmental technology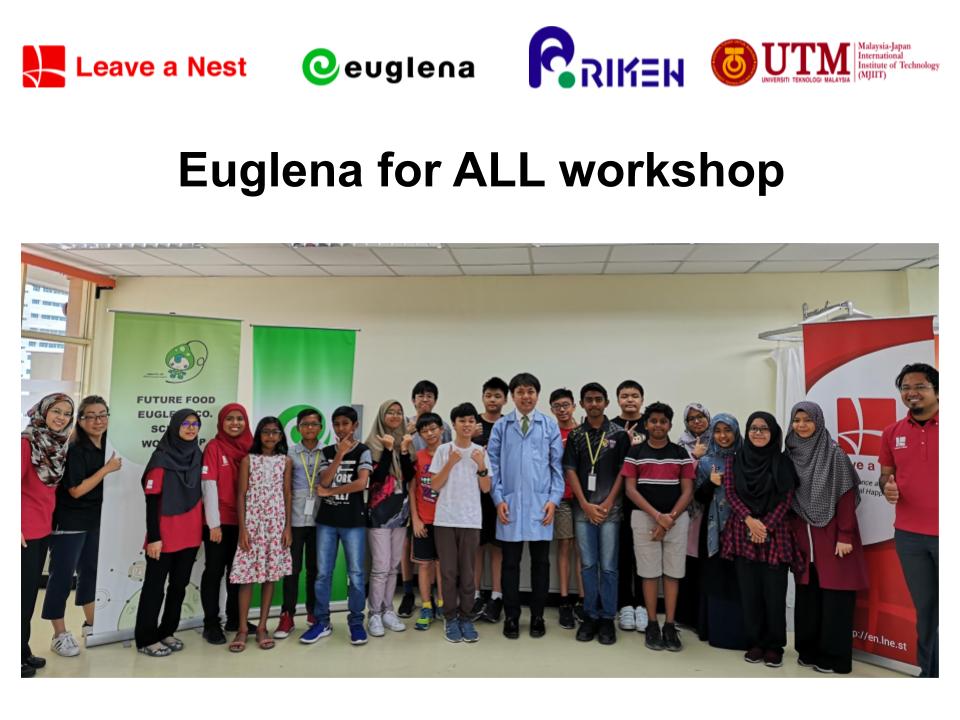 Leave a Nest Malaysia Sdn. Bhd., euglena Co., Ltd. and RIKEN conducted a workshop entitled 'Euglena for All' on Sunday, 1st December 2019. This workshop was held at Nest-Bio Venture Lab, a biotech lab established in collaboration with Malaysia-Japan International Institute of Technology (MJIIT), Universiti Teknologi Malaysia.
'Euglena for All' brought together over 25 students aged 13 to 15 years old from various schools in Selangor and Kuala Lumpur. This workshop was a part of the NEST Camp program that brought students to see the world through the eyes of a researcher. They were exposed to many examples of how science and nature can solve issues within their community or even globally. We believe that the workshop sparked the "researcher's instinct" and equipped the students with on-hand problem-solving skills that are necessary in the uncertain world of tomorrow.
At the 'Euglena for All' workshop, students were able to sharpen their researcher's senses not only visually but also through the sense of taste. Students also learnt a role model case of a researcher's journey as we invited Dr. Kengo Suzuki, Co-Founder and Head of R&D in euglena Co., Ltd. to share his experience over the past 15 years as an entrepreneur.
The main theme of the workshop was inputs and learning about Euglena, a single cell microorganism with both plant and animal characteristics. This microalga can photosynthesize, while also being able to move like an animal. Through observing microalgae from the water samples taken in Malaysia and examining the movement of Euglena found in the samples, the students were able to understand the key factors and uniqueness of Euglena as microalga.
The highlight of the workshop itself was the actual tasting of products containing Euglena  provided by euglena Co., Ltd, sensing the actual taste and health benefits. The workshop was concluded with the story of how Mr. Mitsuru Izumo, President and Co-Founder of euglena Co., Ltd., discovered the issue of hunger and malnutrition in Bangladesh when he was 18 years old. Through the discovery of Euglena, he founded euglena Co., Ltd. and developed Euglena-based food as a solution to malnutrition issues for children in Bangladesh.
euglena Co., Ltd. is a premier international partner of Nest-Bio Venture Lab. This company is also focusing on nurturing the next generation in science and technology, providing educational programs such as science workshops for future researchers from secondary and primary schools.
Through this workshop, we believe each and every student is able to discover their own passion in learning science from one small example in Euglena. We wish the curiosity drives them through their next journey when they pursue to the tertiary level education. Furthermore, we hope this workshop will create the next-generation researchers that are able to utilize science to create a better world in the future.
Other news covered for this program:
1) Majalah Sains
2) NNA Asia