Introducing Panelists for Panel Discussion in Hyper Interdisciplinary Conference in Malaysia 2019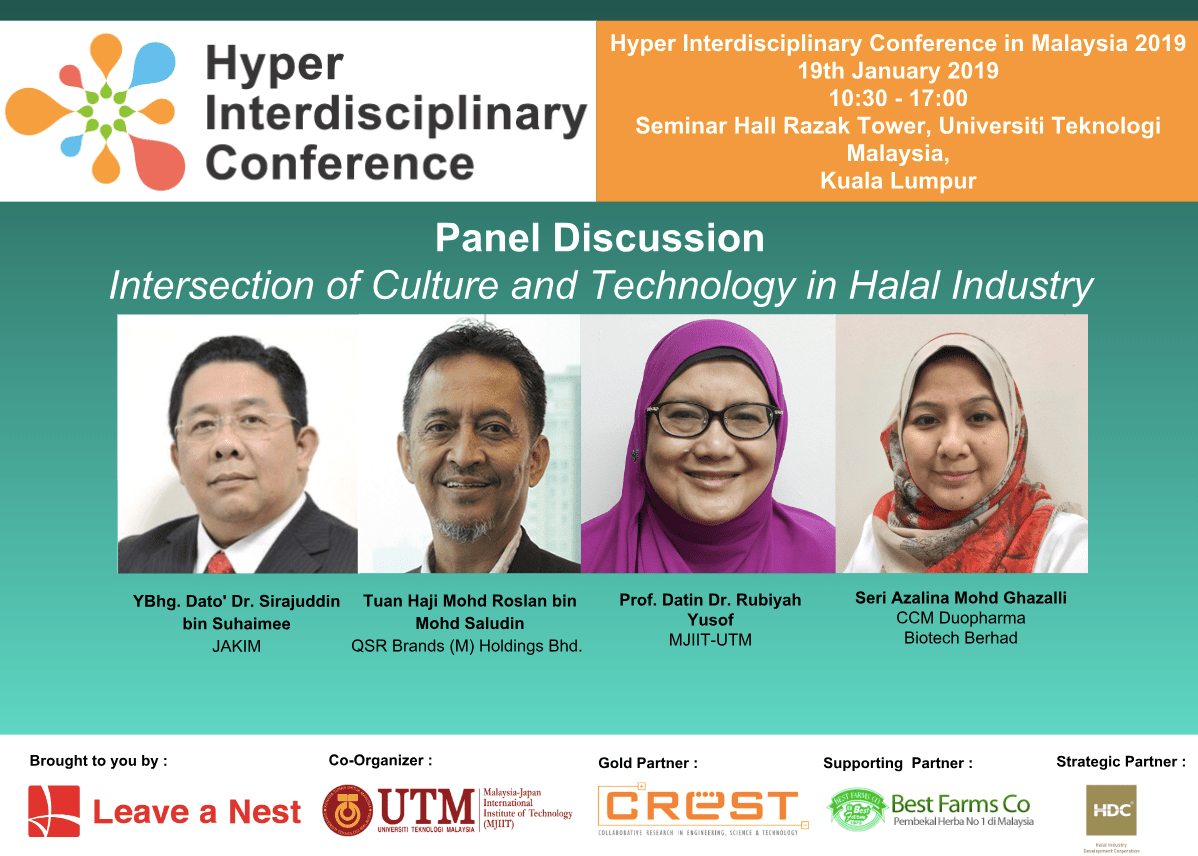 Leave a Nest Malaysia Sdn. Bhd. welcomes four panelists who will participate in Panel Discussion during Hyper Interdisciplinary Conference in Malaysia 2019.
We are proud to announce the panelists as below:
1. YBhg. Dato' Dr. Sirajuddin bin Suhaimee
Director of Malaysia Halal Council,
Department of Islamic Development of Malaysia (JAKIM)
YBhg. Dato' Dr. Sirajuddin started with the Halal Hub Division in 2006 before going to Australia in 2008 as Halal Attaché (First Secretary (Halal) at The Malaysian High Commission, Canberra, Australia for six (6) years, until March 2014. He has various experiences at domestic and international level especially in Capacity Development Program related to Halal Certification Bodies. YBhg. Dato' Dr. Sirajuddin is also actively involved in series of international halal seminars, conferences and workshops around the globe sharing the Malaysian experiences on Halal.
2. Tuan Haji Mohd Roslan Mohd Saludin
General Manager of Shariah & Halal Compliance Department,
QSR Brands (M) Holdings Bhd.
Tuan Haji Mohd Roslan Mohd Saludin is the General Manager of Shariah & Halal Compliance Department, QSR Brands (M) Holdings Bhd. He completed his Masters Degree in Informational Science at International Islamic University of Malaysia (IIUM). Throughout his 12 years-career in halal industry specializing in food chain industry and poultry integration, he works to ensure halal compliance of renowned brands such as KFC, Pizza Hut, Ayamas, and Life. With his vast experience and good reputation in halal industry, he has been invited as speaker to share his expertise at numerous conferences, seminar, and showcases in Malaysia as well at the international level. He also appears on national television to discuss the current issues with regards to halal industry.
3. Professor Datin Dr. Rubiyah Yusof
Head of iKohza, Centre for Artificial Intelligence & Robotics (CAIRO),
Malaysia Japan International Institute of Technology (MJIIT), Universiti Teknologi Malaysia (UTM)
Professor Datin Dr. Rubiyah completed her A levels in U.K and has a degree in Electrical and Electronics Engineering from Loughborough University. She received her Master degree from Cranfield Institute of Technology, U.K and Ph.D from University of Tokushima, Japan. Her research focus is in the area of  Artificial Intelligence (AI) , control systems, and machine vision. Most of the research projects are towards novel knowledge and impactful to the industries in Malaysia. More importantly, these areas of R&D can give outputs which benefit mankind through automation, reduces the pain-points of human, as well as improving the competitiveness of the industries. Professor Datin Dr. Rubiyah has received many awards and prizes, based on the research including the Outstanding Research Award from NEC Corporation, Outstanding Ph.D award from Tokushima University, Japan, Best Publication  Award from UTM, and many prizes for research and innovations locally and internationally.
4. Seri Azalina Mohd Ghazalli
Manager, Halal and Government Relations Department,
CCM Duopharma Biotech Berhad (Duopharma)
Seri Azalina is a graduate from Universiti Putra Malaysia (UPM) and has more than 10 years working experience in the area of standardisation, food safety management, and quality management. Prior to her appointment with Duopharma, she was attached with the Halal Industry Development Corporation (HDC) for 8 years. Her working experience in HDC includes managing Halal projects and programs related to awareness and promotion, capacity development, sector development and innovation. She was part of the team who initiated and facilitated the development of halal pharmaceuticals and managed HDC halal vaccines initiatives.
Join us in the discussion of Intersection of Culture and Technology in Halal Industry on 19th January 2019 at Universiti Teknologi Malaysia, Kuala Lumpur and interact live with our panelists.
Link to Hyper Interdisciplinary Conference in Malaysia 2019 full program.