Hyper Interdisciplinary Conference in Malaysia 2020:"Session 4: Bridging the Gap between Traditional & Modern Practice in Healthcare: A Possibility?"; Panelist Announcement!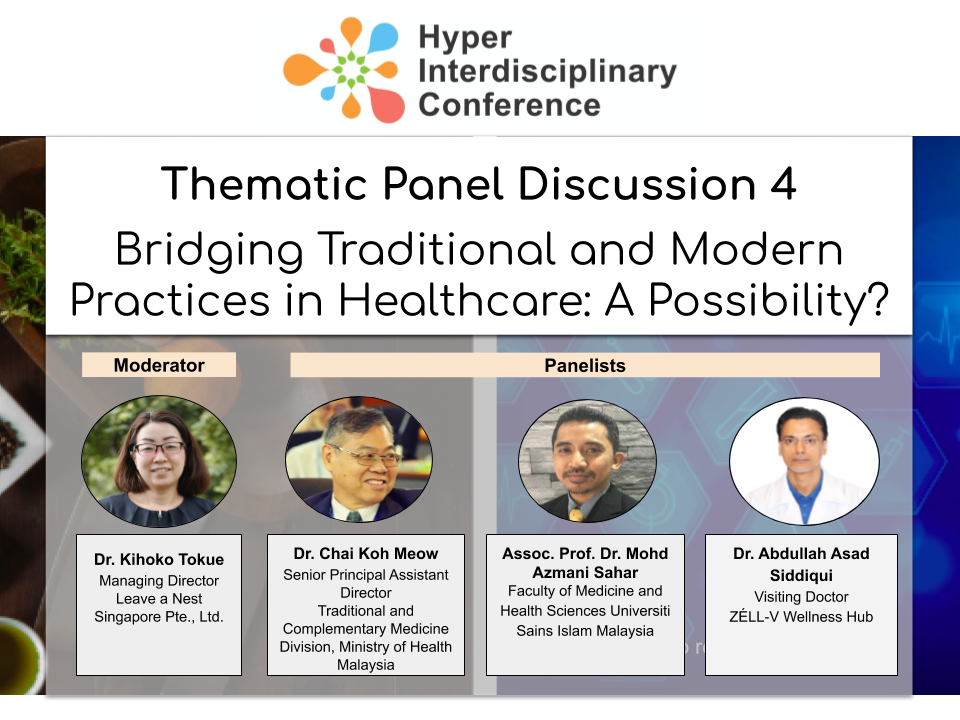 Hyper Interdisciplinary Conference in Malaysia is pleased to announce the panelist for Thematic Panel Discussion Session 4 with the title of "Bridging the Gap between Traditional & Modern Practices in Healthcare: A Possibility"
Malaysia is listed as 12th in the world according to the National Biodiversity Index as a country that is rich in natural resources. Some of these natural resources can be used as an alternative medicine which varies according to class, culture and religion. In the development of modern technology, we believe it is our responsibility to bring the traditional knowledge from being forgotten and continue to benefit the world for the health and wellness of the society.
This session will unravel some of the society's perception, trends, challenges, solutions and vision to embrace and bridge both traditional and modern practices in Malaysia's healthcare. At the end of this session, the panelist will share their vision on the possibility for traditional and modern practices to be adopted together in public and private sector.

<Panelist>
Dr. Chai Koh Meow
Senior Principal Assistant Director Traditional and Complementary Medicine Division, Ministry of Health Malaysia

Previously Dr. Chai was involved in Port & Harbour and petrochemical industry development whereby he participated in a mega-scale petrochemical industrial development project named The Jurong Island Development in Singapore. Later, he pursued TCM education in China and Western Medicine in Europe.  Finally, after 25 years of studying and working abroad, he came back to Malaysia and joined MOH and worked in a general hospital as a medical officer as well as a part-time TCM practitioner in a private clinic. He was then transferred to the headquarter of MOH and involved in the formulation of T&CM related policy and the   integration of traditional and complementary medicine into the public health care delivery system.

Assoc. Prof. Dr. Mohd Azmani Sahar
Faculty of Medicine and Health Sciences
Universiti Sains Islam Malaysia

He was formerly the Head of Department of Trauma and Emergency Medicine in Hospital Tuanku Ampuan Najihah Kuala Pilah. His work experience are among others in Hospital Raja Perempuan Zainab II Kota Bharu, Hospital Tengku Ampuan Rahimah Klang, University Malaya Medical Center and Hospital Tuanku Jaafar Seremban. After more than 10 years with Ministry of Health, he decided to be part of academics and have high motivation to teach medical scholars. Currently he is a medical lecturer in Universiti Sains Islam Malaysia and serves as an emergency physician at Ampang Hospital. To date, he actively participate in various research involving disaster management and medical devices.

Recent focus of his researches include pre-hospital care, non-communicable diseases and ruqyah shariah. 

Dr. Abdullah Asad Siddiqui
Visiting Doctor
ZÉLL-V Wellness Hub

He is a highly sought-after trainer, instructor and speaker on emergency medicine and occupational health by various hospitals and corporations. He also practices natural rejuvenation and regenerative medicine as complementary medicine alongside mainstream medical treatment for effective anti-ageing. Currently he is a visiting doctor and medical advisor to Clinic Health By Design (Integrative Medicine) at ZÉLL-V Wellness Hub and well-known speaker in Metabolic Disorder. 
<Moderator>
Dr. Kihoko Tokue
Managing Director
Leave a Nest Singapore Pte., Ltd.

Dr. Tokue is Managing Director of Leave a Nest Singapore, and Founder of Leave a Nest Malaysia. She was born in Tokyo but raised in Southeast Asia, studied bachelor degree in America and then moved to Australia for Master and PhD degree carrying out field work. Currently she is creating platform in ASEAN to nurture the next generation innovators, startups involving business development partners from industry. Her dream is to one day bring a change to a world with advancement of science and technology with true understanding and appreciation for nature.
Come and meet with the panelists exclusively at Hyper Interdisciplinary Conference in Malaysia these upcoming 18th January 2020 to unravel more about the healthcare sector!
Register now as participants of the Hyper Interdisciplinary Conference in Malaysia 2020.
Participation is FREE and lunch will be provided.
Previous news release on Hyper Interdisciplinary Conference in Malaysia 2020:
About Hyper Interdisciplinary Conference in Malaysia 2020
Our previous event in Hyper Interdisciplinary Conference in Malaysia 2019
Details for Hyper Interdisciplinary Conference in Malaysia 2020
Date: 18th January 2020
Time: 09:00 – 17:30
Location: Level 4, ZELL-V Wellness Hub, Menara Ruyi 30A, Lorong Kapar Jalan 2/87G, Off, Jalan Syed Putra, Taman Seputeh, 58000 Kuala Lumpur.
Contents: Plenary Speech, Panel Discussions, Poster and Industry Exhibition.
Timeline for Hyper Interdisciplinary Conference in Malaysia 2020
TIMELINE
ACTIVITY

0900-0930

Registration

0930-0950

Welcoming Remarks

0950-1005

Title: Policy and Overview of Traditional and Complementary Medicine in Malaysia
By : Dr. Chai Koh Meow,Senior Principal Assistant Director
Traditional and Complementary Medicine (T&CM) Division


Ministry of Health Malaysia

1005-1030

Title: Future of Healthcare
By : Dr. Hooshmand PalanyChairman, Healthcare Working Group


ASEAN-Business Advisory Council

1030-1130

Session 1: Personalized and Artificial Food from the Perspective of Halal

1130-1230

Exhibition + Poster session Core Time

1230-1400

LUNCH

1400-1500

Session 2: Healthcare 4.0: Are Malaysians Ready for It?

1500-1600

Session 3: Liberalization of Healthcare: Accessibility and Affordability for All

1600-1600

Session 4: Bridging the Gap between Traditional & Modern Practice in Healthcare: A possibility?

1600-1730

Closing Ceremony 

For enquiries:
Please contact: Dr. Nurul Syazwani, Research Development Division, Leave a Nest Malaysia Sdn. Bhd. at

[email protected]