Great Teacher Seminar 2020 : Announcing Panelists for Panel Discussion 1 " The Importance of STEM Education for Future Career"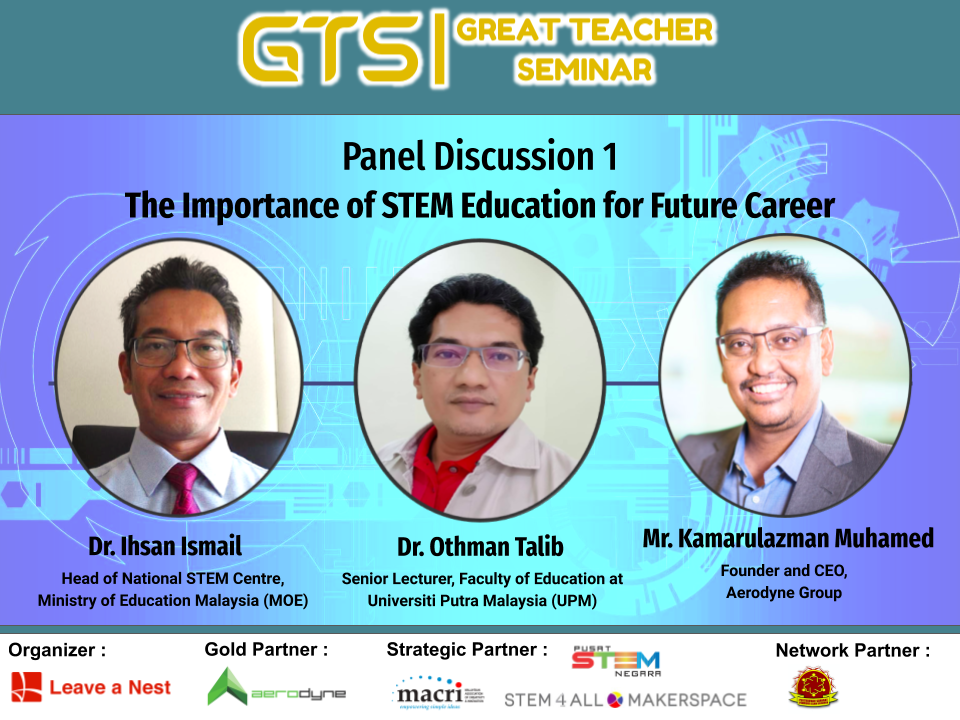 As the Great Teacher Seminar 2020 is approaching, Leave a Nest Malaysia Sdn. Bhd. is honoured to announce the panelists for Panel Discussion 1 entitled "The Importance of STEM Education for Future Career".
The number of students who prefer to further their studies on STEM education continue to decrease year after year according to the Ministry of Education (MOE), Malaysia. If this trend is to continue, it will affect our country's development as well talent supply for the industry in the future. 
Therefore, in this session, panelists will discuss the future of STEM education and the importance of preparing the right talents for future career opportunities. By the end of this session, teachers and parents should be able to understand the importance of STEM education and encourage students to choose science and technology related subjects in the future.
Here are the honourable panelists for Panel Discussion 1 " The Importance of STEM Education for Future Career":
Dr. Ihsan Ismail

Head of National STEM Centre, Ministry of Education Malaysia (MOE)

Dr Ihsan Ismail is currently the Head of National STEM Centre, Educational Planning and Research Division (EPRD), MOE Malaysia. He started his career as a teacher in 1995 at SMK Merotai Besar, Tawau, Sabah. He joined EPRD in 2001 as an Assistant Director. Among his tasks at EPRD were the Programme Manager for PISA and the Head of Evaluation Unit. He was given the task to lead the STEM Education Initiative at MOE in 2016 and eventually heading the National STEM Centre since the establishment of that Centre in 2018.

Dr. Othman Talib

Faculty of Education, Universiti Putra Malaysia (UPM)

Othman Talib is a senior lecturer at the Universiti Putra Malaysia. He received a bachelor's degree in Chemistry from Universiti Kebangsaan Malaysia and a master's degree in Pedagogy from Universiti Putra Malaysia. He received her doctoral degree in Chemistry Education at the University of Adelaide, Australia. He is interested in STEM Education, Thinking Skills and Research Methodology which are aligned with his focus area in Curriculum and Instruction.

Mr. Kamarulazman Muhamed

Founder and CEO, Aerodyne Group

Kamarul is the Founder and CEO of Aerodyne Group, a Malaysian drone solutions company that is ranked second in the world by Drone Industry Insights of Germany. He was also named by Nikkei Japan as the CEO of top 10 hottest start-up of 2019. Kamarul led Aerodyne from a 3 person start-up in 2014 to global company operating in 32 countries in less than 5 years. He is a TEDx speaker and a drone Industry thought-leader and has presented his ideas and innovation on AI, drones and Industry 4.0 around the world. He is an auditor by training and spent his formative years in the city of London before switching careers to the tech industry upon his return to Malaysia after spending 10 years in the UK. An avid traveller, he has been to more than 100 countries, both for business and pleasure.
Great Teacher Seminar (GTS) 2020 is an online event which will be held on 21st November 2020. It aims at navigating educators and parents to enhance STEM education so they can nurture future global leaders. 
Join us in making STEM education great again!
REGISTER HERE NOW!
*Registration deadline is on 19th November 2020 
Details of Great Teacher Seminar 2020:
Theme: Let's Make STEM Education Great Again
Dates : 21st November 2020
Time: 10:00-17:30
Platform: Online Platform Using Zoom
Participation Fees:
RM20 
Check out our previous news release on Great Teacher Seminar 2020:
Announcing Aerodyne Group as Gold Partner in Great Teacher Seminar 2020
For more information, please contact Nur Ahmad Zaim, Education Development Division, Leave a Nest Malaysia Sdn. Bhd at [email protected]