Hyper-Interdisciplinary Conference in Malaysia 2021 : Announcing panelists for ROHTO's Sponsored TeaCHAT Session: "How Collaborative Lab Contributes to ASEAN Health"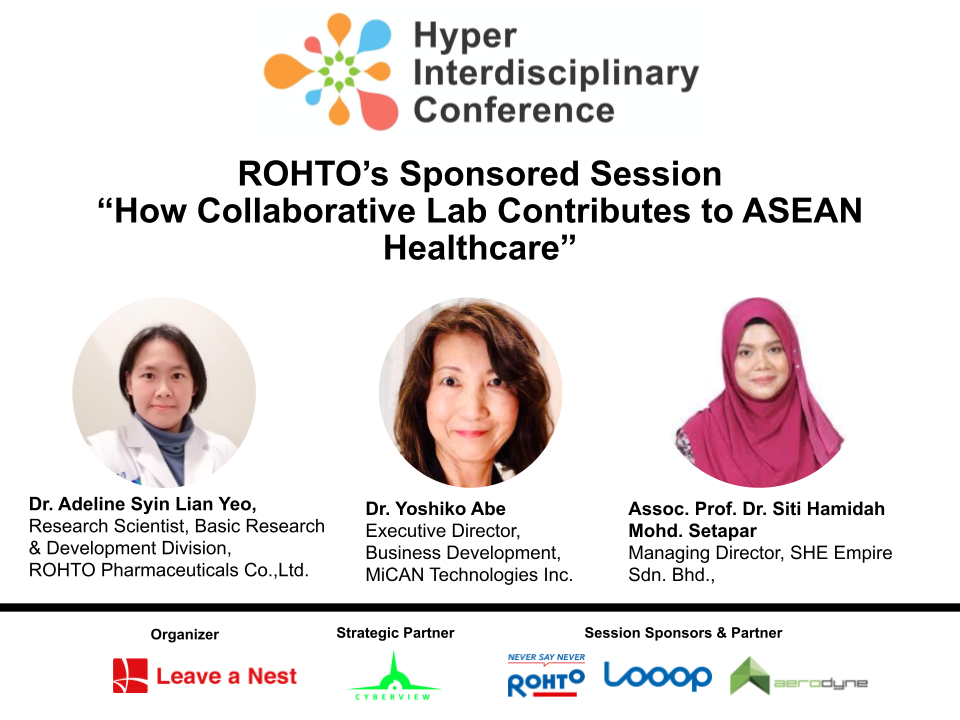 Only 4 days lefts until the event day of Hyper- Interdisciplinary Conference in Malaysia 2021.
Leave a Nest is proud to announce the honourable panelists for ROHTO's Sponsored TeaCHAT Session: "How Collaborative Lab Contribute To ASEAN's Healthcare"
Overview of discussion:
Healthcare was the main highlighted Issues in 2020 where Covid-19 struck almost all countries in the world including Southeast Asian countries . 2021 will be the year of recovery from the pandemic and also to revive back the economic. Through this session, we will discuss how each parties from researchers, startups, corporations in Healthcare sectors can work collaboratively in doing R&D to find the best solutions for healthcare issues in ASEAN through a Collaborative Lab.
Panelists information:
Panelist 1:Dr. Adeline Syin Lian Yeo,
Research Scientist, Basic Research & Development Division, ROHTO Pharmaceuticals Co.,Ltd.

Malaysian citizen who obtained PhD in Nara Institute of Science & Technology and was directly recruited to join Rohto, a multinational corporation and one of the top pharmaceutical company in Japan with renowned consumer products.  Specialized in the field of Microbial Molecular Genetics (PhD) and Immunology (M. Med. Sc). Possess experience in projects related to pharmacological control and drug development. With the support from Rohto, pursuing various business domain and making connections for the betterment of health care and well-being

Dr. Yoshiko Abe
Executive Director, Business Development,
MiCAN Technologies Inc.

MiCAN's mission is "To contribute to the health of people throughout the world through provision of special blood cells produced using regenerative medicine technology". Our homogeneous and high precision human blood cell-products for the evaluation of efficacy and safety of drugs and functional materials. I work for business development division to make a big valuable health of people via MiCAN's cells.

Assoc. Prof. Dr. Siti Hamidah Mohd. Setapar
Managing Director, SHE Empire Sdn. Bhd.

A founder of Naturel Kiss, a leading innovative based cosmetic brand in Malaysia. Naturel Kiss has commercialized several cosmetic products, empowered by sustainable Malaysian local plant sources and efficacy advanced by nanotechnological approach. Dr. Siti is currently engaging with Malaysian small medium enterprises (SMEs) wellness companies to help them assessed with high quality cosmetic formulation in order to emerge Malaysia with high value and effective products. Dr. Siti expertise in chemical engineering focusing on the fields of plant extraction, micellar nanotechnology and wellness product development which give strong impact towards many entities in innovation stages and reach wider societal segments.
If you are interested to listen to the discussion as an audience, kindly register to participate in the event through this LINK or go to our official website: https://hiconf.lne.st/conference/malaysia2021  for further information.
Looking forward to meet you during the event.
Other session details:
KEYNOTES
SESSION 1(RENEWABLE ENERGY)
SESSION 2
SESSION 3 (DRONE)
See you!