Hyper-Interdisciplinary Conference in Malaysia 2021 Concluded. Thank You For Joining us!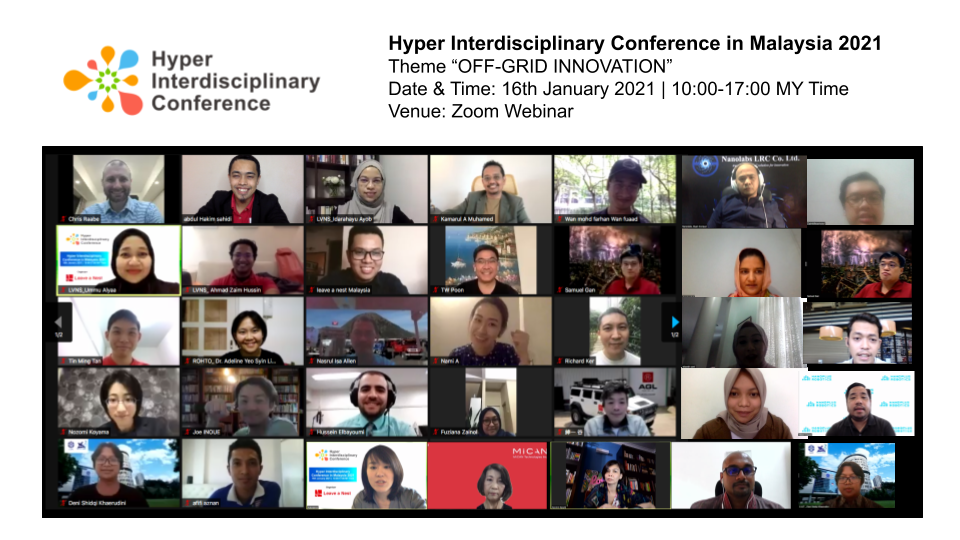 On 16th January 2021, Leave a Nest Malaysia conducted the Hyper-Interdisciplinary Conference in Malaysia 2021. Due to covid-19 situation, the event was organised online via Zoom Webinar. There were about 150 participants in total attending the conference on the day. 
In case you missed the event, here are some recaps of what happened during the conference.
Keynote Presentations: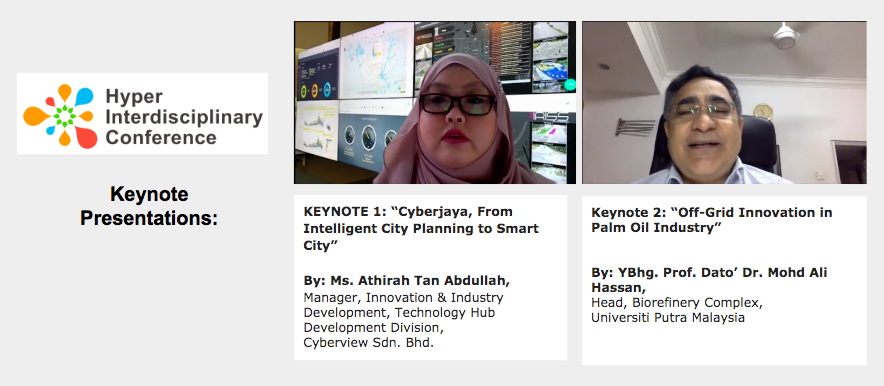 During the first keynote presentation,  Ms. Athirah shared the valuable experience of Cyberview Sdn. Bhd. as the manager of Cyberjaya in developing the area to become the cybercity and smart city of Malaysia while during the second keynote presentation by Prof. Dato' Dr. Mohd Ali Hassan, he shared the overview of how Innovation in Palm Oil contributes to the bioeconomy and empowering the life of the people in rural areas where most of the palm oil plantations are located. 
TECH SPLASH Session: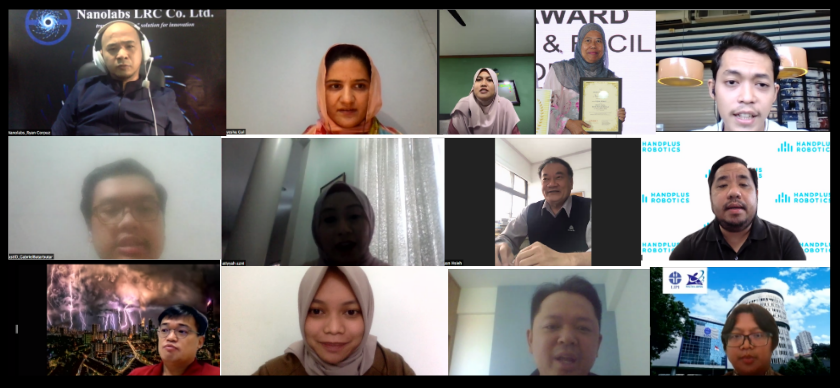 This year, we have 14 researchers teams and startups coming from different countries presented in the TECH SPLASH Session. All teams were given 4 minutes only to share about their technologies and research. see list of presenters here
Looop Sponsored Session: "Future Proof Green Energy in Malaysia"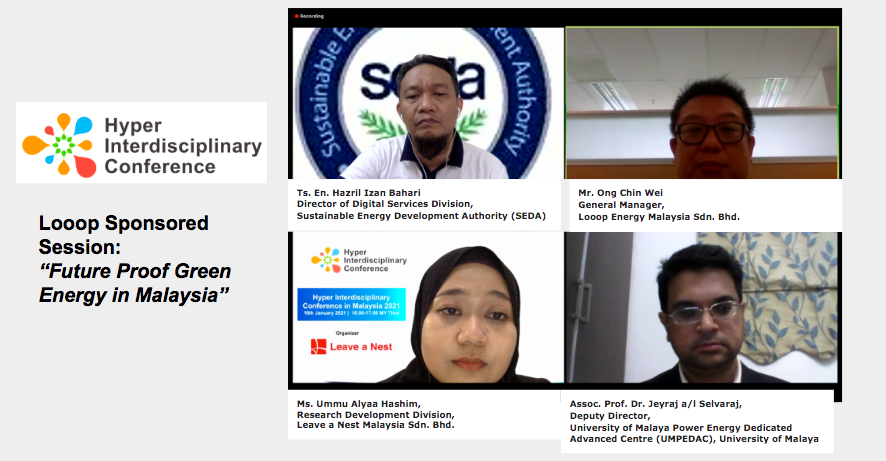 Summary: From the discussion, we were able to understand the overview of Green Energy in Malaysia in term of direction from the government, policy, stakeholders as well as innovations that are being developed to advancing the energy sectors in Malaysia. It was agreed among the panelists that Solar Energy is currently the most adopted and efficient green energy generation in Malaysia. 
Waste Management Session: "Circular Waste Management Towards Sustainable Community"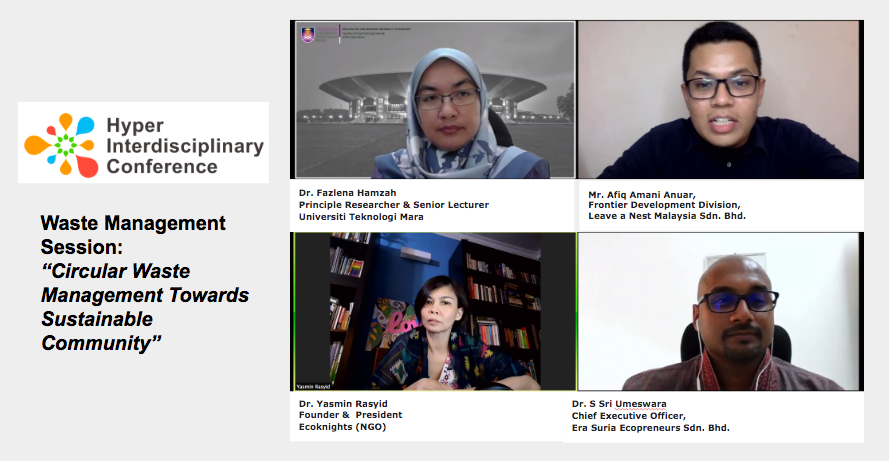 Summary: This exciting session discussed on how each of the players from Industry, governments, researchers and NGOs contribute in preserving our environment through Circular Waste Management. All panelists agreed that the waste management responsibilities is not only for the government but also industry need to adopt smart waste management in handling their waste. 
ROHTO Sponsored TeaCHAT Session: " How Collaborative Lab Contributes to ASEAN Healthcare"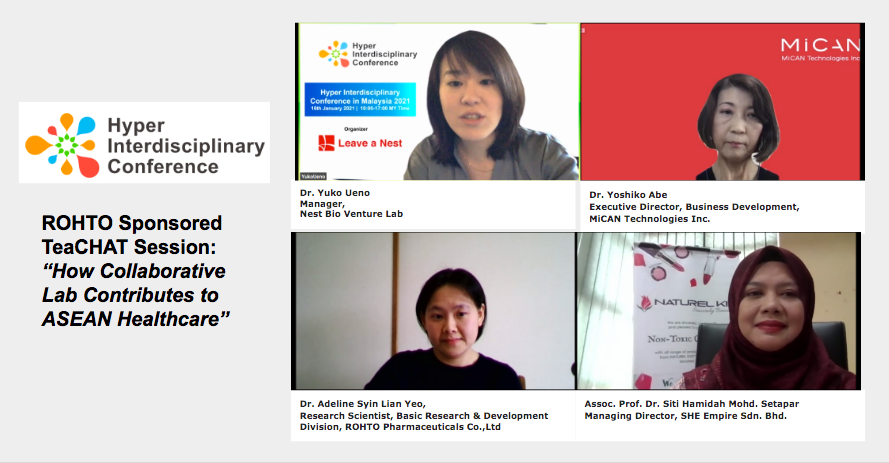 Summary: This special session discussed the potential of creating collaborative efforts between big corporations, startups and researchers through a sharing Lab in developing lab-based solutions for ASEAN Healthcare. In this session, ROHTO shared their vision of working together with startups and researchers in ASEAN to create new products and services that can benefit the ASEAN community. 
Aerodyne Special Session: "Drone Economy and Its Impact to Society"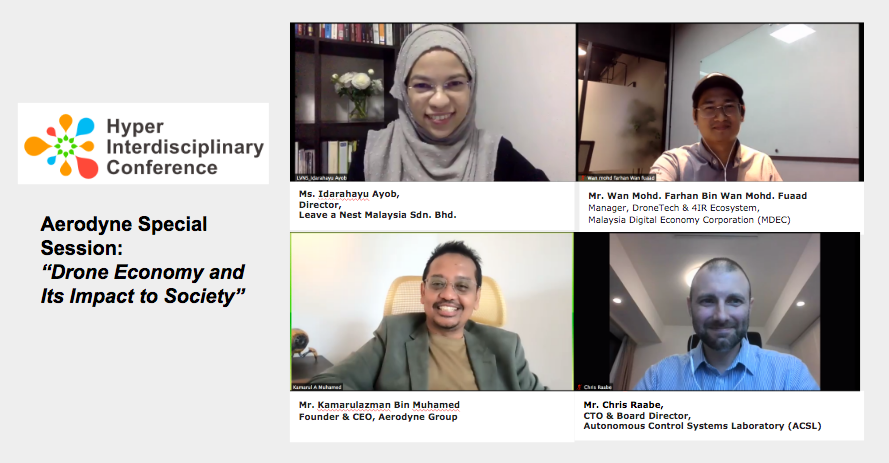 Summary: This last session of HICMY2021 discussed the future of the Drone economy and what are the possible impacts to society. Aerodyne as the 2nd largest Drone Services Provider shared their experience in developing solutions through Drone platforms in solving issues around the world while ACSL, the first drone company that listed in Tokyo Stock Exchange shared their core technologies in enabling autonomous drone applications in future. Last but not least, Mr.Farhan from Malaysia Digital Economy Corporation (MDEC) shared how the government of Malaysia is currently prioritizing the Drone Industry in making Malaysia as the hub for Drone development in ASEAN. 
We would like to thank to our strong sponsors and partners as below for making this event possible:
Strategic Partner: Cyberview Sdn. Bhd.
Session Sponsors & Partners:
ROHTO Pharmaceuticals Co., Ltd.
Looop Energy Malaysia Sdn. Bhd.
Aerodyne Group

Next Hyper-Interdisciplinary Conference will be held in Singapore and Japan as follows: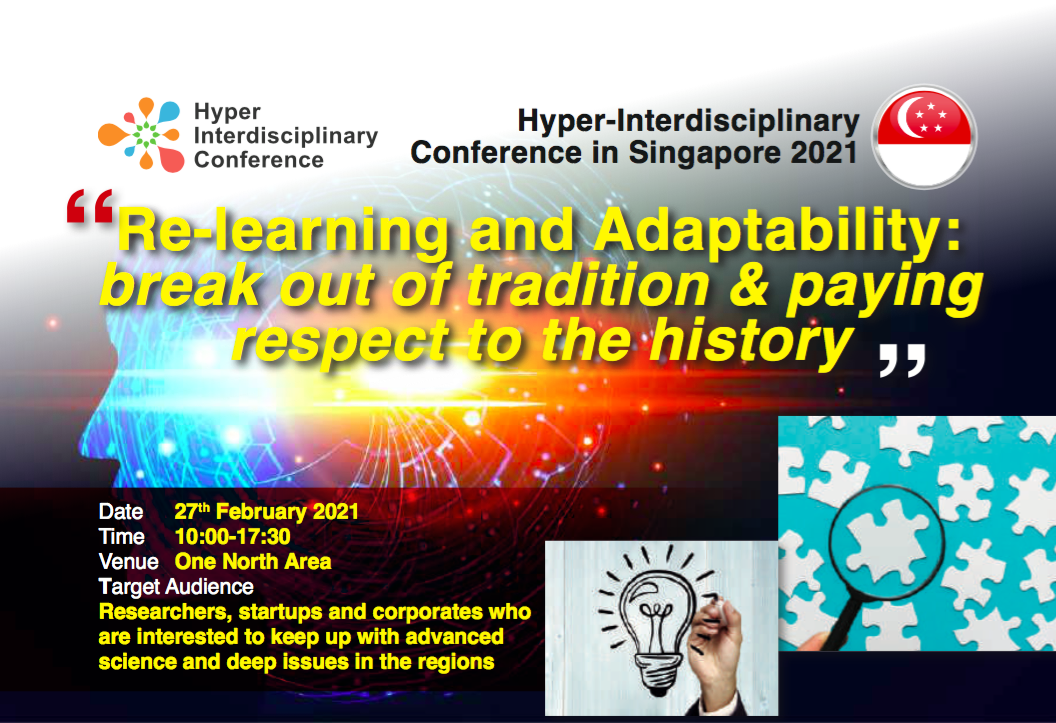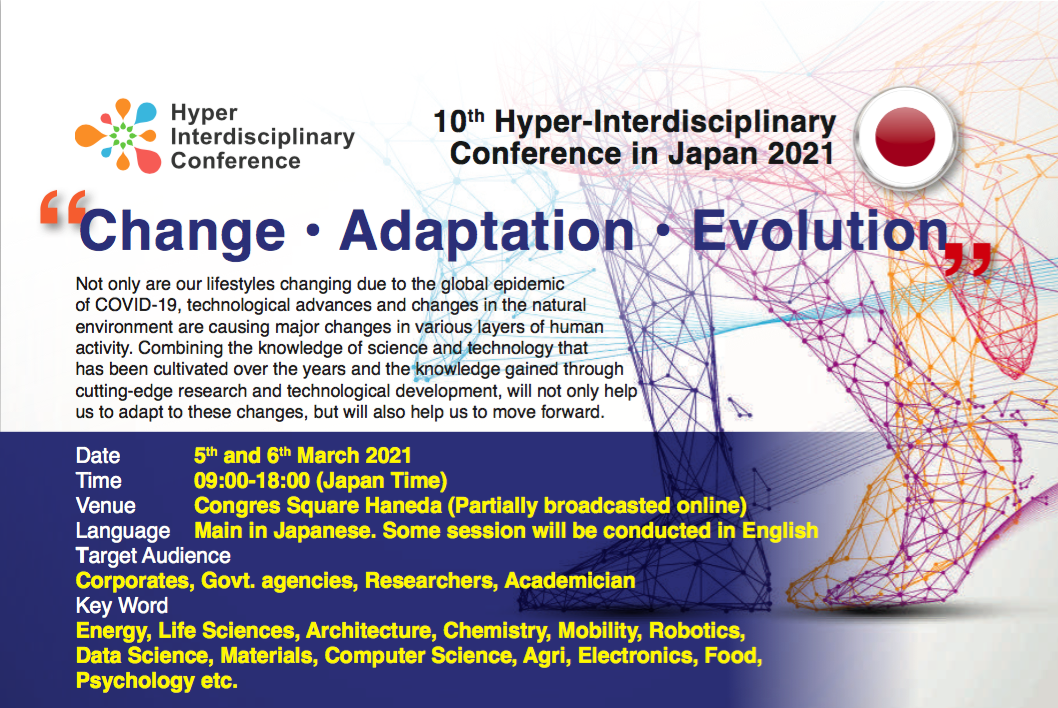 Please find more details of each programs at our official website: https://hiconf.lne.st/ 
Hope to see you in the next program!
Let's keep "Advancing Science and Technology for Global Happiness"
Saa Kenkyudaa!