Hyper Interdisciplinary Conference in Malaysia 2021 : Announcing TECH SPLASH Presentation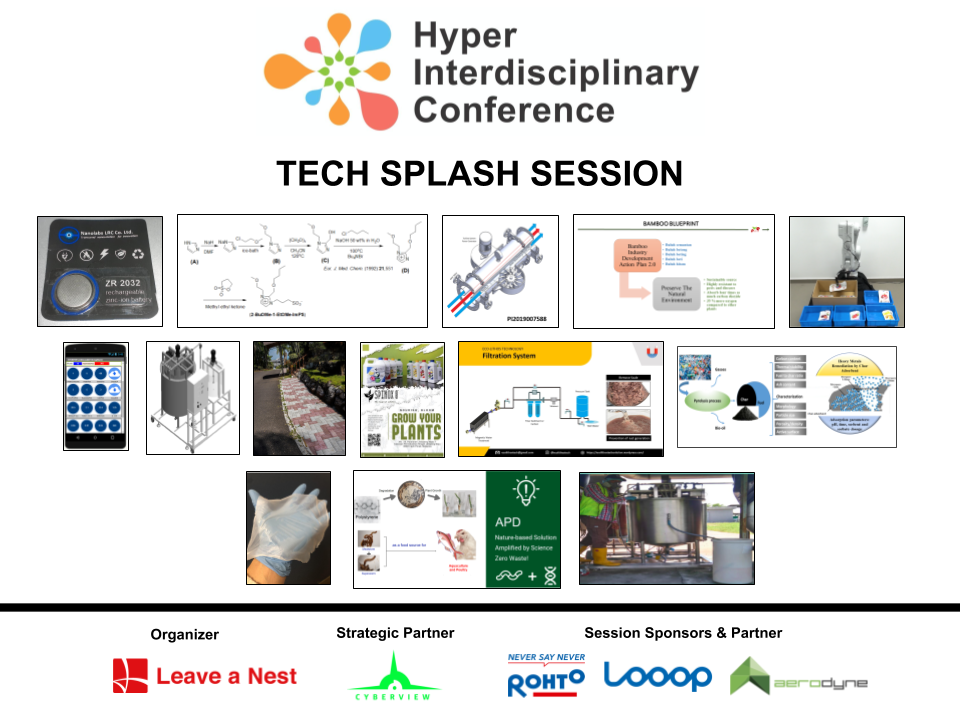 Hyper Interdisciplinary Conference in Malaysia 2021 (HIC MY 2021) will be held this upcoming Saturday, 16th January 2021.
This year's Hyper Interdisciplinary Conference in Malaysia 2021, our theme is "Off-Grid Innovation". From this conference, we would like to bring out the discussion and presentation on how we can create a smart city and smart nation by starting with the foundation of a smart nation which is enhancing people's lives in the community to become a smart community.
Here, we are excited to  share with you the list of presenters of TECH SPLASH Session comprising various researchers and startups from different countries that will present their technologies and solutions for the community and industry.
No
Team Name
Project Title
CATEGORY
1
Nanolabs
Rechargeable Zinc Ion battery
Energy
2
Biomass Lab
A novel zwitterionic compound with multi-functional groups as a lithium-ion battery electrolyte additive.
Energy
3
Super Butterfly
An In-Pipe Hydropower Generator
Energy
4
Pakar B2E
Wealth Creation through Bamboo Renewable Power and Biochar
Energy
5
Hand Plus Robotics
Unstructured Robotic Picking for Logistics and Manufacturing
Smart City
6
Gintel Tech
AIoT Aquaculture Water Quick Monitoring Tracking and Non-toxic Total Solutions
Smart City
7
Shark T&T
Integrated Suspended Growth Biological Reactor
Environment
8
Tech Prom Lab
PoreBlock, porous concrete block made from waste
Environment
9
Spin Eight NanoTechnologies Sdn. Bhd.
The Magical Solution of SPINOX 8
Environment
10
Eco-Lithos Tech

(E-LIT)

Sustainable Technology for Wastewater

Treatment: An innovative way to removing

heavy metal from industrial wastewater

Environment
11
Ayesha Gul
Dianhydride-EDTA Based Surface

Functionalization of Activated Carbon from

Waste Plastic as Multi-functional Adsorbent

for Wastewater Treatment Application

Environment
12
Toren Biogas
Toren Biogas (Turn waste into energy)
Environment
13
APD SKEG
Zero-waste Circular Economy Plastic Worm

Agriculture

Waste
14
EcoplastID
Bioplastics from cassava peel waste and oil

palm empty bunches

Waste

Hyper Interdisciplinary Conference in Malaysia 2021 would like to invite you to join our conference and let's create our Smart Community together. Please register HERE
Please help to share with your friends about this event and look forward to meet you during the Hyper Interdisciplinary Conference in Malaysia 2021.
Previous release:
Keynotes
Energy Session
Waste Management Session
Drone Session
Healthcare Session