TECH VENTURE MEETUP MALAYSIA 2022 : Meet Up with Leading Real-Tech Startups in Malaysia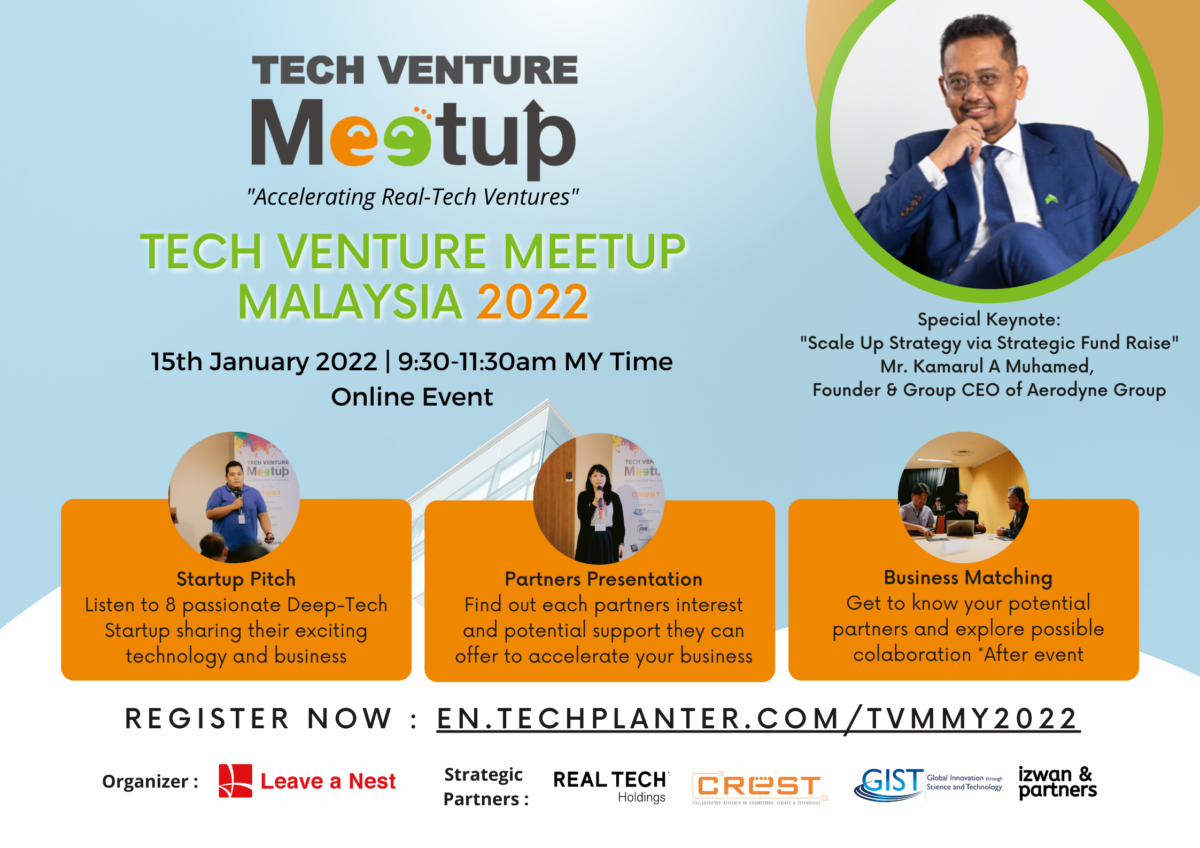 Leave a Nest Malaysia Sdn. Bhd. is proud to bring you the TECH VENTURE MEETUP MALAYSIA 2022 !
Since 2015, Leave a Nest has been running TECH PLANTER in Malaysia with more than 200 teams involved in the platform. Our support is not just limited to TECH PLAN Demo Day  as we believe continuous engagement is needed to ensure the teams can proceed to the next stage and implemented their technology to solve deep issues in society.
Therefore, TECH VENTURE MEETUP is the next step for incorporated teams who would like to  get some investments and collaborators to expand their business further.
In this program, we bring together large corporates and venture capitalists to meet TECH PLANTER Alumni startups from Malaysia.
TECH VENTURE MEETUP will be comprised of several sessions including a Special Keynote Speech from our notable startup , pitching session from eight exciting startups and also presentation from our partners on their potential supports for startups.
For venture capitalists and corporates, this occasion will be a perfect platform for you to meet passionate startups with exciting emerging technologies to create a new potential business or integrating businesses from MNCs.
Overview of the event:
・Date: 15th January 2022
・Time: 09:30-11:30 MY Time
・Method: Fully Online
・Fee : Free for Startups & Researchers
: 100 MYR/person (For Industry/VC and etc)
Timeline of the day:
TIME
AGENDA
9:00 – 9:30
Registration
9:30 – 9:35
Opening Remarks
9:35-10:05
Startup Pitch: 4 teams
10:05 – 10:20
Special Keynote: "Scale Up Strategy via Strategic Fund Raise"
by Mr. Kamarul A. Muhamed, Founder & Group CEO, Aerodyne Group
10:20 – 10:50
Partners Presentation
10:55 – 11:25
Startup Pitch: 4 teams
11:25 – 11:30
Closing Remarks
About startup Pitch Session
This year's TECH VENTURE MEETUP Malaysia will bring together eight startups, mainly from the Seeds to Series A stage with technologies from Deep-Tech, Bio-Tech, Agri-Tech and Med-Tech area.
Pitching Teams
For registration of the event please visit Event's Webpage
For enquiry:
Leave a Nest Malaysia Sdn. Bhd. (PIC: Hakim) E-mail: [email protected]
Or Whatsapp to +601405163685
Looking forward to meet you during the day!