Leave a Nest Malaysia and Universiti Sains Malaysia Forge Collaborative Endeavor for Advancement in Science and Technology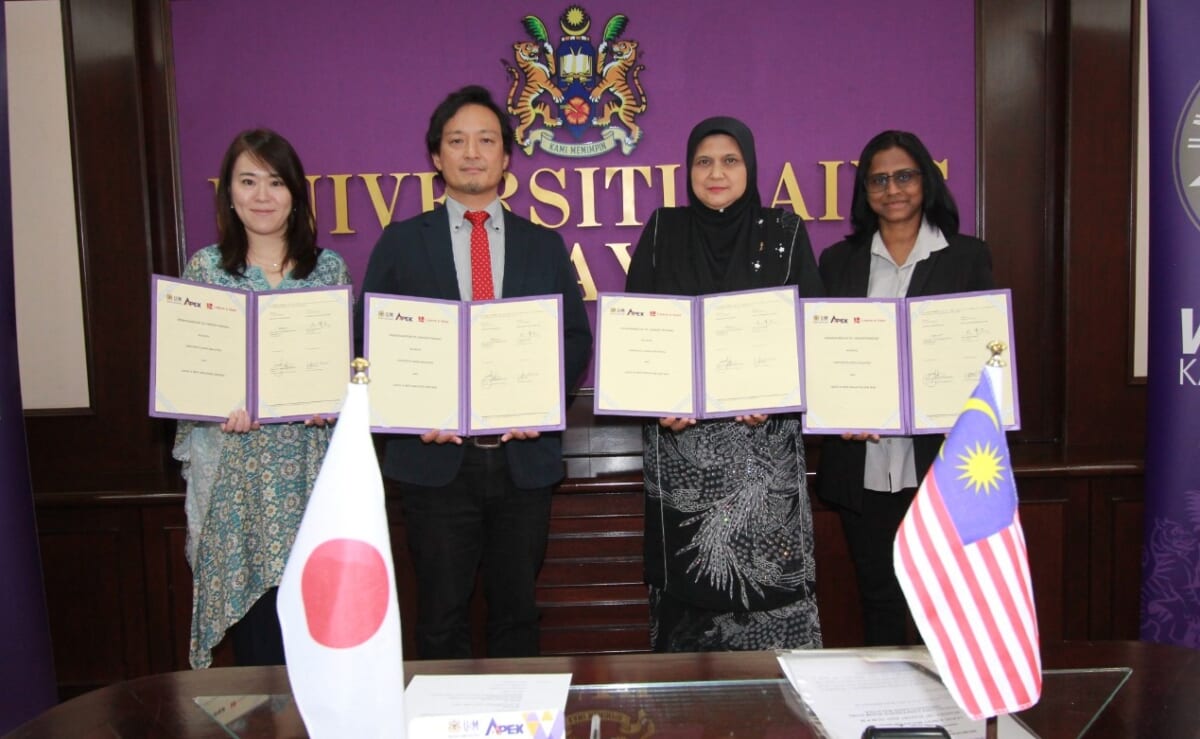 Leave a Nest Malaysia Sdn. Bhd. (LVNSMY) and Universiti Sains Malaysia (USM) formalized the partnership through a Memorandum of Understanding (MoU) signing ceremony held on 28th August 2023 at the USM Main Campus, Gelugor, Pulau Pinang. The MoU signifies a commitment between LVNSMY and USM to foster more industry collaborations and project co-creations within the areas of research, education, and talent development. The MoU was signed by Professor Dr. Habibah A Wahab, Deputy Vice-Chancellor Research and Innovation, representing USM and Vice Chancellor Professor Dato' Ir. Dr. Abdul Rahman Mohamed, FASc., and Dr. Yukihiro Maru, Founder/ Group CEO of Leave a Nest Co., Ltd., representing Leave a Nest Malaysia Sdn. Bhd. The signing was witnessed by Prof. Ir. Dr. Srimala Sreekantan, Director of USM Centre for Innovation and Consultation (CIC USM) and Dr. Yuko Ueno, Director of Leave a Nest Malaysia Sdn. Bhd.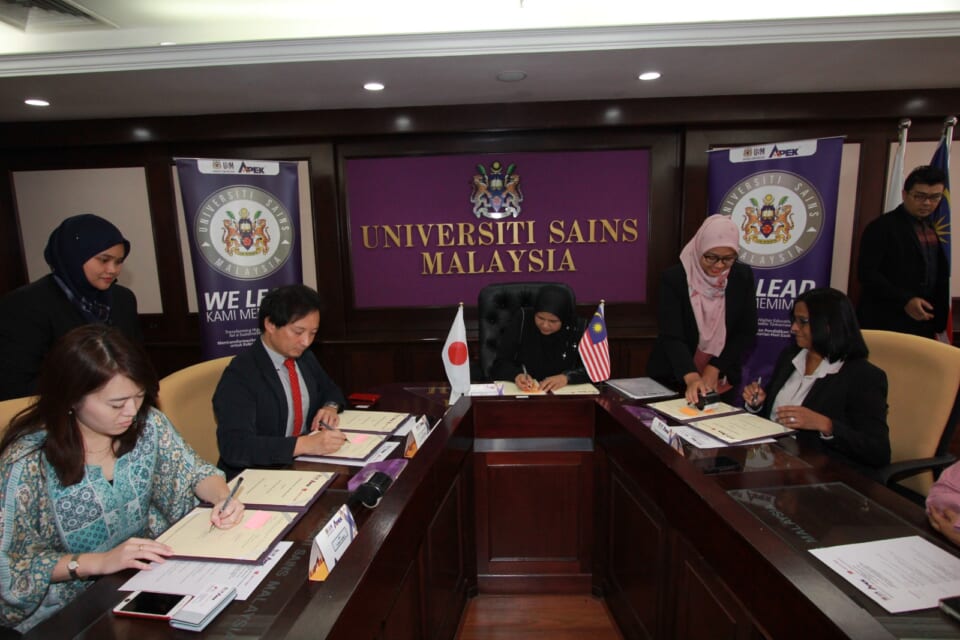 Dr. Habibah expressed USM's gratitude for Leave a Nest's support in nurturing researchers and start-ups, enabling them to effectively translate research and development into commercial ventures. She highlighted the alignment of this collaboration with USM's aspirations, aiming to make a lasting impact on society and industry, in line with its APEX agenda. Dr. Maru emphasized the potential to introduce more innovations to the university through this collaboration, particularly in Malaysia, which offers fertile ground for importing knowledge and innovations from Japan, at the same time creating new innovations with Malaysian researchers to solve the local issues. He noted the resonance between Leave A Nest's vision of "Advancing Science and Technology for Global Happiness" and USM's overarching vision and mission.
Through this MoU, LVNSMY is poised to bring its expertise and insights in science communication to the forefront, utilizing distinctive programs and platforms with USM as focal point. Additionally, the partnership between LVNSMY and USM will establish a robust support infrastructure, fostering the growth and commercialization of researchers and startups within Malaysia. Ultimately, this collaboration is expected to yield a wealth of technologies and research-based knowledge, potentially benefiting both society and the nation as a whole.
For media inquiries and more information, please contact:
Leave a Nest Malaysia
Email: [email protected]
Website: https://global.lne.st/
About Leave a Nest Malaysia:
Leave a Nest was founded by 15 graduate students in the field of science and engineering in 2002 and continues to this day, and its Malaysian subsidiary, Leave a Nest Malaysia, was established in 2013. Leave a Nest Malaysia is currently a leading science and technology company committed to fostering innovation, supporting startups, and nurturing talents in Malaysia and beyond. With a strong focus on science and technology education, Leave a Nest Malaysia provides various programs and initiatives to empower individuals and organisations in driving technological advancements and contributing to society. Leave a Nest operates by identifying issues and gathering the knowledge of researchers from around the world generating new value or knowledge to solve the issues. This is known as the "Knowledge Manufacturing Process." To date, more than 2200 teams of research groups and startups from Japan and 1400 from South East Asia are within the ecosystem who focus on deep technology to address deep issues and work together with other teams or corporations through unique collaborations. 
About Universiti Sains Malaysia:
Universiti Sains Malaysia (USM) was established as the second university in the country in 1969. USM offers courses ranging from Natural Sciences, Applied Sciences, Medical and Health Sciences, Pharmaceutical Sciences to Building Science and Technology, Social Sciences, Humanities, and Education. Since the beginning, USM has adopted the School system rather than the traditional Faculty system to ensure that its students are multi-disciplined from their exposure to other areas of study by other Schools. In 2008, USM became the first university in the country to be selected by the Malaysian government to participate in the Accelerated Programme for Excellence (APEX), a fast-track programme that helps tertiary institutions achieve world-class status.