TECH PLANTER in the Philippines 2023: Finalists and Lightning Talk Teams Announcement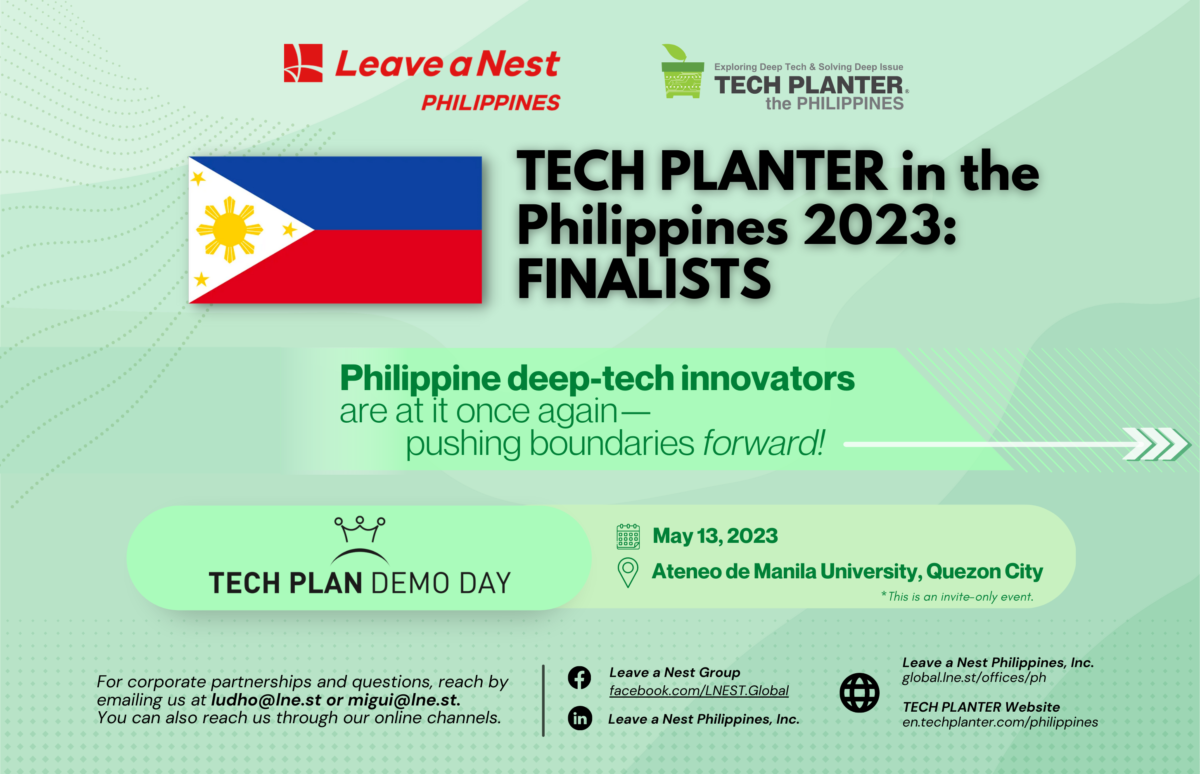 In order to help bring deep technologies into society, TECH PLANTER has again started a new season this 2023. TECH PLANTER is a platform that Leave a Nest started back in 2014 to support startups around the world. Leave a Nest is conducting this program in 6 countries across the ASEAN region. Our platform allows support to startups including prototyping support, IP strategy, and investments. Essentially, it is focused in connecting startups to large corporates, especially from Japan. Leave a Nest envisions a future where the deep technology ecosystem grows to be more cohesive and more robust to solve the deep and urgent issues that we face in today's society.
This year, 9 finalists out of 46 applications, the highest number of applications since 2017, were selected to pitch and compete in the most-anticipated TECH PLAN Demo Day for the title of TECH PLANTER in the Philippines 2023 Grand Winner. The finalists will be coming together to present the technologies they are developing with a passion to solve different deep issues that are encountered in the Philippines and even globally. Each finalist will be judged by representatives of government agencies, technology business incubators and companies from the Philippines and Japan.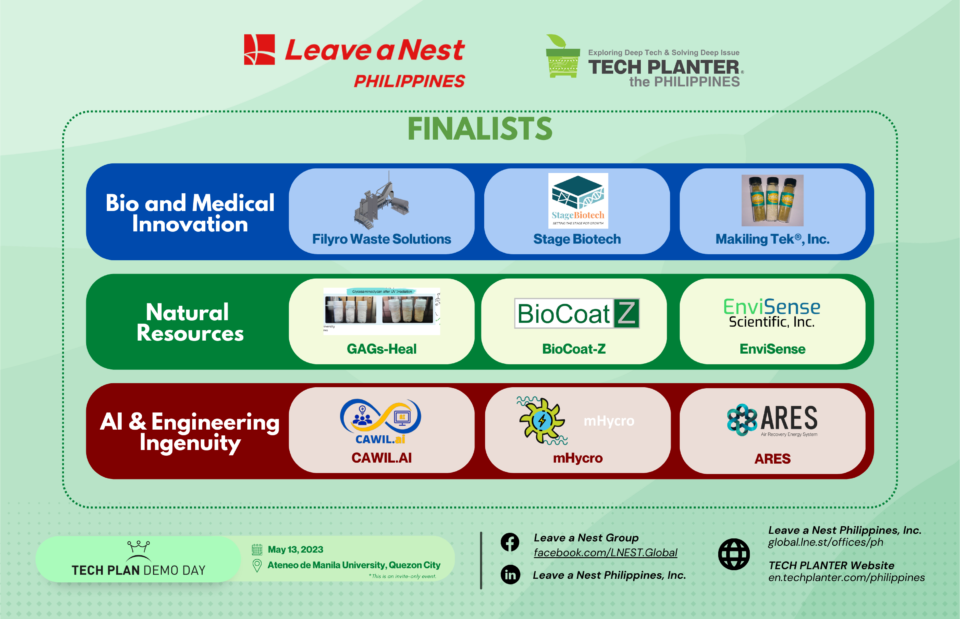 FINALIST TEAMS
| | |
| --- | --- |
| Team Name | Technology Summary |
| Filyro Waste Solutions | Oil-based thermal disinfection technology |
| Stage Biotech | Open-science medium-scale cellular bioreactor |
| Makiling Tek, Inc. | Nanoformulated macronutrient fertilizer |
| GAGs-Heal | Glycosaminoglycans from heads of silver-banded whiting application in wound treatment, food and cosmetics |
| BioCoat-Z | Nanoclay particle film for cacao pods |
| EnviSense | Customizable groundwater monitoring system |
| CAWIL.AI | Mobile application with AI-integrated species identification and weight estimation of fishes |
| mHycro | Micro-pumped hydro energy storage system for remote mountainous communities |
| ARES | Energy recycling system for tunnel-ventilated poultry farm fans |
Furthermore, 6 teams were selected to pitch for the Lightning Talk portion of TECH PLANTER. They will be given the opportunity to share their technologies to Leave a Nest's network, and their pitches will  be outside of judging.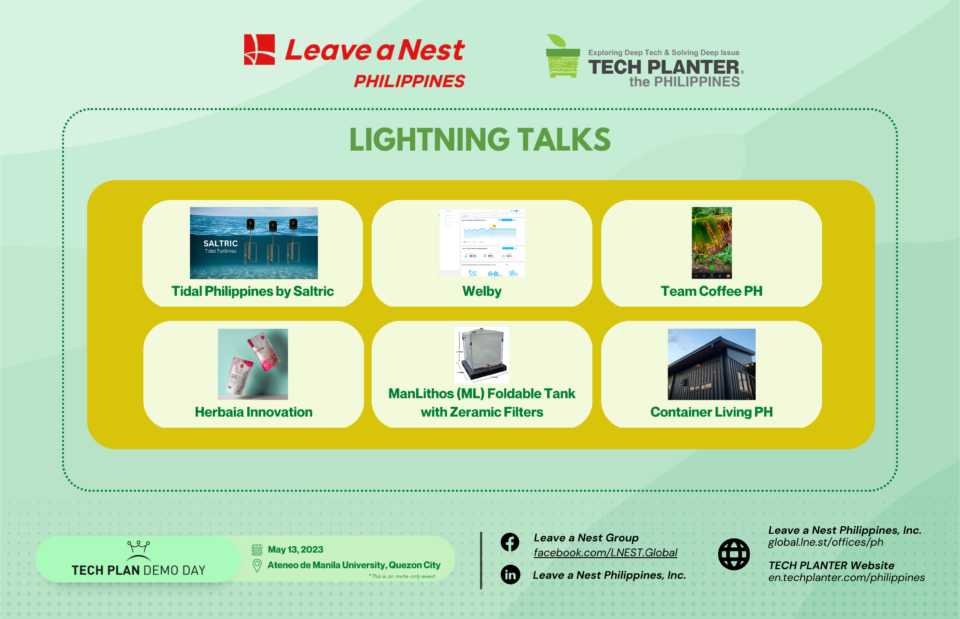 LIGHTNING TALK TEAMS
| | |
| --- | --- |
| Team Name | Technology Summary |
| Tidal Philippines by Saltric | Vertical-axis tidal turbines deployed in oceans to harvest energy |
| Welby | AI-enabled platform to improve employee engagement and well-being |
| Team Coffee PH | Platform powered by AI and local communities to identify plant diseases from images and location  |
| Herbaia Innovation | Development of process in turning indigenous raspberry into instant herbal tea  |
| ManLithos Foldable Tank with Zeramic Filters | Foldable water tank with filter from clay zeolite nanotechnology |
| Container Living PH | Retrofitting of shipping containers into modular building blocks |
Leave a Nest Philippines, together with Ateneo Intellectual Property Office (AIPO), will conduct the Demo Day for TECH PLANTER in the Philippines 2023. More information about Leave a Nest Philippines' partnership with AIPO can be found in this page:
Ateneo Intellectual Property Office (AIPO) partners with Leave a Nest to support research and entrepreneurial development
For any inquiries about TECH PLAN Demo Day in the Philippines 2023, please contact [email protected] or Ludhovik Luiz Madrid ([email protected]).