The first Demo Day of the 2023 TECH PLANTER ASEAN season will be in the Philippines this May 13!
In order to help bring deep technologies into society, TECH PLANTER has again started a new season this 2023. TECH PLANTER is a platform that Leave a Nest started back in 2014 to support startups around the world. Leave a Nest is conducting this program in 6 countries across the ASEAN region. Our platform allows support to startups including prototyping support, IP strategy, and investments. Essentially, it is focused in connecting startups to large corporates, especially from Japan. Leave a Nest envisions a future where the deep technology ecosystem grows to be more cohesive and more robust to solve the deep and urgent issues that we face today.
The TECH PLAN Demo Day is a semi-closed event where we bring together different stakeholders that are engaged in creating novel solutions for the betterment of the society. Because Leave a Nest is committed to inspiring the next generation of tech entrepreneurs, DOST scholars from Project SET will join the event, enabling them to learn on-the-ground know-how in establishing a viable startup and to connect with a variety of experts across numerous fields.
This year, 9 finalists out of 46 applications, the highest number of applications since 2017, were selected to pitch and compete in the most-anticipated TECH PLAN Demo Day for the title of TECH PLANTER in the Philippines 2023 Grand Winner. The finalists will be coming together to present the technologies they are developing with a passion to solve different deep issues that are encountered in the Philippines and even globally.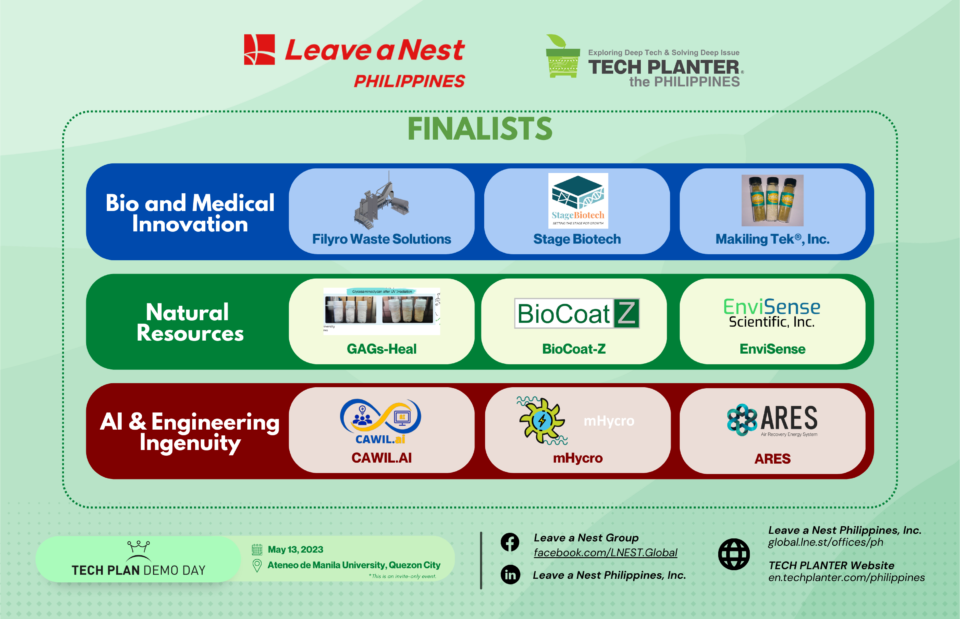 FINALIST TEAMS
| | |
| --- | --- |
| Team Name | Technology Summary |
| Filyro Waste Solutions | Oil-based thermal disinfection technology |
| Stage Biotech | Open-science medium-scale cellular bioreactor |
| Makiling Tek, Inc. | Nanoformulated macronutrient fertilizer |
| GAGs-Heal | Glycosaminoglycans from heads of silver-banded whiting application in wound treatment, food and cosmetics |
| BioCoat-Z | Nanoclay particle film for cacao pods |
| EnviSense | Customizable groundwater monitoring system |
| CAWIL.AI | Mobile application with AI-integrated species identification and weight estimation of fishes |
| mHycro | Micro-pumped hydro energy storage system for remote mountainous communities |
| ARES | Energy recycling system for tunnel-ventilated poultry farm fans |
Each finalist will be judged by representatives of government agencies, technology business incubators and companies from the Philippines and Japan.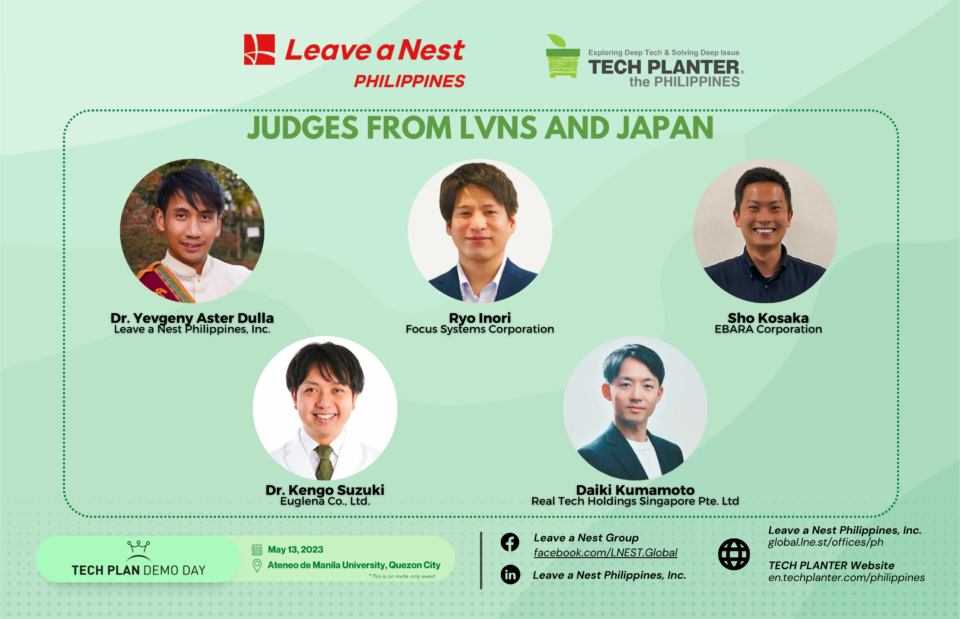 Short Bios of the LVNS and Japanese Judges
Head Judge: Yevgeny Aster Dulla, Ph.D. | Managing Director, Leave a Nest Philippines, Inc.

Yev was born and raised in Iloilo City, Philippines. He graduated with a degree in BS Chemistry from the University of the Philippines – Visayas, after which he worked as an instructor at the University of the Philippines – Manila. He came to Japan in 2013 to pursue graduate studies where he acquired his Masters in Health Life Sciences and PhD in Pharmaceutical Sciences. In 2020, he joined Leave a Nest Co., Ltd. and is currently under the Frontier Development Division. He is also a Balik Scientist Awardee for 2020~2021, and is the Managing Director  for Leave a Nest's newly opened Philippine subsidiary.

Ryo Inori | Focus Systems Corporation, Business Creation Department

Ryo Inori joined Focus Systems Corporation in 2015. He is responsible for the sales of information security products such as data encryption for the financial industry, as well as content security products such as copyright protection for still and moving digital data. He has been promoting information security products such as data encryption for the financial industry, as well as content security products such as copyright protection for digital data of still and moving images. He is also engaged in the promotion of services in the manufacturing and medical industries.

Currently, in parallel with his product sales activities, he is also working with startup companies and university research laboratories. Most recently, he has been engaged in supporting research using VR with Kobe University Hospital.

Kosaka Sho | EBARA Corporation, Strategy & Administration Division

EBARA Corporation supports society, industry, and daily life around the world in many different fields, including our core product of pumps, fans, compressors and turbines, and semiconductor manufacturing equipment. Currently Mr. Kosaka handles M&As, organizational restructuring and new business development for EBARA Corporation as a member of the Strategy & Administration Division. Prior to current position, Mr. Kosaka has worked for Real Tech Holdings, Japan & Singapore based venture capital. He was involved in the investment and hands-on support in deep-tech startups in Southeast Asia.

Kengo Suzuki, Ph.D. | Co-founder & Chief Technology Officer, Euglena Co., Ltd.

Kengo Suzuki is the Co-founder and CTO of Euglena Co., Ltd., a Japanese biotechnology company that focuses on microalgae-based products. Dr. Suzuki holds a Ph.D. in Medical Science from Kitasato University and a PhD in Agriculture from the University of Tokyo. His expertise lies in the fields of phycology, food science, molecular biology, and immunology. Suzuki has over 15 years of experience in research and development, including his current position as a specially appointed professor at Tohoku University and visiting professor at Universiti Teknologi Malaysia. His scientific publications cover topics such as sulfur-compound metabolism, β-glucan, euglena cultivation, and adipocyte-differentiation. Additionally, he has experience in the mass cultivation of euglena and the establishment of microalgae production technology laboratories.

Daiki Kumamoto | Growth Manager, Real Tech Holdings Singapore

Daiki Kumamoto is the growth manager of Real Tech Fund as well as the leader of Global Fund, mainly investing into deep-tech startups in Southeast Asia. He invests in startups that bring solutions to care / welfare, serving as a director of aba; developing sensors for excretion detectors for elderly care. For investments in Southeast Asia, he is in charge of NDR Medical, Austrianova, Karana, ceEntek and many more.

Before joining Real Tech in 2018, he was the president of the AIESEC, the largest NPO in Japan that commits in supporting young entrepreneurs globally. He graduated from Keio SFC University with a bachelor in management.
---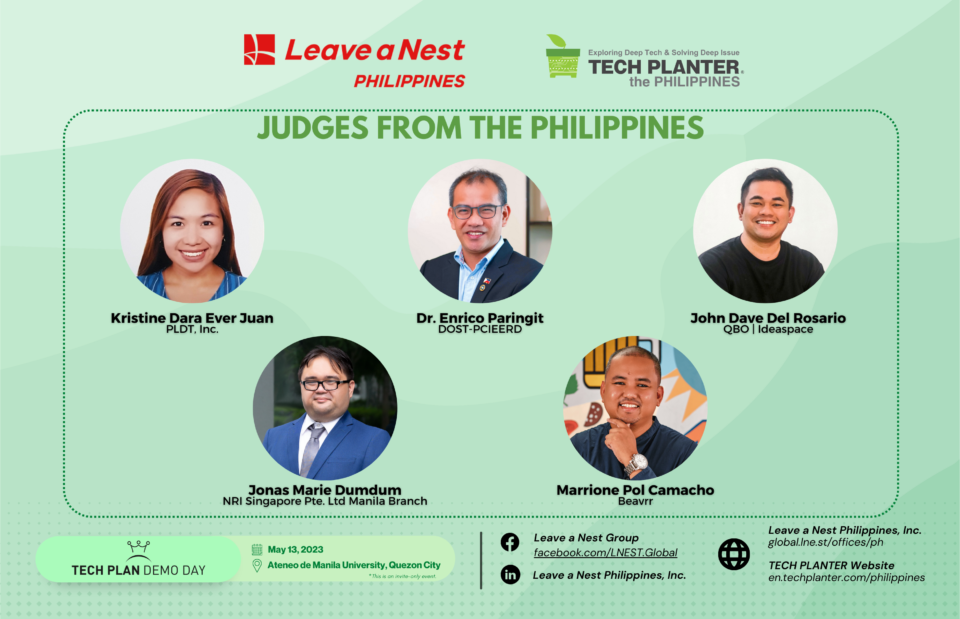 Short Bios of the Philippine Judges
Kristine Dara Ever Juan | Head of Innovations Lab & Ecosystem Partnerships (Innolab), PLDT Inc.

Dara is the Head of PLDT Innovations Lab and Ecosystem Partnerships or Innolab. Innolab is PLDT Inc.'s innovation laboratory empowering and curating local startups to commercialization. Dara inculcates a culture of innovation in their company by designing and organizing open innovation activities such as MVP Geek Olympics (an MVP group-wide hackathon) and PLDT & Smart Startup Innovation Challenge (a hackathon for startups) to create a sustainable collaborative environment. She bridges the cultural gap between startups and PLDT by facilitating activities and implementing initiatives focused on corporate-startup engagement. She acts as an advocate to drive collaboration and community initiatives and execute a roll-out strategy for potential business opportunities with startups in PLDT Enterprise. She is also an alumna of Young Southeast Asian Leaders Initiative (YSEALI) Professional Fellow for Economic Empowerment, where she regularly shares innovative ideas and best practices to her other fellows across SEA.

Enrico Paringit, Ph.D. | Executive Director, Department of Science and Technology – Philippine Council for Industry, Energy and Emerging Technology Research and Development (DOST-PCIEERD)

Dr. Enrico C. Paringit started as the executive director of DOST-PCIEERD in December 2018. An outstanding engineer, he led game-changing programs and projects in land surveying, remote sensing and geographic information system, environmental monitoring, and disaster risk assessment and management. One of these is the Disaster Risk Assessment, Exposure and Mitigation-Light Ranging and Detection Technology or DREAM LiDAR, which addresses the effects of flooding disasters in the Philippines through accurate national terrain elevation maps and training of LiDAR and flood mapping experts.

John Dave Del Rosario | Head of Operations, IdeaSpace Foundation Inc.

Dave is the Head of Operations at IdeaSpace Foundation Inc, a non-profit organization that houses the 2 leading brands that support the Ph Startup Ecosystem- the IdeaSpace and QBO Innovation Hub. Between 2016-2019, he worked in Iligan City and helped build and develop the local startup community of Mindanao through his Center Manager role at IDEYA, a technology business incubator established by DOST PCIEERD inside MSU-IIT. Dave possesses a strong and diverse experience in the areas of project management, incubator development, and community development. He is an alumnus of YSEALI Academic Fellow 2018 and also a Startup Weekend Facilitator.

Jonas Marie Dumdum | Consultant, Industry Solutions Consulting (ISC), Nomura Research Institute (NRI) 

Jonas Marie Dumdum is aConsultant under the Industry Solutions Consulting (ISC) sector of Nomura Research Institute Singapore Pte Ltd – Manila Branch and is one of the lead consultants of the NRI Manila Sustainability Service. He also works as Corporate Secretary of Sustainable PH, Inc., a nongovernment organization promoting the causes of sustainability in the Philippines. He is also a co-host of the Sustainarumble! Podcast, the first podcast in the Philippines that talks about issues on sustainable development in the country. He also is Sustainarumble's permanent representative to the Stakeholders' Chamber for the SDGs by the National Economic and Development Authority (NEDA). He is the recipient of the 2022 Sustainability Unplugged Award under the Corporate Sustainability Practitioners Category.

He is a Registered Chemist in the Philippines and Sustainability Practitioner by profession, and an advocate of sustainability science and policy. He graduated with a Bachelor of Science in Chemistry at the University of the Philippines Los Baños in 2015 and a Master of Science in Renewable Energy and Resource Management in 2017 at University of South Wales in the United Kingdom.

Marrione Pol Camacho | Founder & Chief Executive Officer, Beavrr


With a Bachelors in Commerce from De La Salle University and a Masters in Social Entrepreneurship from the Hult International Business School, Marrione has vast experiences in business development and creating new business. He was the Managing Director of the NEXUS Innovation Labs and a Business Development Manager of the Draper Startup House before he established Beavrr, a community-driven platform that fosters entrepreneurshipand innovation through a range of events and resources. While juggling his activities asa startup founder, he also currently works as the Head of Business Development at the Embiggen Group.
---
Furthermore, 6 teams were selected to pitch for the Lightning Talk portion of TECH PLANTER. They will be given the opportunity to share their technologies to Leave a Nest's network, and their pitches will  be outside of judging.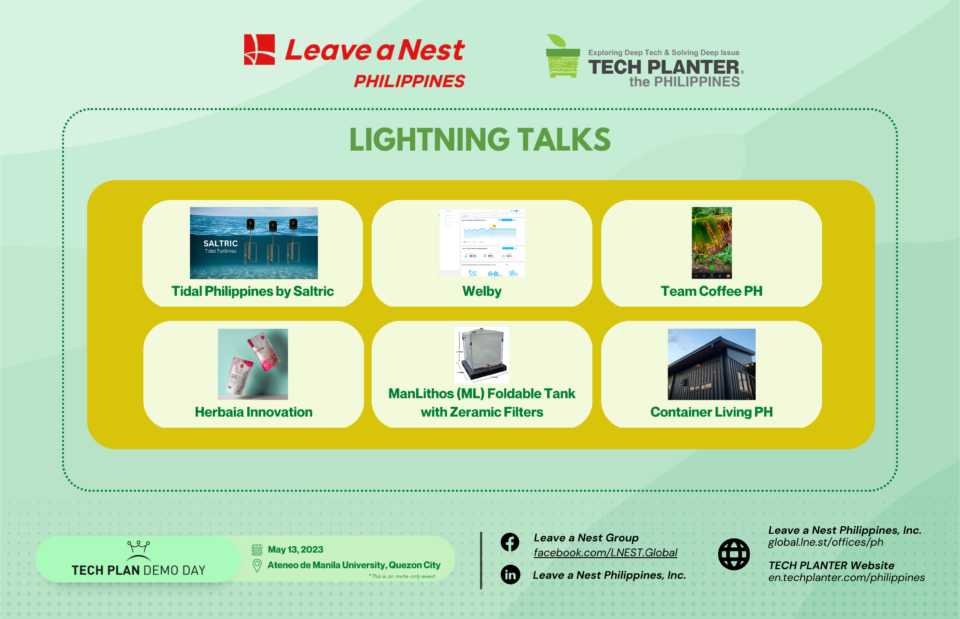 LIGHTNING TALK TEAMS
| | |
| --- | --- |
| Team Name | Technology Summary |
| Tidal Philippines by Saltric | Vertical-axis tidal turbines deployed in oceans to harvest energy |
| Welby | AI-enabled platform to improve employee engagement and well-being |
| Team Coffee PH | Platform powered by AI and local communities to identify plant diseases from images and location  |
| Herbaia Innovation | Development of process in turning indigenous raspberry into instant herbal tea  |
| ManLithos Foldable Tank with Zeramic Filters | Foldable water tank with filter from clay zeolite nanotechnology |
| Container Living PH | Retrofitting of shipping containers into modular building blocks |
---
Program Details
Date: 13 May 2023
Time: 1300 – 1800 HRS (GMT +8:00)
Venue: Escaler Hall, Ateneo de Manila University
TIME

(GMT +8:00)

ACTIVITY
DETAILS

12:00 – 13:00 

Registration

13:00 – 13:15

Opening Remarks
Ludhovik Luiz B. Madrid

Research Development Division

Leave a Nest Philippines, Inc.

13:15 – 13:30

Welcome Remarks from Ateneo de Manila University
TBD

13:30 – 13:45

Keynote Speech
Jay Arneil Gajudo

Founder and CEO
Galansiyang, Inc.

13:45 – 14:35

Round 1: Bio and Medical Innovation

Three rounds of 7-minute pitch and 5-minute Q&A portion

14:35 – 14:40

Break

14:40 – 15:30

Round 2: Natural Resources

Three rounds of 7-minute pitch and 5-minute Q&A portion

15:30 – 15:35

Break

15:35 – 16:25

Round 3: AI and Engineering Ingenuity

Three rounds of 7-minute pitch and 5-minute Q&A portion

16:25 – 16:30

Break

16:30 – 17:30

Lightning Talk, SECRA Talk, and Poster Session

Lightning Talk: Six rounds of 3-minute pitch

SECRA: Dr. Charlotte Kedra Gotangco Gonzales

Director of Sustainability

Ateneo de Manila University

17:30 – 18:00

Awarding and Closing Ceremony
Closing Remarks: Dr. Yevgeny Aster Dulla

Managing Director

Leave a Nest Philippines, Inc.
---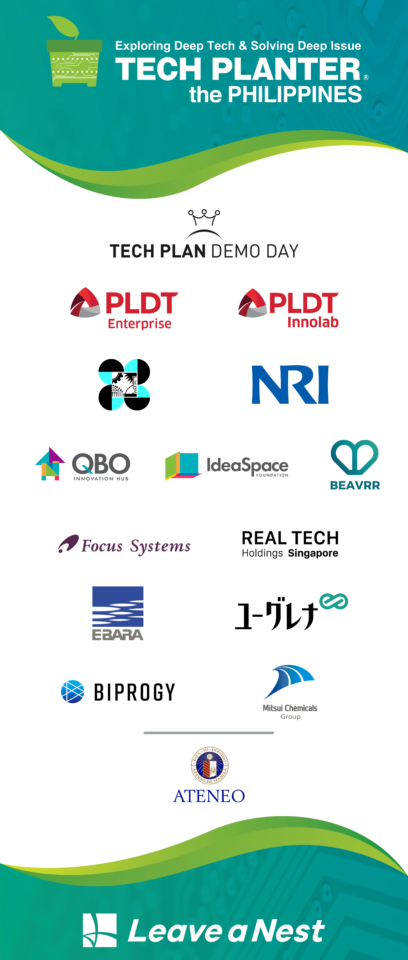 For previous announcements on our university partner for the Demo Day, please visit the following links:
Ateneo de Manila University is the University Partner for TECH PLANTER in the Philippines 2023!
For any inquiries about TECH PLAN Demo Day in the Philippines 2023, please contact

[email protected]

 or Ludhovik Luiz Madrid (

[email protected]

).