Partnership in global collaboration with Focustech Ventures for startup acceleration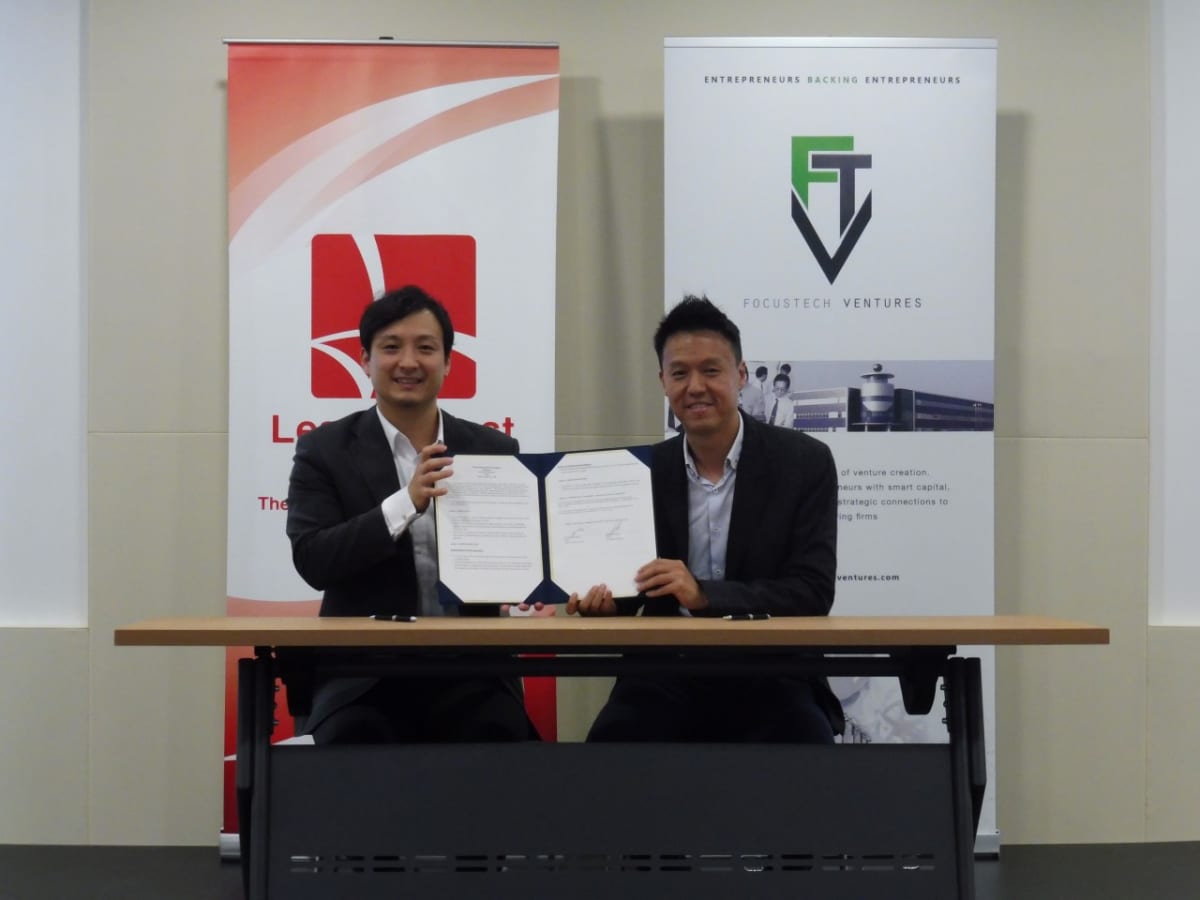 On Feb 10th, 2018, Leave a Nest Co., Ltd. (Head Quarter: Tokyo, Japan, CEO: Yukihiro Maru) and Focustech Ventures (Head Quarter, Singapore, CEO: Kelvin Ong) has signed a MOU on February 10th, 2018, agreeing for mutually producing and nurturing technology startups in South East Asia for the creation of new business that may solve the issues that lies in the world.
This partnership is the starting point for enhancement of startup activities in numerous activities such as mutual incubation and investment, and support for prototyping and mass production.
Countries such as Singapore is known as a hub of South East Asia and its startup ecosystem is said to be developed. However, it faces difficulties in finding possible collaborators especially in small scale prototyping and consultation on creating prototype which is suitable for mass production. In order to solve these problem, "Super Factory Group" (Group of Japanese high-tech manufactures known as "Super Factories" organized by Leave a Nest, who aims to solves the world's manufacturing issues) may support product development through technology and knowhow from the craftsman.
In the future by making Focustech Ventures as a hub, we will gather technical issues that South East Asian startups have, into Japan. Then startups and Super Factories may collaborate to develop products and spread it into the market in Asia and western countries. We believe this will have an important meaning to the future of both countries.
To do this, Leave a Nest and Focustech Ventures will use the strength of both side to nurture the startup ecosystem in both countries.
→For the detailed background behind this partnership, please take a look at an article here.
The signing of this partnership will be done during "TECH SMOOTHIE" which will be held on Saturday February 10th. In the signing ceremony, there will be Mr. Kelvin Ong who is the CEO of Focustech Ventures and Dr. Yukihiro Maru, the CEO of Leave a Nest.
About TECH SMOOTHIE
This is a place where Japanese large corporates, Singaporean startups, VCs, researchers, and students gather up and mix to create "new" business, product or services. Not only from startups side, but we will be sharing the technology seeds from large corporates side to the participants too, to seek the possibility for collaboration.
Flow of the day is as follows:
     

10:00-10:50 Opening ceremony

     

10:50-12:10 

Pitch from TECH PLANTER members

     

12:10-12:55

 Lunch session

     

13:00-14:00 

Pitch on technology seeds from Japanese large corporates

     

14:00-16:00

 Booth time for startup, large corporates, and VC

     

16:00-16:45 

Lightening talk by TECH PLANTER teams and young researchers

     

16:50-17:30 

Signing ceremony for partnership

・closing ceremony
In addition to this Mr. Kelvin Ong, CEO of Focustech Ventures will be visiting Japan to participate in "Hyper-Interdisciplinary Conference" on March 2nd.
About Hyper-Interdisciplinary Conference
Event name:7th Hyper-Interdisciplinary Conference
Date:March 2nd~3rd 2018
Venue:TEPIA
Website:https://hic.lne.st/
<Mr. Kelvin Ong's session>
 URL:https://hic.lne.st/conference/kanto2018/#tab01
 Time:Friday March 2nd~3rd 2018, 13:00~14:20@4th Floor Main Hall
Theme:How can we interacy with "Chaos" that lies in new business?
About Leave a Nest
From 2014, Leave a Nest has been working on seed acceleration programme "TECH PLANTER" which focuses on nurturing of deep-tech startups. It is a global programme that runs in 9 countries including Japan, Singapore, Malaysia, Philippines, Thailand, Vietnam, Indonesia, UK, and USA, supporting more than 800 startups. (URL:https://en.lne.st/)
About Focustech ventures
Focustech Ventures (FTV) is a Singapore based private investment firm and technology incubator. With deep roots in the precision engineering sector, FTV was established by the founder & operators of Singapore's leading HDD component maker Seksun Group ($295M exit).(Company web page: http://www.focustechventures.com/)
Enquiry about this partnership
Global Platform Development Division of Leave a Nest
In charge: Shohei Michael Maekawa
Email: [email protected]
Tel: +81-3-5227-4198