Tech Venture Meetup 2018 Singapore is just a week away!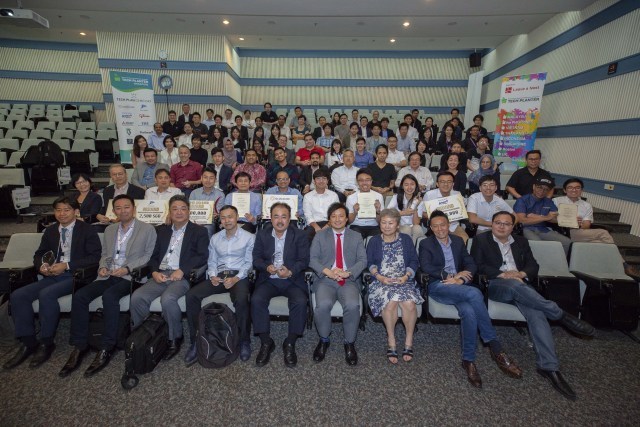 Details:
Date: 24th November 2018 (Saturday)
Time: 13:00 – 18:00 hrs (registration starts at 12:00)
Venue: Platform E @ SIM Management House
What is Tech Venture Meetup Singapore 2018?
Tech Venture Meetup Singapore is the next step for entrepreneurs who have had some success and would like to expand their business or potentially get some pre-seed investments. In this program, we bring together large conglomerates and venture capitalist to meet early stage start-ups in Singapore. Through this interaction, both start-ups and conglomerates will be able to leverage on each other's strengths and networks.
Why join Tech Venture Meetup Singapore 2018?
If you are searching for a platform to grow and expand your business with Japanese conglomerates, seeking pre-seed investments or perhaps seeking for research collaborations with well-established corporations, this is the program for you. Tech Venture Meetup Singapore will help accelerate your startup and allow you to tap in on our extensive Leave a Nest network.
Who can join Tech Venture Meetup Singapore 2018?
Similar to Tech Planter programs across the world, the Tech Venture program focuses on STEM (Science, Technology, Engineering and Mathematics) industries which include food tech, deep tech, agri-tech, robotics etc.
All past Tech Plan Demo Day applicants are welcomed to join in and leverage off our programs and platforms. If you haven't joined any Tech Plan Demo Day programs yet, you are still eligible to join this program to accelerate your business. However, we would request you to sign up for next year's Tech Plan Demo Day 2019 Singapore program as well.
Program details
Timeline

Main Auditorium

TECH MEET UP Showcase

12:00-13:00

Registration

closed

13:00-13:45

Opening session

Welcome Notes

Key Note Speech

Introducing Key players

closed

13:45-14:45

TECH VENTURE pitch (Tech Planter Alumni)

14:45-15:00

break

Exhibit visits and networking

15:00-15:30

closed

Exhibit visits and networking

15:30-16:30

Investing in future:

TECH VENTURE Core Discussion time

closed

16:30-17:00

Closing Ceremony

closed

17:00-18:00

TECH MEET UP MIXER time
Partners joining Tech Venture Meetup Singapore 2018: Toppan Printing Co., Ltd, Glocalink, Mitsui Chemicals Group, Mitsubishi Electric, Kobashi Kogyo Co., Ltd, Hello Tomorrow, Focustech Ventures, ID Capital and Antler.
You can sign up for TECH VENTURE MEETUP in SINGAPORE 2018!
Do spread the news!
Inquiry
If you have any queries, kindly contact: