Announcing Singapore's first Hyper Interdisciplinary Conference on 16th Feb 2019!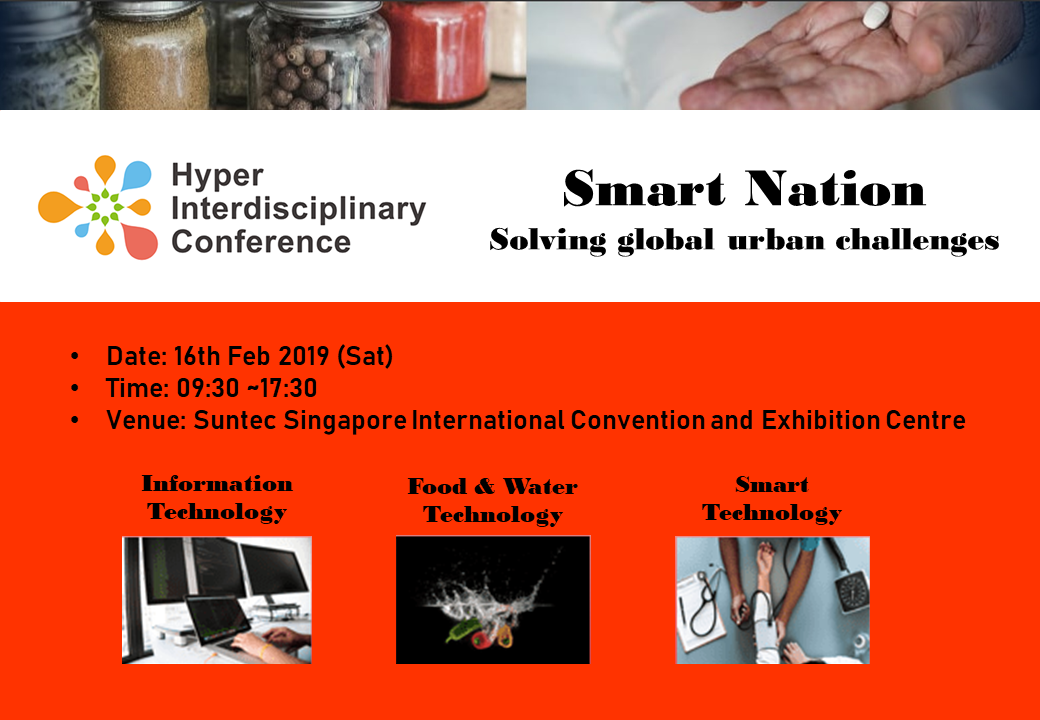 Leave a Nest Singapore will be organising it's first Hyper Interdisciplinary Conference on 16th February 2019!
Theme of HIC Singapore 2019: Smart Nation – Solving global urban challenges
Many major cities in first world countries face similar concerns: rapid urbanisation, changing population demographics with low birth rates and a rising aging populace and the wastage of food and water amongst others. These challenges are not unique to the country of Singapore and extends to other developed countries like Japan, South Korea and China. 
To tackle this problem, HIC Singapore 2019 will be bringing in key industrial leaders, researchers and startups from all over Singapore to share their wealth of knowledge and expertise in solving some of the global urban challenges that many first world countries face. Some of the key issues that will be talked about includes next generational functional foods to solve health problems, cheaper and more efficient ways to produce drinkable water, ways to transform big data for intelligent use and smart home care for the elderly. This conference will be a key step to develop insights and business contacts to solve different global urban challenges that different countries face.
Topics covered in HIC Singapore 2019
The themes of HIC Singapore 2019 revolves around solving the challenges that urbanised cities face around the world. The handpicked speakers are chosen because they offer an unique insight to tackle the different business opportunities around the urbanised world.
Information Technology 
With the bloom of smartphones, machine learning and cashless transactions, information technology has become more and more ingrained in human society. Beyond day to day use, many companies have started to turn towards artificial intelligence and big data to simplify work task and understand unseen trends. The utilisation of both artificial intelligence and big data will allow your company to become more efficient and capitalise on new ways to transform your business. In HIC Singapore 2019, key industrial players in the big data and AI industries will be giving sharing insights in this area.
Next generation food and water technology
Food and water are essentials to any society on earth. Most developed cities have good logistical planning to obtain safe food and water sources. However, with the influx of people into urbanised areas, there is an increased need for better food and water technology. This includes creating functional foods and cheaper and more efficient ways to obtain drinkable water. This conference will be gathering innovators in the food and water industry to share their latest technology in creating the next generation of foods and water.
Smart Technology
Tangible innovations have made many advancements over the years – with many innovations stemming from new functions and the usage of materials with desired properties to enhance current technologies. These deep tech changes have accumulated to many societal paradigm changing eras such as the industrial revolution in the 18th and 19th century. In this modern 21st century, HIC Singapore 2019 is showcasing deep tech innovators who are pushing the boundaries of what it means to innovate and change the lives of the next generation.
Details of the event:
Date: 16th February 2019
Time: 09:30 – 17:30
Venue:Suntec Singapore International Convention and Exhibition Centre
We would like to encourage everyone who is interested to be part of the solution to global urban challenges to take part in this conference.