Thank you for making TECH VENTURE MEETUP in SINGAPORE 2019 a success!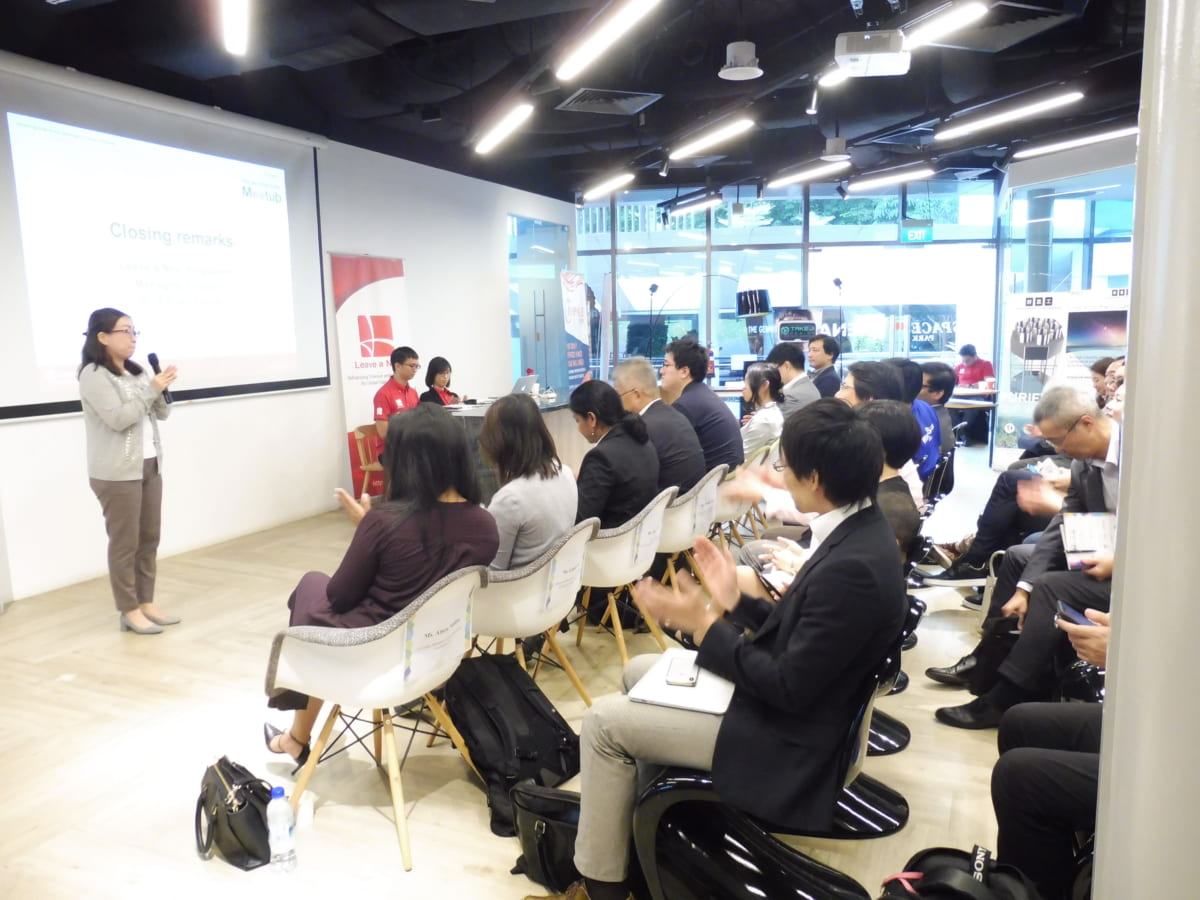 TECH VENTURE MEETUP in Singapore ended last Saturday 23rd November 2019. It was an exciting day for all Leave a Nest members, and I hope it has been for all participants. This year, over 60 distinguished guests, including our corporate partners, venture capitalists, investors, and startups turned up for the event.
The main event kickstarted with the keynote session by Dr. Shinji Fukuda, Founder and CEO of Metabologenomics. Metabologenomics is a Japanese startup that specialize in stool studies to better understand gut health. Dr. Fukuda explained to the audiences how their study can better the general population and how he planned to collect results from stool sample across the world. He also mentioned that by analyzing stool samples, it provides information such underlying diseases, therefore aiding in diagnostics and prevention methods. An impressive service indeed.
Following right after the keynote, we invited our partners to introduce on their area of interests and how they would like to collaborate with startups.
First up, Dr. Nie Yuntong, Research Scientist from Mitsui Chemicals Singapore R&D Centre, presented on the corporate history, mission, businesses and interests. Mitsui Chemicals Singapore R&D Centre would like to work with local startups in order to bring about innovation in Asia Pacific region in the following sectors: mobility, healthcare, food & packaging, and next generation business which include diagnostic as well as low carbon and low waste businesses.
Next, we had a presentation by the OTA CITY government located in Haneda, Tokyo which has a network of superfactories that specializes in processing, designing, engineering, and R&D. Introduced by Ms. Keiko Hatta, Head of Industry and Economy, she would like to collaborate with local startups who may potentially be interested in prototyping products in Japan. With Japan's high-end technologies, the OTA CITY government will be able to provide excellent prototyping services.
Next up, Autonomous Control Systems Laboratory (ACSL) representative Mr. Satoshi Washiya, Chief Operating Officer, is also looking to collaborate with Singapore startups.
Last but not least, Mr. Keisuke Nagahama, Associate General Manager from Mitsubishi UFJ Trust and Banking Corporation (MUTB) gave a short and sweet introduction. More of what they offer will be covered in the subsequent section of this article.
On to our next exciting segment, Go to Japan Market: Business and IPO Opportunities in Japan. It consists of a presentation by MUTB followed by a panel session.
Ms. Nao Aoyama, Senior Officer in the planning group gave an introduction to Japanese Depositary Receipts (JDR) provided by MUTB. She gave a financial breakdown to the Japanese market and how the startups can leverage on them to get listed in Japan.
Lead by Mr. Shohei Michael Maekawa, Director of Leave a Nest Singapore for the panel session, we were honored to invite Mr. Osamu Hoshi, executive adviser of MUTB; Mr. Washiya, ACSL; Mr. Marcus Wong, development partner in startup development division of Enterprise Singapore; and Dr. Alan She, CEO of Singapore Heavy Engineering. They discussed about partnership with Japan given the competitive nature and if it is necessary for startups and corporate to work together in order to advance respective businesses.
Next, was the session on Food and Healthcare: Future Food and How We Define Healthy Living in Coming Era.
Mr. Daiki Kumamoto, Growth Manager of Germi8 and Real Tech Fund gave a presentation to both funds. Germi8 is a newly established fund by euglena, Kobashi Industries, FocusTech Ventures, and Leave a Nest. It is an early seed stage fund that specializes in investments into food and AgriTech across Southeast Asia. Real Tech Fund partners with 30 well known enterprises and manages USD 90 million. Till now, it has invested in multiple Japan deep tech startups. Real Tech Fund is currently planning to expand the fund into Singapore, and both funds will be investing in Singapore startups.
Next, Dr. Virginia Cha, Professor-In-Residence of Platform E moderated the session with the panelist Dr. Fukuda, Metabologenomics; Ms. Isabelle Decitre, Founder and CEO of ID Capital; Dr. Brian Salmons, Founder, CEO and President of AUSTRIANOVA; and Mr. Daiki Kumamoto, Germi8. The session discussed about the future of food and the acceptability of it. We are excited to see where the future of food will become, given that majority of the audiences are hesitant to try cell grown meat.
Lastly, we had our 12 startups pitching session. The startups were split into 3 sectors: AI & Engineering; Healthcare, Agri & Biotech; and Food & Water.
For AI & Engineering, we had Singapore Heavy Engineering, WaveScan, Pylon City and Sentient.io. ACUMEN Research Laboratories, AUSTRIANOVA, Insectta and StratifiCare for Healthcare, Agri & Biotech. Last session of Food & Water, we invited Soynergy, Ira Noah LLP, Pro-Health Water Technologies and Probicient.
Other exhibitors at TECH VENTURE Meetup includes OTA CITY, ABEJA, Takeji Design and SecureAge Technology.
Ending the day, Leave a Nest Singapore presented The Best Presenter award to WaveScan. The startup scored the highest with their technology novelty, practicability/feasibility, change it could bring to the world, and their passion. All other presenters followed closely, and all are excellent, kudos to all teams!
Upcoming programs in Leave a Nest Singapore:
For more information on our programs, please contact us at [email protected].