Start of an experiment to support collaboration between Singapore startups and Japanese super factory's manufacturing project through novel communication system「tonari」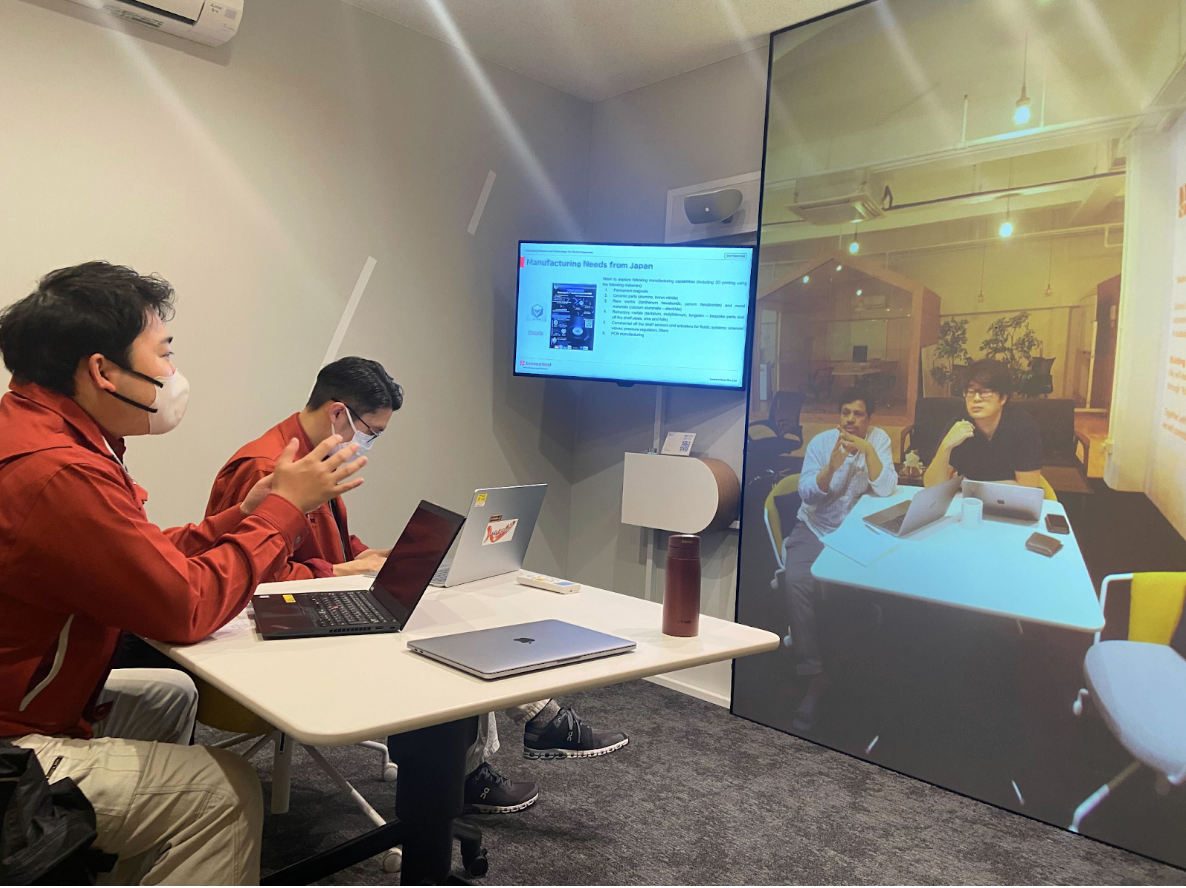 Leave a Nest Co., Ltd. (Head office: Shinjuku-ku, Tokyo; Representative Director and Vice President CKO: Jo Inoue, hereinafter "Leave a Nest"), Leave a Nest Singapore Pte. Ltd (Head office: BLOCK71, Singapore; Representative Director: Kihoko Tokue, hereinafter "LVNS SG"), Hamano Products Co., Ltd. (headquartered in Sumida-ku, Tokyo; Keiichi Hamano, CEO; hereinafter 'Hamano'), Glocalink Inc. (headquartered in Sumida-ku, Tokyo; Yoshinobu Osaka, CEO; hereinafter 'Glocalink'), will use the novel communication system 'tonari system' which is installed in Centre of Garage (hereinafter 'COG') and the LVNS SG office to conduct an experiment to support Singaporean startup's manufacturing activities through discussion with Japanese Super Factory while being in Singapore.
From 2019, Leave a Nest has been working with Japanese Super Factories to provide manufacturing support to overseas startups, starting with the 'Ota City Superfactory Prototyping Program' (https://global.lne.st/news/sg/2019/04/21/ota-city2019/), a project commissioned by Ota Ward, Tokyo, Japan. The project has been promoting manufacturing support for overseas start-ups in cooperation with Japanese super factories. In this project, overseas startups actually visited Japanese factories and were able to provide sufficient manufacturing support in the course of face-to-face, drawing-based discussions. However, due to the restrictions on overseas travel imposed by the COVID-19, the project had difficulties in providing "mutual understanding" between two parties, and further overseas expansion did not proceed as planned.
On the other hand, the tonari communication system is a system that seamlessly links two remote locations via a life-size screen without delay*, and provides a natural eye contact mechanism, clear audio and low latency, enabling people in separate rooms to feel as if they are in the same room. The system has been marketed to corporate customers since 2020 and has been deployed to connect different locations of the same company in Japan. It was introduced for the first time with the aim of connecting incubation facilities between the COG and the LVNS SG office, which are operated by Glocalink and LVNS SG. (https://global.lne.st/news/jp/2022/11/30/tonari/)
*The delay that humans can feel is said to be 150 milliseconds, and 'tonari' achieved 120 milliseconds, which is less than that.
The Remote Manufacturing Support Demonstration is an experiment by four companies – Leave a Nest, LVNS SG, Hamano and Glocalink – to see if the use of the advanced tonari technology will enable Singaporean startups to remotely perform 'matching' and conduct manufacturing projects with Japanese factories while still in Singapore. By inviting Hamano on the COG side and a Singaporean startup on the LVNS SG side via tonari, and by creating manufacturing projects through mutual discussions and refining contracting methods for manufacturing and development, the project will be able to demonstrate that Japanese factories overseas startups can start a manufacturing projects while remaining in their own country. 
<5 Singaporean Startups that will be involved in this Discussion>
・AUGMENTUS(https://www.augmentus.tech/)
・Unabiz(https://www.unabiz.com/)
・Osteopore(https://www.osteopore.com/)
・Dynacyte(https://www.dynacyte.com/)
・sungreen(https://www.sungreenh2.com/)

There are many barriers to the overseas expansion of small and medium-sized domestic enterprises. This demonstration is expected to help remove these barriers through the use of communication tools and the participation of personnel who can talk about manufacturing in English, leading to the promotion of the overseas expansion of Japan's super factories and Singaporean startups.
Please contact us individually if you would like to cover the actual discussion between Hamano and the startups, which is scheduled to take place from mid-February to early March.
<Contacts>
Leave a Nest Singapore Pte. Ltd. PIC: Thamizvanan Sivakumar
◆Leave a Nest Co., Ltd.
◆Leave a Nest Singapore Pte. Ltd.
◆ Hamano Products.Co.,Ltd.
◆Glokalink Ink.