Science & Technology Entrepreneurship Training (SCENT)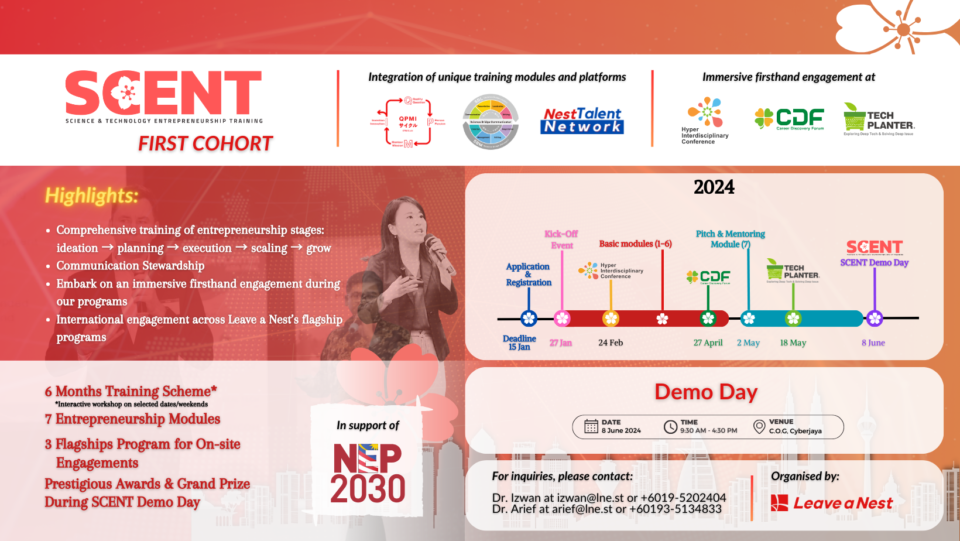 Introduction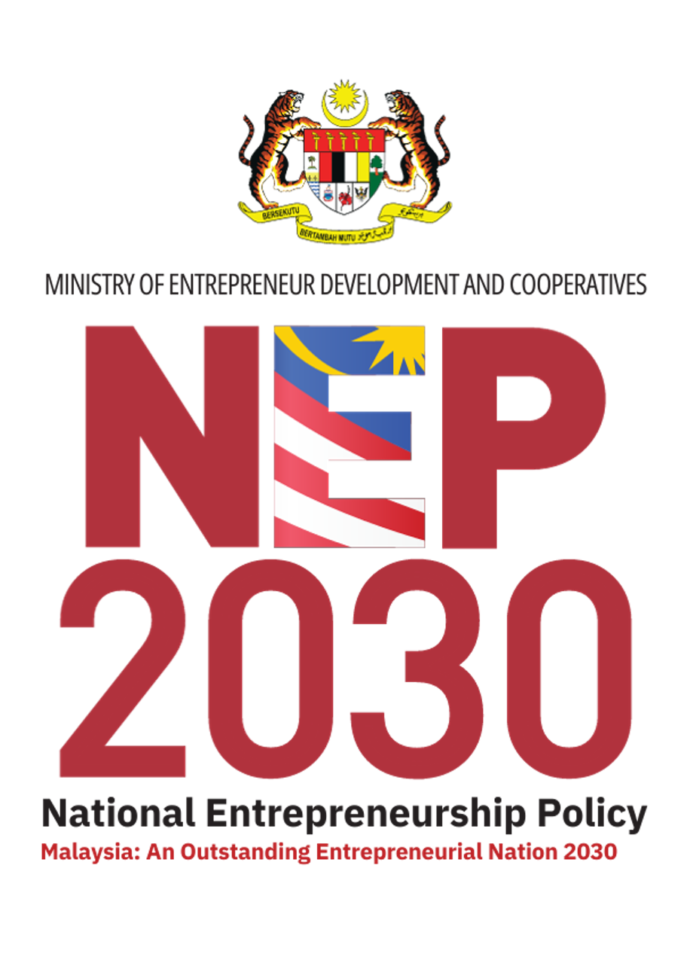 The NEP 2030 has articulated 6 Strategic Thrusts, taking into account global economic growth, existing entrepreneurial achievements, and the challenges faced by entrepreneurs in fostering a favorable entrepreneurship ecosystem. These 6 strategic thrusts serve as the foundation, bolstered by 19 Strategies and 62 Initiatives, which form the bedrock of the implementation of this policy. Our commitment is to underpin the 5 objectives of NEP 2023:
Cultivating a holistic and enabling entrepreneurship ecosystem to support Malaysia's inclusive, well-rounded, and sustainable socio-economic development agenda.
Nurturing a nation that embraces and instills an entrepreneurial mindset.
Enhancing the quality, viability, resilience, competitiveness, and global perspective of Malaysian entrepreneurs.
Elevating the capabilities of micro, small, and medium enterprises, as well as cooperatives.
Promoting entrepreneurship as the preferred career choice.
We are thrilled to be a driving force behind entrepreneurship training for both local and international talent, in alignment with the goals of the National Entrepreneurship Policy 2030. We invite you to join us on this journey to cultivate a thriving community of entrepreneurs and advance our collective mission of building an entrepreneurial nation. Together, we can propel our shared vision forward.
Summary
Science & Technology Entrepreneurship Training (SCENT) is a 6-month training program introducing university and college students to the Japanese style of startup and business concepts with the purpose of implementing research and technology into society.
Duration (including preparation)
25th December 2023 – 22nd June 2024
Venue
Physical: Leave a Nest Malaysia Sdn Bhd, G-B, Block 2330 Century Square, Jalan Usahawan, Off Persiaran Multimedia, 63000 Cyberjaya, Selangor
Online platform: T.B.D.
Participants
50 students -> 10 teams
This program is designed for university and college students seeking to enhance their skills, professionals looking to upskill themselves, and individuals with entrepreneurial aspirations, and also welcomes anyone interested in advancing their knowledge and abilities. Additionally, we encourage participation from recent graduates seeking to kickstart their careers, and lifelong learners eager to stay ahead in their fields.

Objectives
To change the mindset of scholar participants in such a way that they will be able to innovate, and bring these innovations to society;

To train undergraduate scholars and encourage entrepreneurship as a preferred career choice among science & technology (S&T) students;

Teach know-how and know why that's required for the survival of next-generation innovators and entrepreneurs

To encourage perseverance among scholar participants starting from creating deep technology startups, that can operate properly as actual companies beyond the training program.
Timeline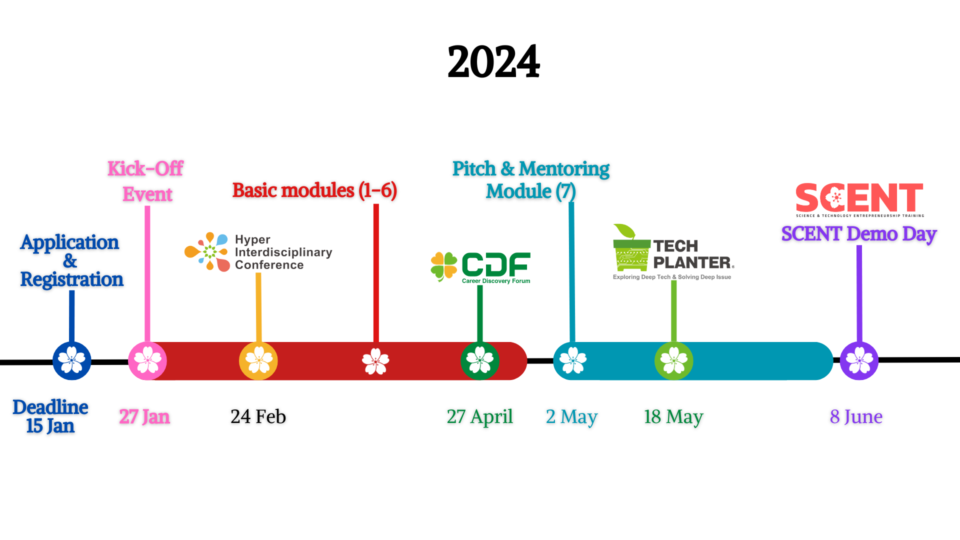 Important Dates
| | |
| --- | --- |
| Activity | Date |
| Registration | 1st December 2023 – 15th January 2024 |
| Selection of Participants | 25th January 2024 |
| SCENT Program Kick-off | 27th January 2024 |
| On-site Training and Workshops (Modules 1 – 6) | 27th January  – 8th June 2024 |
| Hyper Interdisciplinary Conference (HIC) in Malaysia 2024 | 24th February 2024 |
| Career Discovery Forum (CDF) 2024 | 27th April 2024 |
| Tech Planter Malaysia 2024 | 18th May 2024 |
| Pitch Mentoring Sessions (Module 7) | May 2024 |
| Project SCENT Demo Day & Training Completion Ceremony | 8th June 2024 |
Modules

| | |
| --- | --- |
| Module 1 | Mindset & Attitude: [QPMI] "Question-Passion-Members-Innovation" Mindset for solving issues in society & social problem-solving attitude. |
| Module 2 | Problem diagnosis: Formulation of ideal technology to solve identified problem |
| Module 3 | Study Blueprint: Research plan & strategy |
| Module 4 | Science Bridge Communication (SBC): Leadership, communication, writing, and presentation |
| Module 5 | Entrepreneurial Ecosystem: Intellectual property, technology transfer, capital resources, equity |
| Module 6 | Business Development: Business growth, networking, collaboration, market valuations, etc. |
| Module 7 | Pitch & Mentoring: Learn how to pitch and present for business matching and collaboration, and how to distinguish from academic presentation. |
Partnership Packages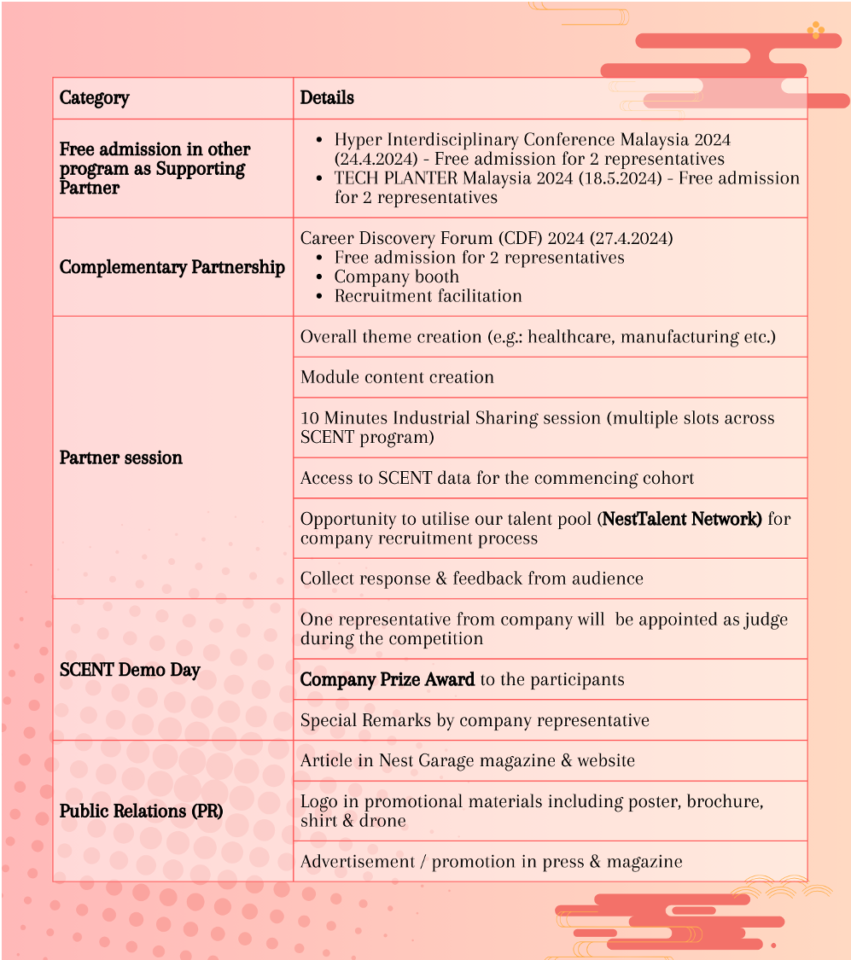 We cordially invite you to engage in a conversation with us regarding a partnership package for the inaugural cohort of the Science & Technology Entrepreneurship Training (SCENT) program. Your participation can help us shape the future of innovation and entrepreneurship. Let's discuss how we can work together for mutual benefit and the advancement of the SCENT program.
Contact:
Dr. Mohd Izwan: [email protected], +60195202404
Dr. Arief: [email protected], +60135134833
Ir. Dr. Ilia: [email protected], +60132073589