TSUNAGU 2022—Connecting and empowering students across the world to discover and solve environmental issues through scientific research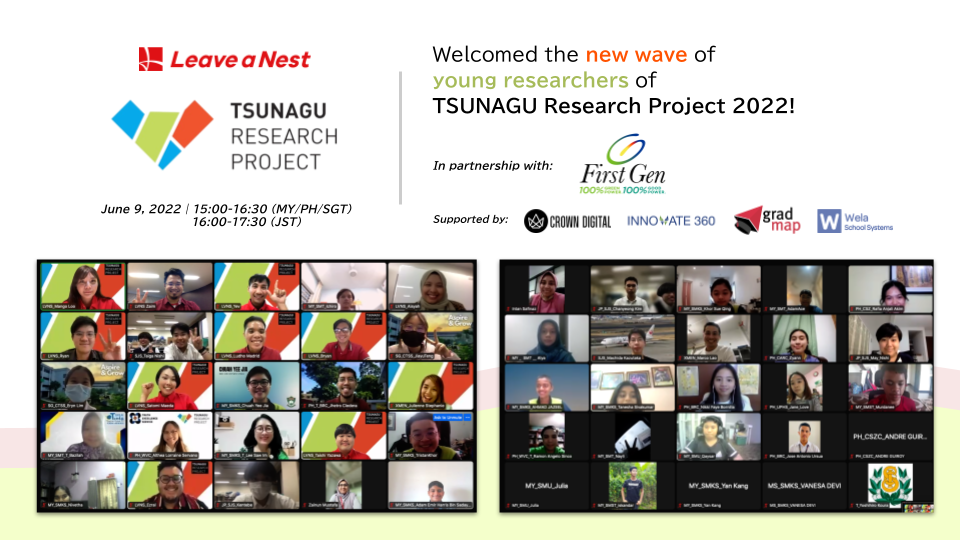 Leave a Nest Group first launched the TSUNAGU Research Project, a joint research project in which junior and high school students work together as a team across national borders, and was officially started 2 years ago in August 2020. The aim was to connect junior and senior high school students around the world and come up with ideas to solve issues in society within the research teams. The word TSUNAGU (つなぐ) means 'Connect' and this project hopes to connect people with different mindsets and disciplines from Southeast Asia and Japan to give students the opportunity to share opinions and ideas, learn from one another and realise the new appeal and value of research in a more global perspective.
This year, TSUNAGU is back with a different theme and two research categories namely "Jiyuu" and "Kadai"
TSUNAGU Research Topic 2022: "Environment"
TSUNAGU Research Theme 2022: "Creation and promotion of sustainable technologies to solve environmental issues"
2022 TSUNAGU Research Project Kick-Off Event:
Date: 9th June 2022 (Thursday)
Time: 3:00pm – 4:30pm (MYT, SGT, PHT), 16:00 – 17:30 (JST)
Venue: Online Platform via ZOOM
The virtual event was held to introduce Leave a Nest and TSUNAGU to the participants, external mentors and partners. We are also honored to have Ms. Susan Ruth Nisperos-Nool, OIC Chief of Climate Change Mainstreaming and Integrating Division, Climate Change Service office under the Philippine Department of Environment and Natural Resources as the Keynote Speaker of this event who gave an important speech about the current environmental issues and importance of research in solving it.

Our visionary partner, First Gen Corporation, also imparted a special message through their Senior Manager, Ms. Janice Ortañez-Dugan, focused on their quest for pushing for renewable energy and role of the innovative research of the TSUNAGU participants.

This year's edition of TSUNAGU will be hosting 22 external mentors, thrice as much as the previous year, ensuring proper research guidance for our participants. After which, our participants coming from 14 schools across 4 countries introduced themselves, the schools that they were from and their expectations from the program. 
After the kick-off meeting, the students will communicate with each other via online tools and mentoring support from Leave a Nest mentors and research mentors to work on their research projects.
WHAT'S NEW THIS YEAR?
Host Country and Research Theme
The host country for this year is the Philippines and participants will be working together in identifying issues, doing research, and formulating solutions related to ENVIRONMENT and more specifically in the fields of Energy, Waste & Water (Jiyuu) and Renewable Energy (Kadai). 
Additional Research Mentors
In order to add value to what Leave a Nest has to offer, we have also invited 22 research mentors, most of which was gathered through the support of GradMAP Philippines as Academic Partner, to give more academic perspectives and advice to the participants. You can find the details of the research mentors on the website (see link at the end of the article).
Research Group Format
The TSUNAGU Core Team is continuously improving the program through the feedback obtained from the previous years. This year, TSUNAGU has two separate categories, Jiyuu and Kadai. Jiyuu (自由) represents freedom, indicating that participants can freely choose their research topics under the theme of Energy, Waste & Water. Kadai (課題) is then to provide structure and to guide students to follow a predetermined structure and after which, be able to work on a research project in the field of renewable energy. Kadai seeks to provide more guidance for students that have minimal research experience.
Participating Schools in 2022
13 schools from 4 countries will be participating, a mixture of new schools and schools that have participated in the previous year.
Japan
1. Dalton Tokyo Gakuen Junior and Senior High School
2. Seigakuin Junior and Senior High School
Malaysia
1. Sekolah Menengah Tinta
2. Sekolah Seri Puteri
3. SMK Seri Bintang Utara
4. SMS Tengku Muhammad Faris Petra
5. SMU Al-amin
Philippines
1. Claret School of Zamboanga
2. Philippine Science High School – Bicol Region Campus
3. Philippine Science High School – Cordillera Administrative Region Campus
4. Philippine Science High School – Western Visayas Campus
5. University of the Philippines High School in Iloilo
Singapore
1. Clementi Town Secondary School
HOW TO WATCH THE 2022 KICK-OFF EVENT:
If you are interested in watching, please access the Kick-off Video Recording through this link or scan this QR code: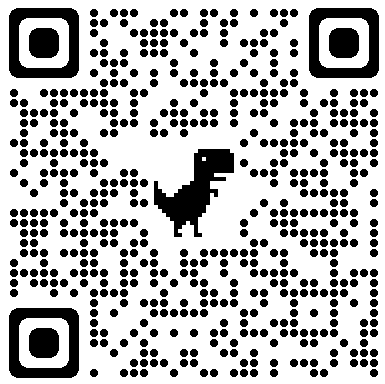 https://tsunagu.lne.st/2022KickOff
You can also check out more the details through the official website of the TSUNAGU Research Project
Kindly check past TSUNAGU Research Project news releases here:
TSUNAGU Research Project 2020 Kick-off News Release – "Connecting Junior and Senior High School Students through Science Research Beyond Borders"
TSUNAGU Research Project 2021 Kick-Off Event – "Connect and collaborate using Science and Technology in creating a new sustainable form of agriculture"
For more information, do not hesitate to drop us an email at [email protected] attention to:
JP: Dr. Satomi Maeda / Dr. Taishi Yazawa
PH: Dr. Yev Dulla / Mr. Bryan Foronda / Mr. Ludho Madrid
MY: Mr. Nur Ahmad Zaim Hussin / Ms. Aisyah Adul Hamid
SG: Dr. Kihoko Tokue / Dr. Mango Loo / Mr. Sivakumar Thamizvanan / Mr. Ryan Chui