Leave a Nest Malaysia Expanding Its Research Network To Veterinary Research Institute Malaysia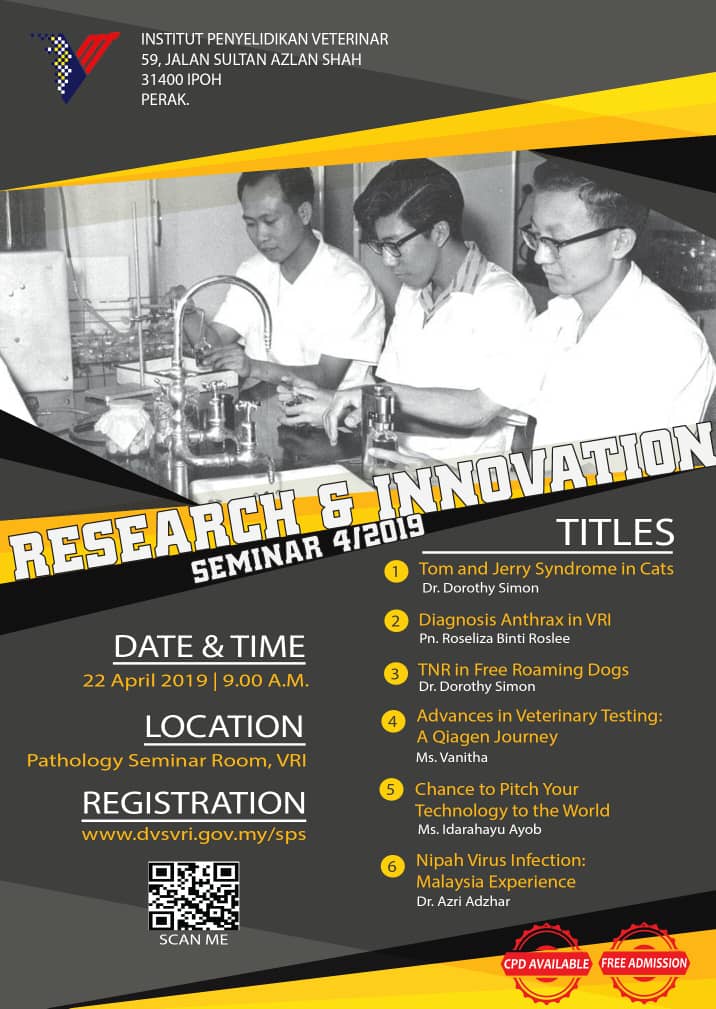 Leave a Nest Malaysia Sdn. Bhd. had been invited by Veterinary Research Institute Malaysia (VRI) to their monthly Research and Innovation Seminar in Ipoh, Perak. The seminar was held on 22nd April 2019 and attended by more than 40 researchers.
Leave a Nest Malaysia was represented by Ms. Ida*rahayu Ayob from the Frontier Development Division. She gave an introduction about Leave a Nest and briefed about TECH PLANTER in MALAYSIA 2019 program to the researchers. She also had the opportunity of visiting great facilities at VRI and interacting with the researchers there.
The seminar was also attended by Dr. Faizah Hanim Mohd. Saeid, Director of VRI Malaysia, Dr. Mohd. Noor Hisham, Director of Planning Division and Dr. Chandrawathani A/P Panchadcharam, Director of Research and Innovation Division, Department of Veterinary Services (DVS), Putrajaya.
There were 2 VRI researchers and 1 industry speaker who talked about new instruments, methodologies and findings of their research. There was also a great experience sharing by an ex-senior officer of VRI on the outbreak of Nipah virus in Malaysia in the year 1998/1999. According to World Health Organization (WHO), Nipah virus infections on humans were first identified in Malaysia. The outbreak had caused over 1 million pigs being culled while 257 people were affected, mostly pig farmers and villagers and 105 people died of the infection. Total loss was estimated at RM1billion.
Background of VRI
Veterinary Research Institute Malaysia (VRI) is a premier research division of the Department of Veterinary Services, Ministry of Agriculture and Agro-based Industry (MOA), Malaysia. It was established in 1948. VRI is an institute that:
Provides leadership in R&D into animal health and diseases of economic and zoonotic importance.

Conducts R&D of novel vaccines and biologicals for veterinary use.

Serves as the national animal health reference centre to all regional veterinary laboratories, universities and research institutions in Malaysia.

National reference centre for Nipah virus infection and avian influenza.
Leave a Nest Malaysia will continue to build new researchers network as part of its effort to share about the knowledge-based platform such as TECH PLANTER, Hyper Interdisciplinary Conference, and Career Discovery Forum with Malaysian researchers. Our mission as a Science Bridge Communicator is to simplify the understanding of scientific research so it can be appreciated and understood by the society. We hope to be able to tap on the knowledge and expertise of VRI researchers in the future.