TECH PLANTER in Vietnam 2023: Finalists and Lightning Talk Teams Announcement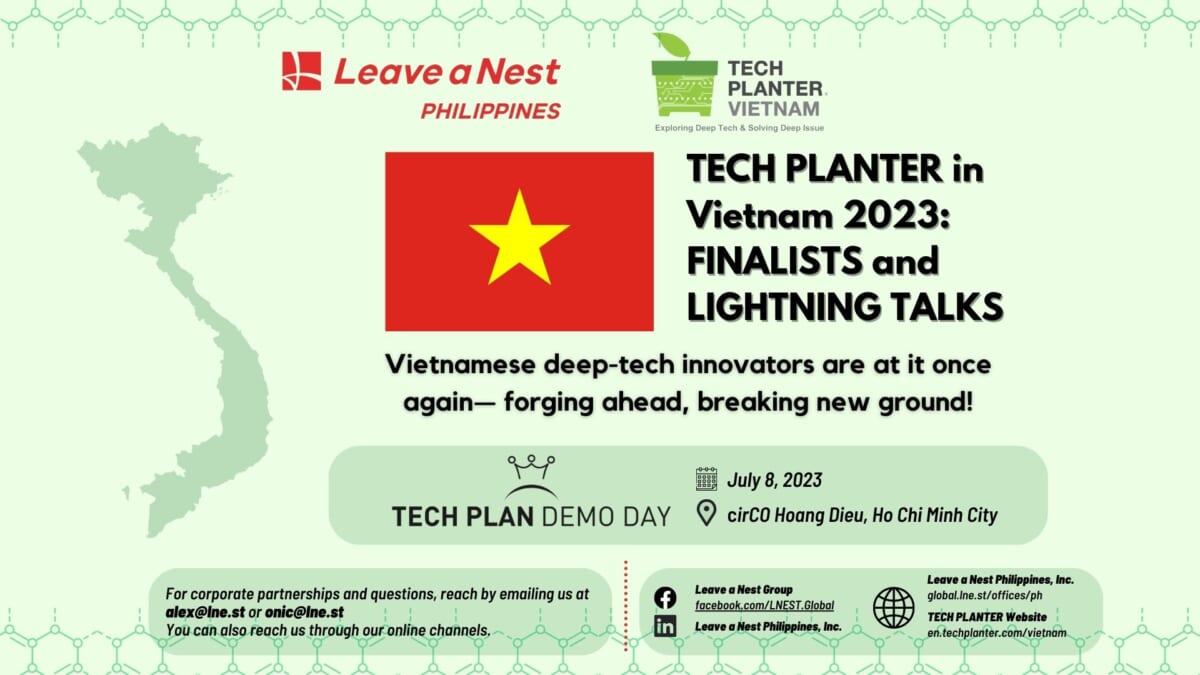 In order to help bring deep technologies into society, TECH PLANTER has again started a new season this 2023. TECH PLANTER is a platform that Leave a Nest started back in 2014 to support startups around the world. Leave a Nest is conducting this program in 6 countries across the ASEAN region. Our platform allows support to startups including prototyping support, IP strategy, and investments. Essentially, it is focused in connecting startups to large corporates, especially from Japan. Leave a Nest envisions a future where the deep technology ecosystem grows to be more cohesive and more robust to solve the deep and urgent issues that we face in today's society.
Nine standout finalists have been selected to pitch and compete in the highly anticipated TECH PLAN Demo Day for the prestigious title of TECH PLANTER in Vietnam 2023 Grand Winner. These finalists will come together to showcase their groundbreaking technologies, driven by a passion to address various pressing challenges faced not only in Vietnam but globally as well. We have also categorized these teams into three, based on their core technologies and purpose: (1) Advanced Technologies for Sustainable Solutions, (2) Innovations for Environmental Remediation, and (3) Innovations in Sustainable Technology.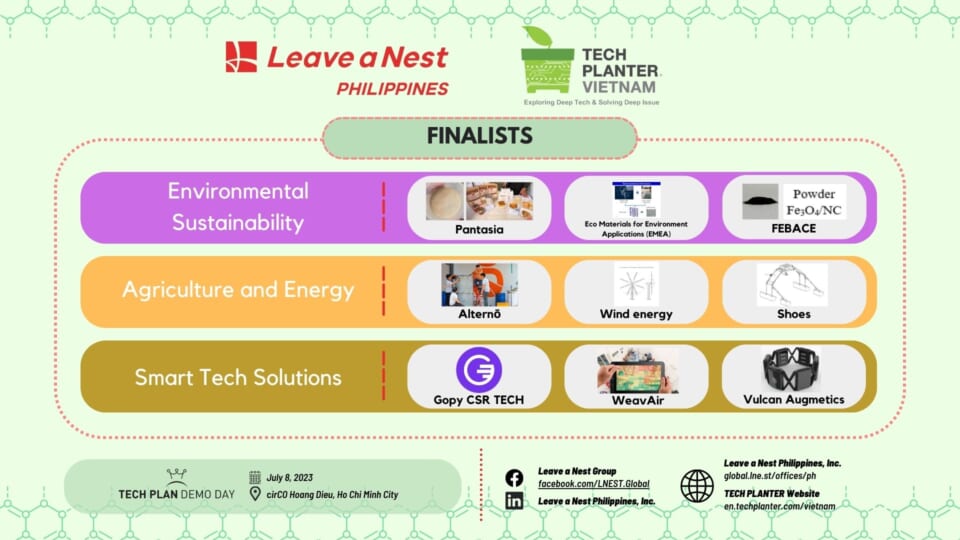 FINALISTS TEAMS
| | |
| --- | --- |
| Team Name | Technology Summary |
| Pantasia | Enhances soluble dietary fiber content for better digestion using eco-friendly citric acid and enzyme hydrolysis on bacterial cellulose, offering a sustainable, safe, and direct-use solution. |
| Eco Materials for Environment Applications (EMEA) | Repurposing PV glass waste to efficiently remove Cr(III) from wastewater and enhance absorption of heavy metals. |
| FEBACE | Efficient wastewater treatment using Fe4O3 and Bacterial Cellulose to remove heavy metals and organic pollutants, minimizing non-biodegradable sludge. |
| Alternō | Sand Battery: Sustainable agri drying revolution with GHG reduction, utilizing cutting-edge technology.  |
| Wind energy | Next-gen turbine design surpassing Betz's Limit, delivering 4x cost efficiency for wind energy generation. |
| Shoes | Cost-effective solution for seeding, fertilizing, and spraying rice fields with Shoes, a sliding shoes-like vehicle for efficient farming. |
| Gopy CSR TECH | Empowering stakeholders with data-driven engagement. Overcoming fear of retaliation, enabling feedback and reporting. |
| WeavAir | Multi-sensor system predicts, detects, and automates feedback for energy efficiency, emissions, and air quality. |
| Vulcan Augmetics | Accessible medical sensors through smart tech: Simplified control, advanced automation. Industry growth enabled. |
Distinguished judges, comprising of representatives judges from Vietnam and global from venture capital firms, incubators, consultancies, R&D centers, and more, will assess each finalist's presentation and innovation. 
Furthermore, 3 teams were selected to pitch for the Lightning Talk portion of TECH PLANTER. They will be given the opportunity to share their technologies to the Leave a Nest's network. Additionally, their pitches will be outside of judging.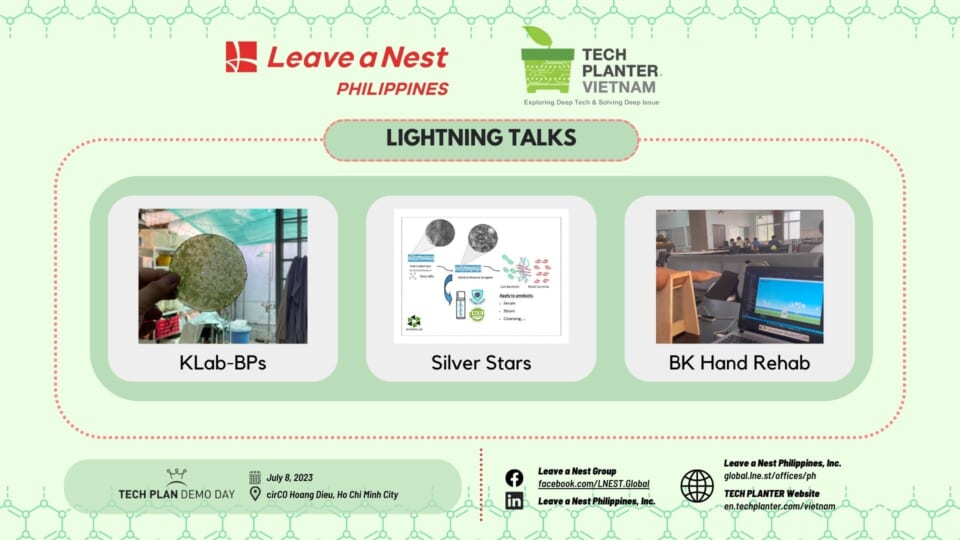 LIGHTNING TALKS TEAMS
| | |
| --- | --- |
| Team Name | Technology Summary |
| KLab-BPs | Maximizing high-value biological product production through advanced bioprocessing technology. |
| Silver Stars | Silver nanoparticle-based antibacterial agent on inert substrate for effective and safe preservation of cosmetics and medical products. |
| BK Hand Rehab | Game-based machine learning using LMC sensor data for effective hand rehabilitation integration and gesture classification. |
For any inquiries about TECH PLAN Demo Day in Vietnam 2023, please contact [email protected] or Alexander Gali ([email protected]).