Leave a Nest Singapore x Enterprise Singapore – Successfully signed MOU under GIA acceleration program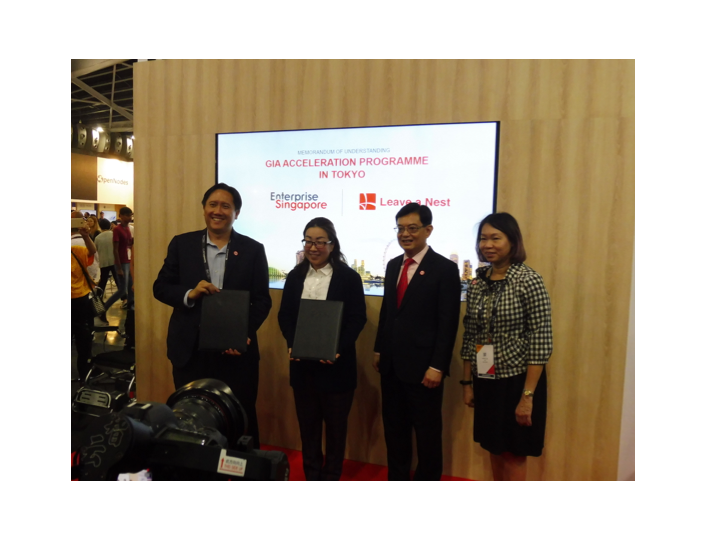 On Wednesday, November 13th, 2019, Leave a Nest Singapore Pte Ltd (LVNS), and Enterprise Singapore (ESG) successfully signed a memorandum of understanding (MOU) to run the Global Innovation Alliance (GIA) acceleration program.
The signing took place at the recently concluded Singapore Week of Innovation and TeCHnology (SWITCH) event, LVNS was represented by Dr Kihoko Tokue, Managing Director, LVNS Singapore & ESG was represented by Mr Jonathan Lim,Director, Global Innovation Network Division.  The event was presided by Singapore's Deputy Prime Minister & Minister of Finance, Mr Heng Swee Keat.
About GIA Tokyo
GIA is a network of Singapore and overseas partners in major innovation hubs and key demand markets, with a focus on technology and innovation & objective of connecting companies to overseas business and tech communities. It is a joint initiative between Enterprise Singapore and the Singapore Economic Development Board.
LVNS will facilitate the entry of Singapore-based deep-tech startups & SMEs in entering & accessing the Japanese market through Tokyo.
The programme to Tokyo has two stages.
Stage one: 5-10 days preparation sessions in Singapore.
LVNS will be conducting preparation sessions (5 to 10 days) in Singapore on doing business in Japan. These will include market insights, opportunities in Japan, as well as sessions on Japanese culture. LVNS will also provide mentorship sessions for each participant to refine their business plan for Japan.
Stage two: One-week business immersion programme in Japan.
The week-long business immersion programme will include tailored meetings potential customers, partners, and investors. There will also be combined visits to Japanese corporates and ecosystem players such as VCs. The programme also allows access to events such as Tech-Planter, where participants can showcase their solutions and interact with Japanese start-ups, companies, and ecosystem players.
How to apply
Start-ups/SMEs interested in applying for the GIA Acceleration Programme to Tokyo can contact Mr. Michael, with the subject line "Interest in Japan GIA Programme".
Email: [email protected]
~~
Future events by Leave a Nest
In the meantime, please have a look at our upcoming events in our ecosystem.
Tech Venture Meet Up (TVMU) in Singapore 2019
Hyper Interdisciplinary Conference (HIC) in Japan 2020

If you are already in Japan and want to explore more of our ecosystem, come down to HIC in Japan 2020 to meet other researcher and startups! For more information, please visit the HIC website (URL).
For more information on our other programmes, please feel free to contact us at [email protected]