Announcement: Five SG based Deep Tech startups selected for "Enter to Japan Market Prog 2020"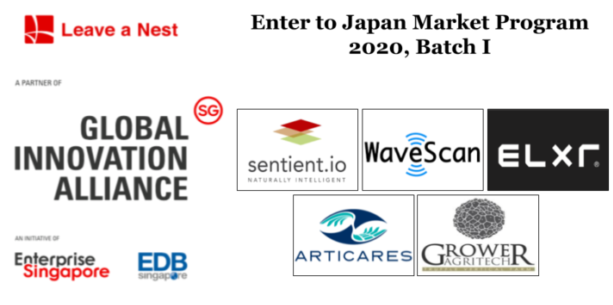 Enter to Japan Market 2020 Batch I
From the outset we would like to thank all the startups for their overwhelming response. Following a successful information sharing session about the program, on the 13th of January 2020, today we are happy to announce the list of the five Singapore based startups selected to participate in the first batch of the Enter to Japan Market Program, Batch I. The selection process was arduous, due to the fact that the program drew applications from a highly competitive and diverse variety of deep-tech startups . Given the diversity in the applications,  it was decided that rather than focus on any particular sector or domain,  the selection committee would strive to include startups from varied backgrounds to maximise interactions and learning between startups. 
The Final Five – Batch I
| | | |
| --- | --- | --- |
| Name  | Domain | Website links |
| Sentient.io Pte Ltd | AI & IoT | sentient.io |
| Wave Scan Technologies Pte Ltd | Sensors & AI | wavescan |
| Articares Pte Ltd | Health Tech | articares |
| ELXR Pte Ltd | Sports Tech | elxr |
| Grower Agritech Pte Ltd | Agri & Food Tech | grower Agritech |
As a next step, the selected startups will participate in the pre-visit workshops to be held on the 3rd, 10th & the 17th of February 2020, where they will learn about  and be exposed to various aspects about the Japan market ( IP, IPO, Investments, business plans, go to market strategies) and the Japan ecosystem (research collaborations, industry partners, manufacturing, prototyping) through lectures and personalised workshops. Following the pre visit workshop, the startups will visit Japan for a week in March, where they will meet potential industry, business partners, VCs, CVs, visit prototyping factories and pitch during the Hyper Interdisciplinary Conference 2020 in Japan.
Finally, we would like to once again thank all the startups for participating in our info session and also for applying to the program. We would also like to congratulate the five startups  selected for the batch-I of this program.We look forward to working with you, towards achieving your goals and missions in Japan.
For the startups who were not selected, fret not, your applications will be considered for Batch II of the program which will commence in July 2020. We also have batches III & IV in  2021.
Tentative deadlines for Batch II
| | |
| --- | --- |
| Application opening  |  April 2020 |
| Info Session | 29th June 2020 |
| Application Deadline | 6th July 2020 |
| Pre-visit workshops | 20th July, 27th July & 3rd August |
| Visit to Japan | 8-12th September  |
For more information about the "Enter Japan Market Program", please click here
For enquiries :
Please do not hesitate to write to [email protected]
(Attention Michael or Ravi)