Inaugural info session for "Enter to Japan market Program", for DEEP TECH startups:Jan 13th 2020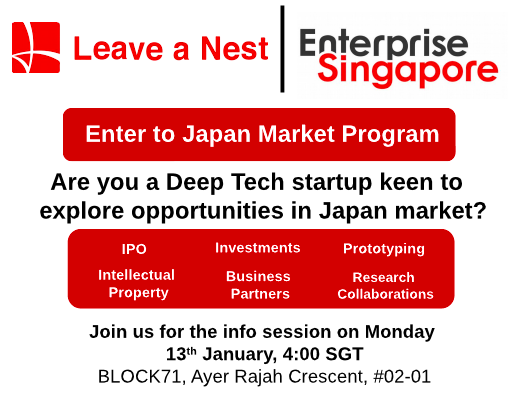 On Monday, January 13th 2020, Leave a Nest Singapore Pte Ltd (LVNS) will conduct the very first information session for the "Enter to Japan market Program" for Singapore based deep tech startups. This program  was conceived by LVNS in partnership with Enterprise Singapore (ESG), under the umbrella of the Global Innovation Alliance (GIA) acceleration program.The event is being held at BLOCK71, who is also the venue sponsor for the event.
Date
Jan 13th 2020
Time
4-5 pm
Venue
BLOCK71,

Ayer Rajah Crescent, #02-01, Singapore 139951
Japan remains an untapped market for international startups interested in research collaborations, business expansion and  raising funds
Japan is a technology powerhouse with a mature market close to 130 million, a large economy (Japan is the world's 3rd largest) with a GDP of nearly 5 trillion yen . Additionally , in the recent past Japanese conglomerates are more open minded than ever before and are focusing on collaborating with domestic and international startups towards open innovation.
Japan is also known for its strong pool of private investors and venture capitalists with considerable risk appetite to invest in early stage deep tech startups, making Japan a very attractive market for international startups. The investor mindset combined with support from government agencies provides international startups a great opportunity to penetrate the market, create traction as well as go public or IPO.
Despite all the above positive attributes about Japan market, a few challenges that persist for international startups include its language barrier, differences in business culture and the need to have the right connections to gain traction and market confidence.
To overcome these barriers and facilitate startups to acclimatise to conditions in Japan, LVNS in partnership with ESG will conduct a program to support Singaporean startups towards developing an understanding and to gain insights into areas of market strategy, business development, investment opportunities, prototyping needs, research collaborations and intellectual property within the Japan ecosystem.
If you are keen to find out more, please sign up below for the info session.
Details about the information session:
4:00-4:05 pm: Introduction to Block 71 by NUS Enterprise
4:05-4:15 pm : Introduction by Leave a Nest Singapore
4:15-4:25 pm : Introduction by Enterprise Singapore
4:25-4:45 pm : Introduction to Enter Japan Market Program
4:45-5:00 pm :  Q&A session
Additional information and registration links:
For more details and information about the "Enter Japan Market Program", please click here
To register to the information session on January 13th 2020, please click here
To apply for the "Enter Japan Market Program" Batch I, please click here
(Deadline: Jan 20th 2020 23:59)
For any other enquiries :
Please do not hesitate to write to [email protected]
(Attention Mr. Michael or Ravi)
~~