Singapore Based Deep Tech Startups Visit Tokyo, Japan as part of Global Innovation Alliance Acceleration Program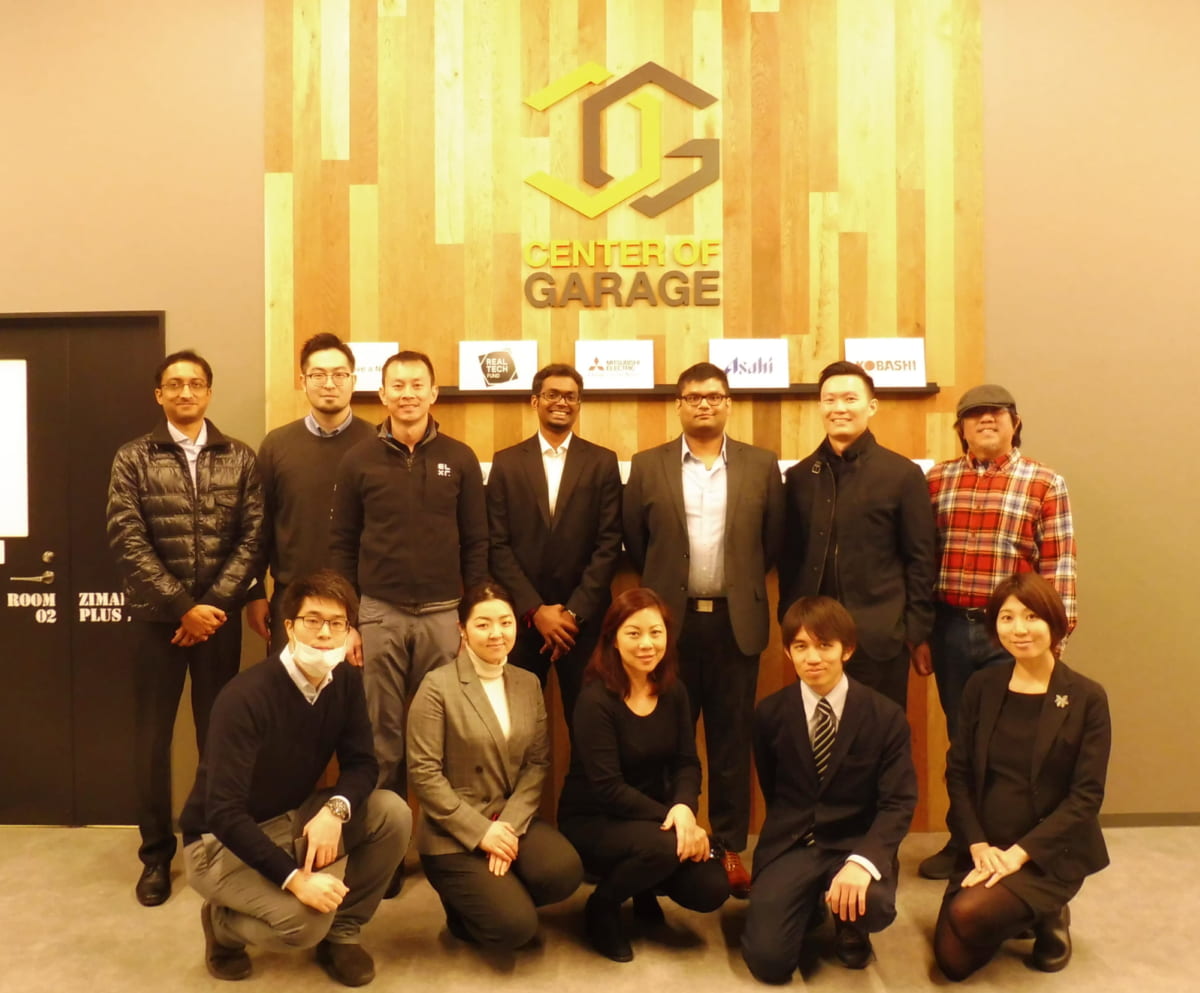 As part of the "Enter to Japan Market Program", created by Leave a Nest Singapore (LVNS) in partnership Enterprise Singapore (ESG), four deep tech startups as part of the first batch, visited Tokyo, Japan from March 2nd – 6th, 2020. Through curated & customised face to face meetings, Singapore start ups had an opportunity to meet with top management of various Japanese corporates, VCs, CVCs, key opinion leaders, research & channel partners including startups based in Japan. To facilitate effective and productive communications, Leave a Nest supported the startups with dedicated communicators familiar with Japanese language and practices.
The startups also had an opportunity to understand & experience first-hand the ecosystem as well as the nuances of conducting business, prevailing practises and mindset of corporates in Japan. In addition to business meetings the startups also had the opportunity to pitch in front of VCs & CVCs, and also compete against startups from South East Asia (SEA) during the Hyper Inter Disciplinary Conference (HIC) in Japan.
Brief schedule of Japan Visit for Batch 1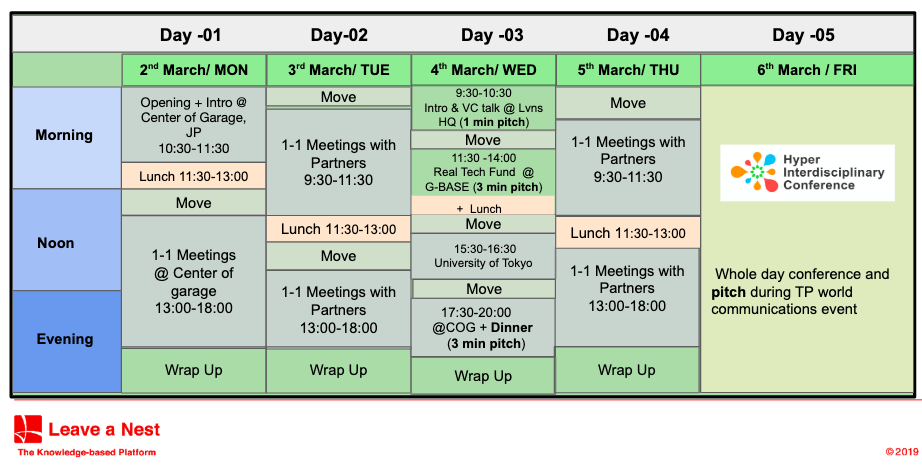 FeedBack from Startups about the Japan visit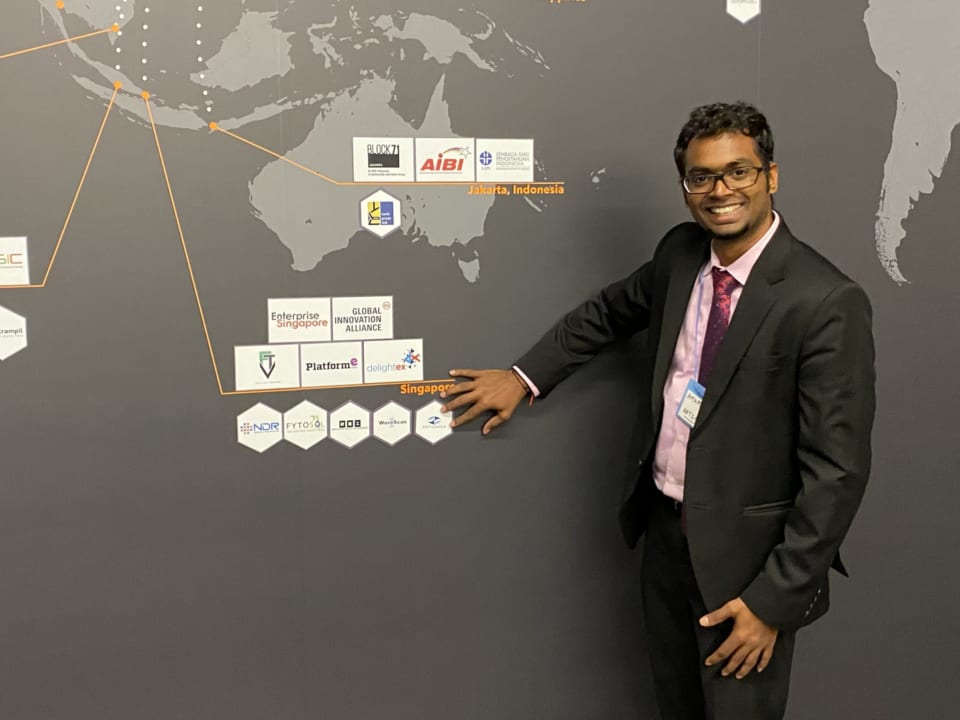 "All-in-all ARTICARES had a fruitful trip to Japan. As a team, Leave a Nest pulled out all stops and favours to arrange meetings with relevant partners and customers for ARTICARES including some Key Opinion Leaders. By pre-arranging the meetings and supporting in-person through language translations, Leave a Nest effectively bridged the conversation between the parties making the interaction a smooth process ensuring we understood the business practices in Japan. Great work by Leave a Nest team! "
Mr Amar Balajee, Business Development Lead, ARTICARES PTE LTD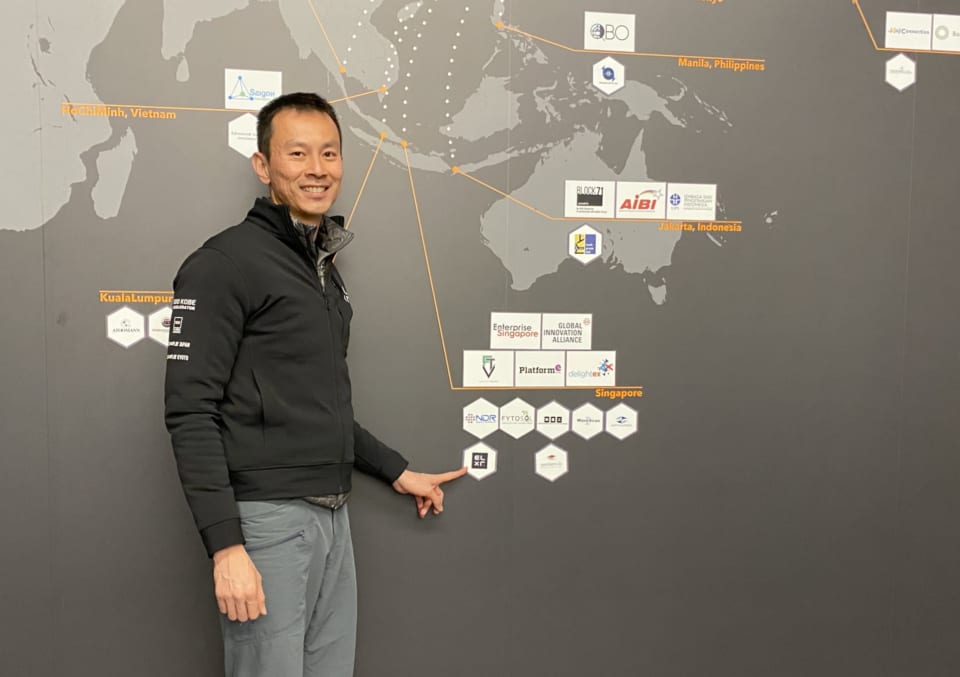 "The Leave  Nest GIA program had been exceptionally beneficial for ELXR. The enthusiasm of the staff and tightly-knitted curated program allowed startups to make full use of our time in Japan – for meetings and power matching. This is highly recommended for any companies looking to enter the Land of the Rising Sun!" 
Mr Steffan Fung, Founder & CEO , ELXR PTE LTD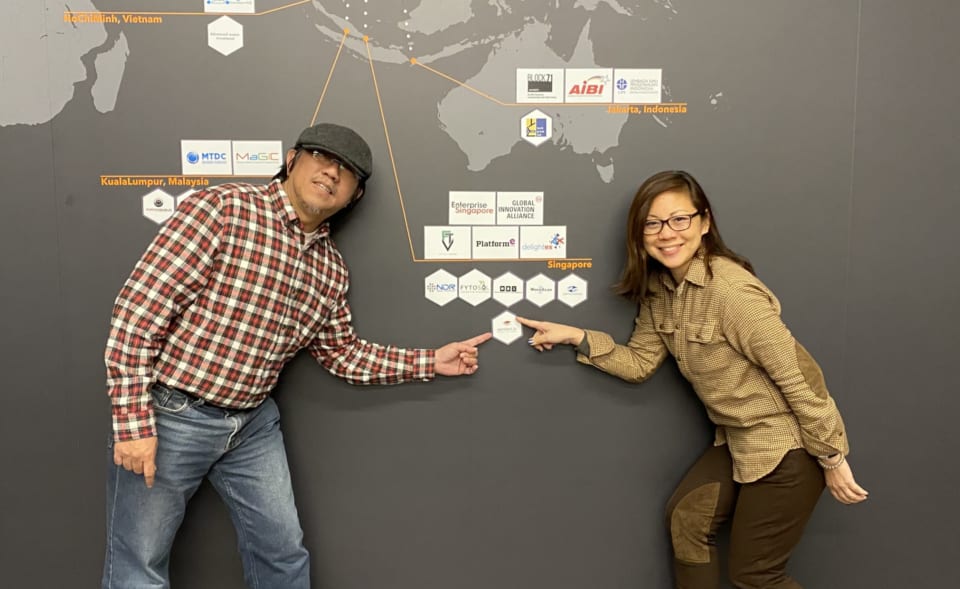 "This program was well organised by Leave a Nest and ESG teams. Sentient.io met up with 9 companies from various industries. Overall we had productive and engaging discussions which we anticipate would lead to possible partnerships. In light of the COVID'19 situation, engagement at the exhibition was not as productive as we wanted it to be. Overall, we achieved most of the objectives for this trip" 
Ms Linda Tan,  VP- Marketing & Business Development, SENTIENT.IO PTE LTD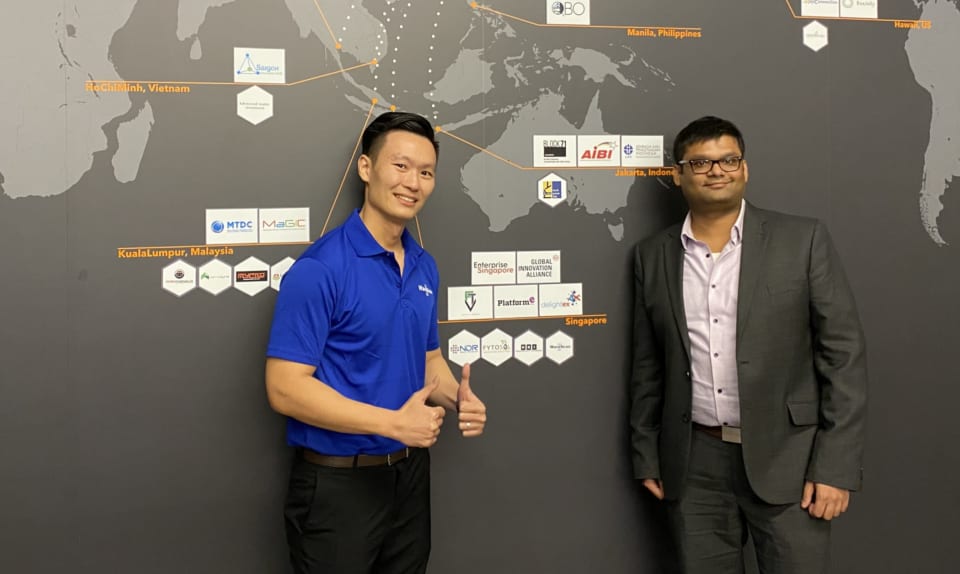 "The Enterprise Singapore GIA Japan immersion week with Leave a Nest was highly productive. Within a short span of 5 working days (amidst coronavirus situation), we met 20+ large scale corporations, VCs, and government entities. This trip has provided us with significant insights and links to start setting our footprint in Japan. The program was very well structured to the personal needs and priorities of startups, and the Leave a Nest team did a commendable job with the resources & time we had in hand. As a startup founder/CEO, I felt it was a good ROI for our time, at a startup pace of engagements & deliverables." 
Dr Kush Agarwal, Founder & CEO , WAVESCAN PTE LTD
                                                                              ———————0—————–                                        
More about the Deep Tech Startups selected for Batch 1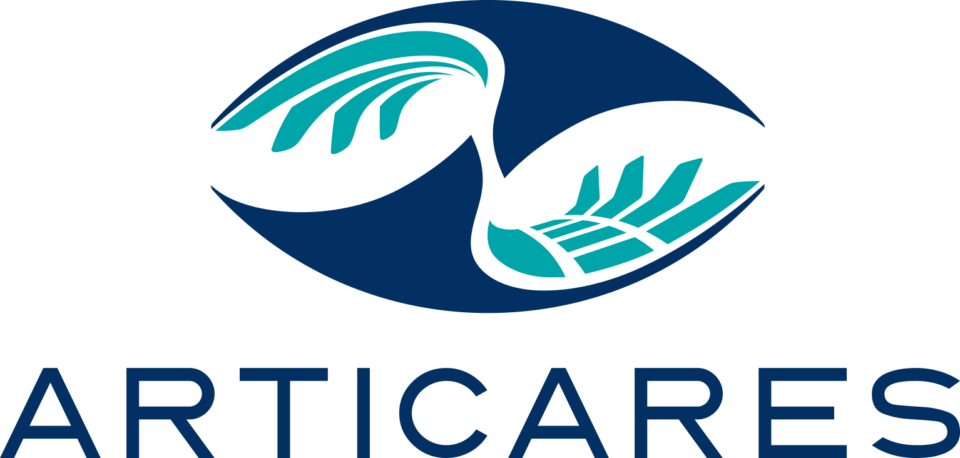 1.ARTICARES, is an international med-tech company that develops robotic rehabilitation solutions for training in clinical and home environments. Articares' H-MAN is the first truly portable, clinically-validated arm rehabilitation robot for assessment and personalised movement therapy. It is designed to deliver maximum value through enhanced productivity & returns for healthcare providers.

2.ELXR, is the Pioneer of Genetics-Based Fitness Ecosystem in Asia –  a tool to help coaches with lead-generation, and transforming citizens with personalised fitness solutions. It is the first and only Sports-Tech company to be accepted into the 500Startups accelerator in Japan and Silicon Valley. ELXR is also awarded "Best International Startup Award" under Plug-and-Play Tokyo and Kyoto.                                                                          

3.SENTIENT.IO, help companies deploy AI solutions and integrate into their existing businesses fast. Sentient's AI and Data Platform helps software developers who have little or no AI skills to build AI and data driven solutions quickly and easily by offering domain-targeted AI and data as API services.

4.WAVESCAN, WaveScan is an A*STAR spin-off company developing contactless, see-through scanning technology for the inspection & maintenance industry. Our proprietary technology builds upon nearly a decade-long R&D and is capable of high-resolution 4D imaging for non-destructive testing (NDT) applications, and is being applied to infrastructure, marine & offshore, and aircraft inspection sectors.
——————————–
Key dates and deadlines for Batch 2*
| | | | |
| --- | --- | --- | --- |
| Information session | 29th June 2020 | Workshop 01 | 20th July 2020 |
| Application deadline | 06th July 2020 | Workshop 02 | 27th July 2020 |
| Application Screening | 07th July 2020 | Workshop 03 | 06th August 2020 |
*Tentative Schedule
Additional information for applicants*
Upto 6 startups will be selected for batch 2

Program fees amounts to SGD 5000*.

Singaporean startups with a minimum 30% or greater shareholding from Singaporean or PR are eligible.
To register your interest for batch 2, please scan the QR code below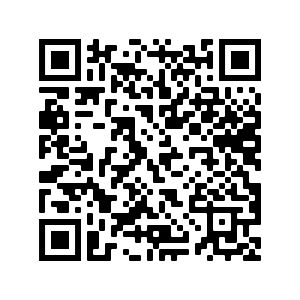 For additional enquiries, please contact

 
Michael or Ravi,  [email protected]