[Announcement]: Four Japanese startups selected for the Ingaural "Enter to Singapore Market Prog 2022"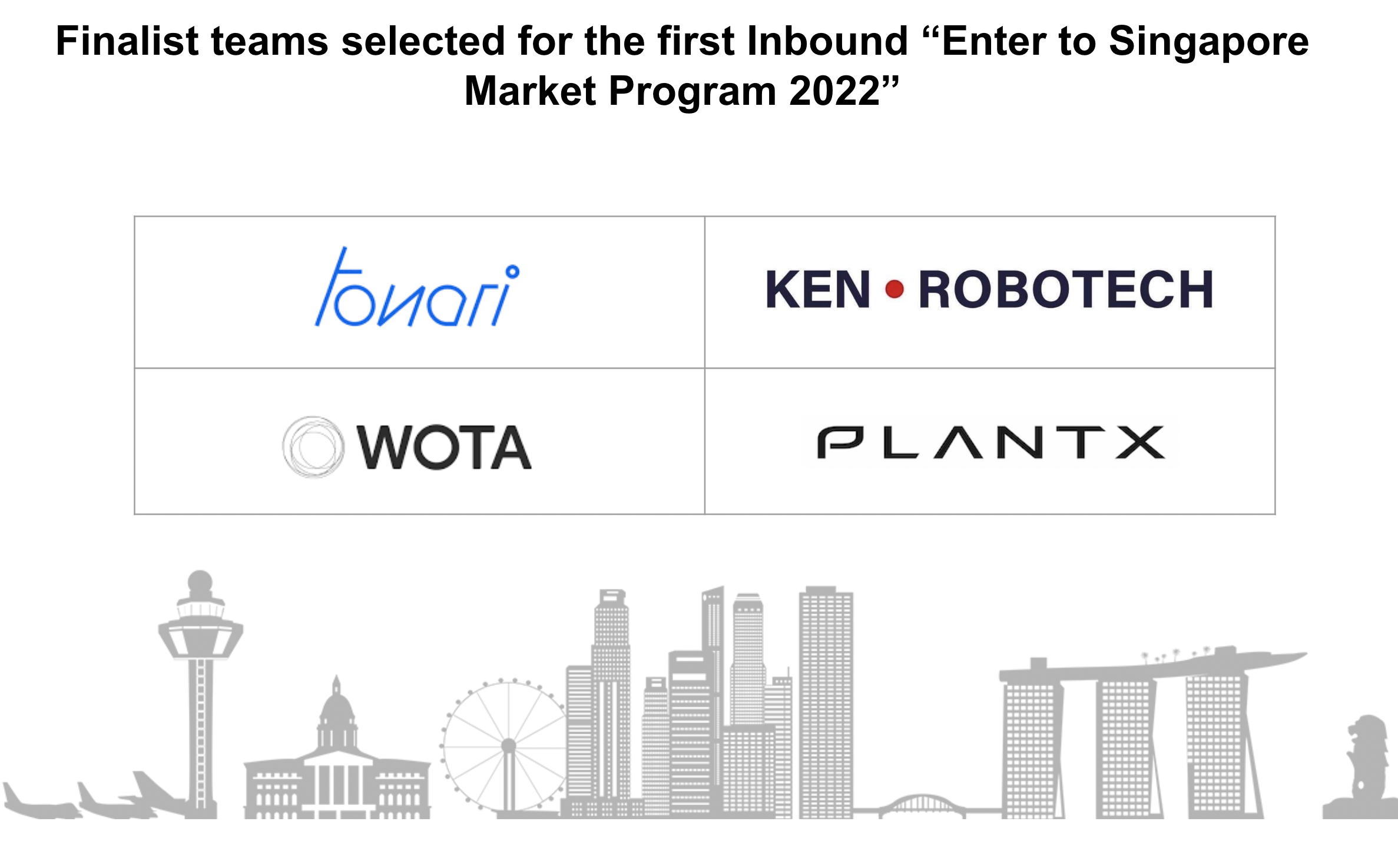 Enter to Singapore Market Program (Inaugural Batch)
We would like to sincerely thank all the startups for their applications and response. We are happy to announce the list of the four Japan based startups selected to participate in the very first batch of the "Enter to Singapore Market Program 2022".  Congratulations to all the selected startups !
Due to the existing travel restrictions, the program will be conducted in virtual/ hybrid format. The selection process was challenging as the program drew applications from a wide variety of deep-tech startups from all across Japan.
The Finalists teams
      Team Name & Link 
 Brief Description
1)     

tonari Inc.

tonari is a social venture and startup that develops a life-sized video system that seamlessly connects two spaces as if one is in the same room for natural face-to-face communication. 

2)     

KEN ROBOTECH CORP

Ken Robo is a  construction tech company that offers original labor-saving solutions that will increase productivity & safety of construction sites  and reduce the burden on workers

3)      

WOTA Corporation

WOTA corp is a  water tech company that works on the development of IoT, AI and Big Data technologies for autonomous control of small-scale, de-centralized water recycling systems for urban environments. 

4)   

PLANTX Corp.

PLANTX is developing the world's first closed type plant cultivation device "Culture Machine". In the Culture Machine, each cultivation shelf is individually sealed, and the cultivation environment on each shelf can be controlled with high precision by incorporating an air conditioning and nutrient solution circulation system inside the device.
As a next step, the selected startups will participate in program Kick off followed by closed online pitching sessions towards Singaporean corporations/ Singapore based MNCs, where they will meet potential industry, business partners, Government agencies, clients, VCs, CVCs or prototyping partners.
Finally, we would also like to congratulate the four startups  selected for this very first batch of the program. We look forward to working with you, towards achieving your goals and missions in Singapore.
Through this program we hope that all the participating teams, can expand abroad, starting with Singapore, given the country is a hub for numerous multinational companies or corporates. Singapore can also serve as a testbed & springboard for further expansion into SouthEast Asia.
For the startups who were not selected, fret not, your applications will be considered for the next batch of the program. 
For more information or enquiries:
Please do not hesitate to write to [email protected]                                                                                                                                     (Attention Ravi or Michael)