MoU between Kasetsart University and Leave a Nest Singapore :Comprehensive partnership in promoting research based innovation from the university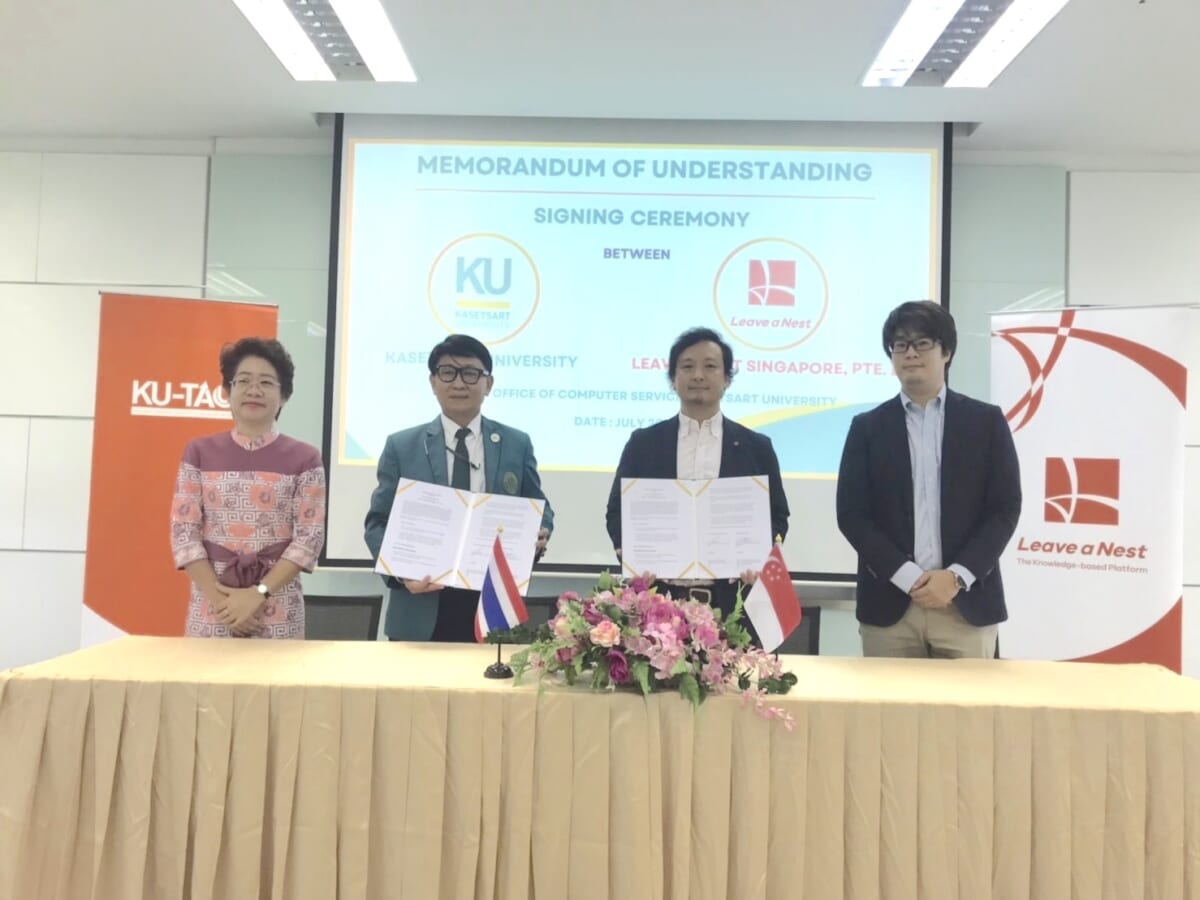 On 20th July 2023, Leave a Nest Singapore Pte. Ltd. signed a Memorandum of Understanding with Kasetsart University. This MoU formalised the partnership between the two parties to support students, researchers and startups coming out from the university. The MoU was signed by Dr. Yukihiro Maru (Founder/Group CEO, Leave a Nest Co., Ltd.) and Assoc. Prof. Sutkhet Nakasathien (Vice President for Research and Creatio, Kasetsart University). The signing was witnessed by Mr. Shohei Michael Maekawa (Director, Leave a Nest Singapore Pte. Ltd.) and Assoc. Prof. Warapa Mahakarnchanakul (Director, Research and Development Institute, Kasetsart University).
As the innovation ecosystem is developing in Thailand, building of the platform to nurture students, researchers and startups is required for further development. Under this MoU framework, part of the understanding is including co-creation of programmes and activities to nurture students, researchers and spin off startups from science and technology point of view. In fact, prior to this MoU Leave a Nest and Kasetsart University already have been working closely from the past through activities such as TECH PLANTER to nurture researchers and spin off startups. For example, the Grand winner of the TECH PLANTER in Thailand 2017 was a researcher at Kasetsart University (Team Fish Health, Dr. Sasimanas) working on vaccines for fish and Leave a Nest have helped in connecting to industry side. In addition to this, a spin -off startup from the university (Team Muu) has been awarded with Leave a Nest award at TECH PLANTER in Thailand 2022 and was also invested by Glocalink Singapore, a group company of Leave a Nest. 
Leave a Nest believes that, not limiting to TECH PLANTER but co-running of existing activities from Leave a Nest as well as development of new activities will further enhance nurturing of talents and development of seeds of technology to solve the deep issues. Also Singapore being a knowledge hub of the world, through this partnership, Leave a Nest will be able to help the university to connect further to potential partners from other parts of the world too.
About Kasetsart University
Kasetsart University is one of the top universities from Bangkok, Thailand founded in 1943. Although having multiple-disciplinary degrees, it is well known for strength in agricultural research. The university also recently set up Kasetsart University Technology Acceleration Center (KU-TAC) to promote innovation in the food & agricultural field of technology.
For further inquiry:
Please contact: [email protected] (attention to Michael)