Leave a Nest Singapore and Chula Engineering signed MoU: Making the first step to nurture talent, and future innovators.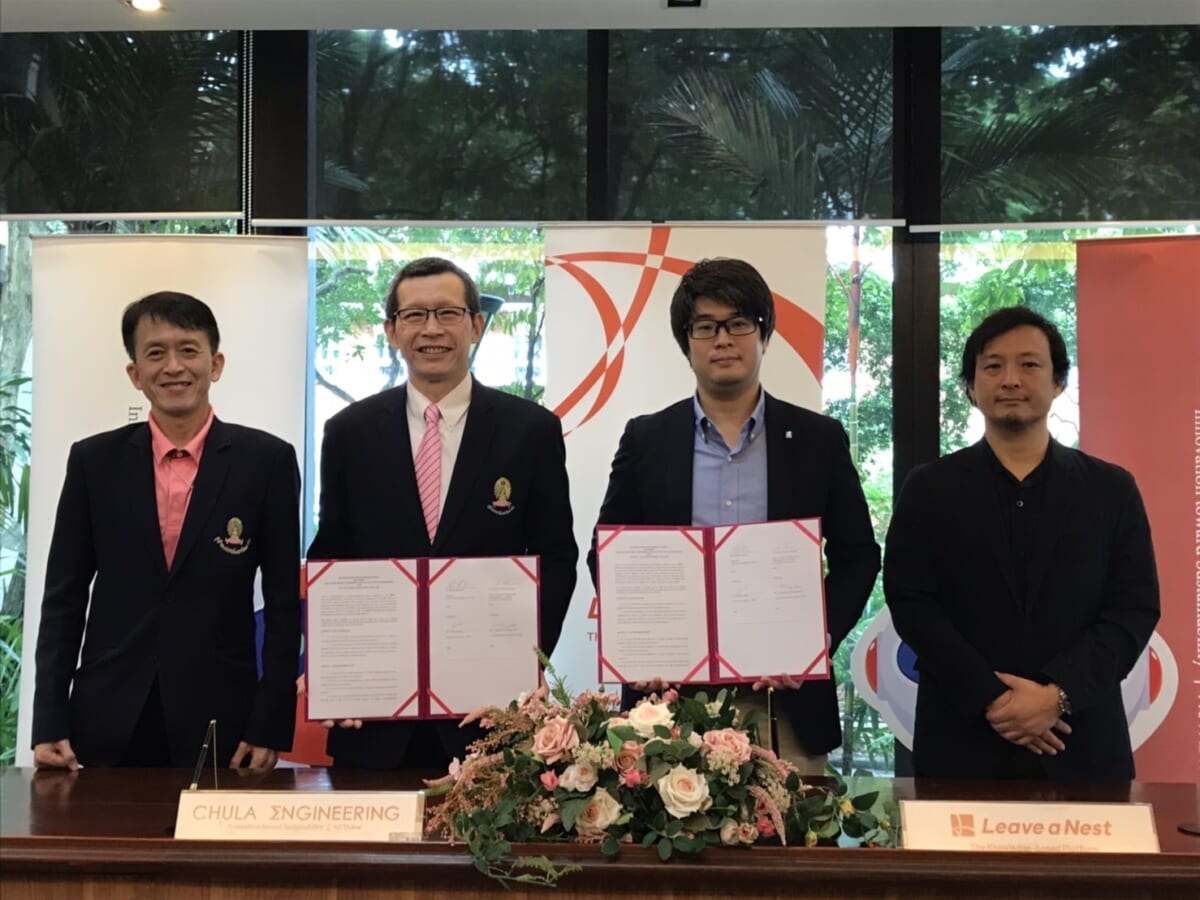 On 21st July 2023, Leave a Nest Singapore Pte. Ltd. signed a Memorandum of Understanding with the Faculty of Engineering, Chulalongkorn University, Thailand. This MoU formalized the partnership between the two parties to support students, researchers and startups coming out from the university. The MoU was signed by Mr. Shohei Michael Maekawa (Director, Leave a Nest Singapore Pte. Ltd.) and Prof. Supot Teachavorasinskun, D.Eng. (Dean of Chula Engineering). The signing was witnessed by Mr. Yukihiro Maru, Ph.D. (Founder/Group CEO, Leave a Nest Co., Ltd.) and Prof. Tawatchai Charinpanitkul, D.Eng. (Associate Dean for Academic Affairs, Chula Engineering). 
With the ongoing progress of the innovation ecosystem in Thailand, it becomes essential to establish a platform that fosters the growth of students, researchers, and startups to facilitate continued development. Moreover, helping them to get out of their "comfort zone" and be able to further explore ways in how they can bring innovative solutions to society. Under this MoU framework, part of the understanding is including co-creation of programmes and activities to nurture students, researchers and spin off startups from science and technology point of view. 
Though the partnership started this year, Leave a Nest has been associated with university through activities such as TECH PLANTER to nurture researchers and spin off startups. For example, the Grand winner of the TECH PLANTER in Thailand 2022 was a spinoff at Chulalongkorn University (Team Nabsolute, Ms. Puttimon Sribonfha) working on micro-encapsulation technology and Leave a Nest supported them in inviting to Singapore to connect them further to industry side. 
Leave a Nest believes that, not limiting to TECH PLANTER but co-running of existing activities from Leave a Nest as well as development of new activities will further enhance nurturing of talents and development of seeds of technology to solve the deep issues. Also Singapore being a knowledge hub of the world, through this partnership, Leave a Nest will be able to help the university to connect further to potential partners from other parts of the world too. 
About Chulalongkorn University 
Chulalongkorn University is known as the top university in Thailand. It has a history of over 100 years with a campus based in the center of Bangkok. Faculty of Engineering or "Chula Engineering" is known to be Thailand's oldest and most distinguished engineering school, which has held the top ranking in the country's engineering education for many years. Additionally, it is recognized as one of the leading engineering schools in Asia. With a strong commitment to transforming fundamental concepts into groundbreaking innovations, the faculty strives to contribute to the advancement of both Thai and global societies.
For further inquiry:
Please contact: [email protected] (attention to Michael)