FleXARs was crowned as Grand Winner of TECH PLAN Demo Day in Thailand 2023!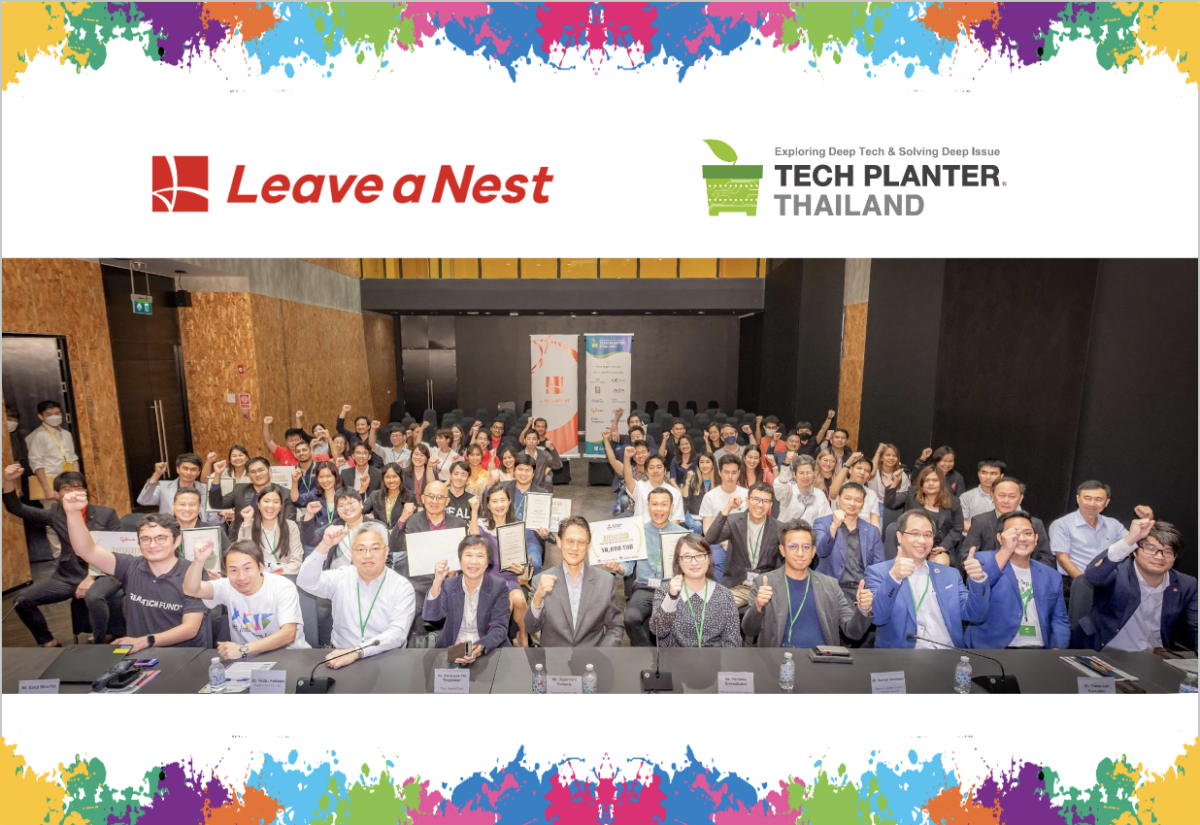 On 22nd July 2023, Leave a Nest conducted the TECH PLAN DEMO DAY THAILAND 2023. The day's events opened with the signing ceremony of a new MOU between Leave a Nest and KMUTT at KMUTT KX Building. With an extensive schedule of pitching startups, lightning talks and poster presentations, we continue to support deep technologies to solve deep issues around the world.
From a group of 35 applicants, 9 finalists were selected to pitch their core technology, business models, and issues that they want to solve, to a panel of judges live and in person.
The judges include: Leave a Nest Singapore, InnoSpace Thailand Co, Ltd., KX Knowledge Exchange, Bank of Ayudhya PCL., National Innovation Agency (NIA), Nastda Holding Co. Ltd., True Digital Park, Ezaki Glico Co. Ltd., Mitsubishi Electric Corporation, Real Tech Holdings Singapore.As for our participants, the finalists, lightning talk speakers and poster presenters come from the fields of food technology, healthcare technology and deep technology.
We would like to sincerely thank all parties who joined us this year, creating a successful event. High commendation to all of our finalists, festive congratulations to our winners!
Awards and Awardees for TECH PLAN Demo Day in Thailand 2023
Grand Winner
| | |
| --- | --- |
| Team | FleXARs |
| Theme | Large-area Flexible Polymer with Antifouling Robust Micro-structure for marine and medical applications |
| Award | 50,000 THB and Invitation to present at the TECH PLANTER ASIA Final 2023 |
| Reason | FleXAR impressed the judges with a comprehensive accumulation of research. Their technology is ready for implementation into society with a vast range of applications. FleXAR is a great role model for all Thai deep tech startups. |
Leave A Nest Award
| | |
| --- | --- |
| Team | Therapeutic Antibodies |
| Theme | Therapeutic Antibody, the ideal treatment against Dengue virus |
| Award | Invitation to present at the TECH PLANTER ASIA Final 2023 |
| Reason | Dengue virus plagues the South East Asia region. The Center of Excellence for Antibody Research (CEAR) presents a valuable solution that can be supported by Leave a Nest Singapore, which holds connections with pharmaceutical companies and government agencies in the region. Valuable collaboration can occur with LVNS, and extend further at the TECHPLANTER Asia final. |
Real Tech Award
| | |
| --- | --- |
| Team | Suratec |
| Theme | Healthcare Predictive Analytics and Biosensors for Better Life |
| Award | 30,000 THB (Cash Prize) |
| Reason | The Suratec team addressed the important issue of diabetes with extensive passion. With the possibility of the same technology being used for other health conditions, Real Tech Holdings offers an expanded scope of possibilities. |
Mitsubishi Electric Award
| | |
| --- | --- |
| Team | CleanTech & Beyond |
| Theme | Battery-free, self-operating, data-logging, and wireless-connecting Digital Temperature Indicator (DTI) |
| Award | 30,000 THB (Cash Prize) |
| Reason | The CleanTech & Beyond team brought technology that impressed Mitsubishi Electric, having the possibility for use in the manufacturing scene. A great prospect for potential collaborations. |
Glico Award
| | |
| --- | --- |
| Team | Plant Origin |
| Theme | Egg alternative made with rice bran protein |
| Award | 30,000 THB (Cash Prize) |
| Reason | Glico is interested in the contents of Plant Origin's product, including that it is a novel source of protein. The egg alternative could unveil new potential in terms of product development. |
Congratulations to our winners!
We eagerly anticipate the contributions of the winners, finalists and all of the TECH PLAN DEMO DAY participants in solving the world's deep issues.
TECH PLANTER Asia Final will be occurring on the 26th August 2023, look out for the latest announcement!
For any inquiries about TECH PLANT DEMO DAY in Thailand 2023, please contact: [email protected] (attention Kai Jie)
See the winners from other countries: