Final Call For Great Teacher Seminar 2020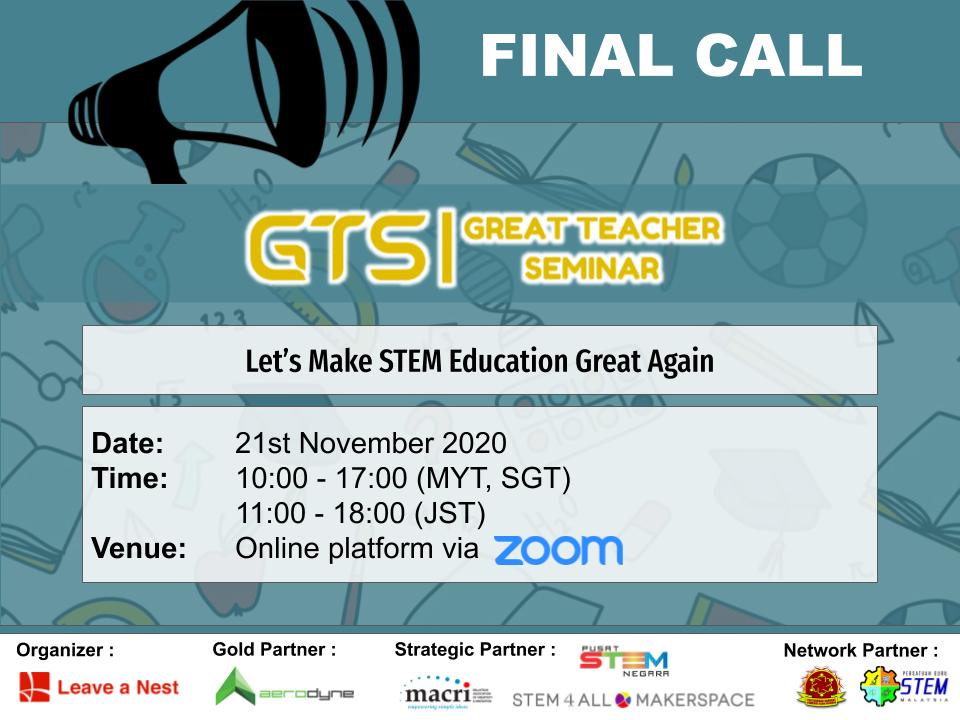 This is the final call to join us in making STEM education great again!
We welcome all teachers, parents, and educators to join Great Teacher Seminar 2020 organized by Leave a Nest Malaysia Sdn. Bhd. on 21st November 2020.
About Great Teacher Seminar 2020
Great Teacher Seminar is a platform for teachers and parents to discover effective and innovative approaches to enhance STEM education. We invite speakers from local and international organisations to discuss and share their expertise and knowledge on ways to encourage students to be interested in STEM Education. This seminar will revolutionize and reform the way of thinking and teaching for our teachers. A new breed of young global leaders who are capable to carry the mission of advancing science and technology for global happiness will be born.
*Registration deadline is on 20th November 2020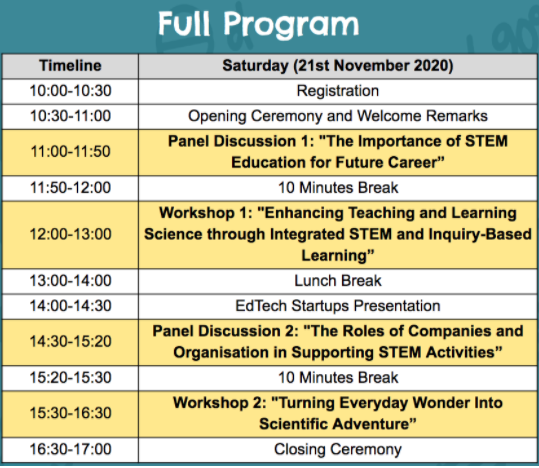 Great Teacher Seminar 2020 is brought to you in full support of our partners as below:
Check out our previous news release on Great Teacher Seminar 2020:
Announcing Panelists for Panel Discussion 1 " The Importance of STEM Education for Future Career" 
Announcing Aerodyne Group as Gold Partner in Great Teacher Seminar 2020
Great Teacher Seminar 2020: Workshop 1 "Enhancing Teaching and Learning Science through Integrated STEM and Inquiry-Based Learning" 
Great Teacher Seminar 2020: Announcing Panelists for Panel Discussion 2 "Role of Companies and Organisation in Supporting STEM Activities"
Great Teacher Seminar 2020: Workshop 2 "Turning Everyday Wonder Into Scientific Adventure"
For more information, please contact Nur Ahmad Zaim, Education Development Division, Leave a Nest Malaysia Sdn. Bhd. at [email protected]