Project SET Demo Day Winners: Next Generation Frontier Leaders of the Philippines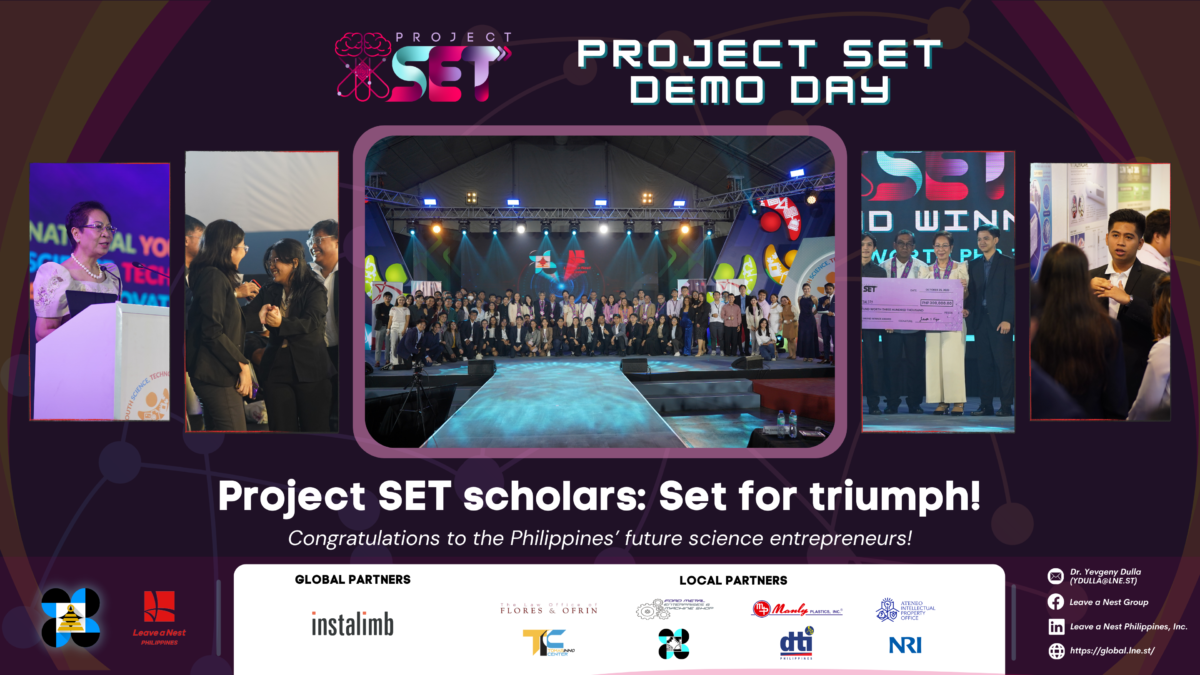 Project SET: Scholars Entrepreneurship Training, is a training program that was implemented through the collaboration efforts of the Philippine Department of Science and Technology – Science Education Institute (DOST-SEI), and the Leave a Nest Group. It is a 10-month training program for DOST-SEI scholars that aims to equip them with the researcher-entrepreneur mindset, and make sure that their ideas for solutions to Philippine issues become clear as the program progresses. The pioneer implementation of the program was limited to scholars of the Metro Manila and Region IV-A, and 80 students joined at the start – which was transformed into 14 teams in the course of the program. Even though the main goal of the program is to train the students, in order to encourage them further, the program ended with a Demo Day that was implemented on October 25, 2023, where 7 out of the 14 teams were chosen as finalists. You can refer to the links below for more information about the program itself:
Kick-off
First half implementation
Second half implementation
Demo Day implementation announcement
The Project SET Demo Day was held as part of the inaugural National Youth Science, Technology, and Innovation Festival (NYSTIF). The program started with speeches from Dr. Josette Biyo, Director of the DOST-SEI, Usec. Maridon Sagahun, Undersecretary for Scientific and Technical Services of the DOST, and the DOST Secretary himself, Dr. Renato Solidum, Jr. Each of them recognized the need of making sure that our next generation of scientists and engineers are able to take their researches to the next step – which will be to bring their technologies to solve issues in society. Lastly, Dr. Yevgeny Aster Dulla, Managing Director for Leave a Nest Philippines, Inc., recapped the history behind Project SET and gave encouraging words to the then nervous teams.
(From upper left, clockwise) Dr. Biyo (Director of DOST-SEI), Usec. Maridon Sahagun (DOST Undersecretary for Scientific and Technical Services), Secretary Renato Solidum Jr. (DOST Secretary), and Dr. Dulla, Managing Director of Leave a Nest Philippines, offering their words of support to the teams during the opening program
The program was followed by a quick introduction of the judges. Finalist judges assessed only the 7 teams that were chosen, while the poster judges needed to assess all participating teams through a poster session after the main pitching event. Please see the link below to know more about each of them:
Next was the main event: the pitching of ideas by the 7 finalist teams. Each finalist was given exactly 7 minutes to present the issue that they want to solve, explain about their idea for a solution to the issue, as well as any form of planning that they have in order to make it into a reality. The remaining 7 teams were still given a chance to present through lightning talks – where they did presentations for only 3 minutes. Lightning talk teams were also still given the chance to be able to receive other awards that were part of the event. You can find more information about the finalists and lightning talk teams below:
Demo Day Finalists announcement
After all teams were able to present, the judges, both main and poster judges, came up with the selected teams for the 18 different awards, which are below:
POSTER and MISCELLANEOUS PRIZES
Award name:
AUDIENCE CHOICE (FINALISTS)

Awardee:
Team Chibone

Award description:
10,000 PHP monetary prize
Award name:
AUDIENCE CHOICE (LIGHTNING TALK)

Awardee:
Team DagBa

Award description:
10,000 PHP monetary prize
Award name:
BEST POSTER

Awardee:
Team Wavelet Solutions

Award description:
10,000 PHP monetary prize

Award name:
BEST POSTER

Awardee:
Team PrimaBlock
Award description:
10,000 PHP monetary prize

Award name:
BEST POSTER

Awardee:
Agricycle Solutions
Award description:
10,000 PHP monetary prize

Award name:
BLUE NEST AWARD

Awardees:
Teams: Konektaniman PH,
VitalRadar,
Agribento

Award description:
Six (6) months free incubation at the Ateneo Blue Nest

Award name:
UST TOMASINNO SCHOLARSHIP AWARD

Awardees:
Teams: Chibone,
Lifetality,
Komkom

Award description:
One (1) year complementary incubation program at the UST TOMASInno,
including mentoring and training

Award name:
FORD METAL AWARD

Awardee:
PrimaBlock

Award description:
Free prototyping and fabrication service for
one (1) year, exclusive of materials

Award name:
MANLY PLASTICS AWARD

Awardee:
DagBa

Award description:
Free prototyping and fabrication service for one (1) year

FINALIST PRIZES
Award name:
FLORES & OFRIN AWARD

Awardees:
Teams: Konektaniman PH,
Lifetality

Award description:
Free legal assistance for start-up SEC IncorporationFree post-incorporation needs of the start-up
(Local Barangay and City government registration, BIR, SSS,PHIC and HDMF)
Award name:
VISIONARY AWARD

Awardee:
VitalRadar

Award description:
150,000 PHP SEED FUND

Award name:
GRAND WINNER

Awardee:
Lifetality

Award description:
300,000 PHP SEED FUND

Both the Lifetality and VitalRadar team were chosen as the Grand and Visionary Winners, respectively, because they are mainly addressing a widespread local issue, even from different sectors in Philippine society. The Visionary Winner Award is given to the team that exemplified strong passion to solve the target issue and the Team VitalRadar exactly showed this through their thorough understanding of the needs of diabetic patients. On the other hand, Lifetality was chosen as the Grand Winner for a number of reasons: (1) sea grapes (umibudou in Japanese) are something that is being consumed in both the Philippines in Japan, (2) there are no startups focusing on utilizing sea grapes, (3) and using sea grapes as a resource (other than the one that they are finally aiming for – which is its usage as a way to combat diabetes) leads to a lot of possibilities.
The Leave a Nest Group expresses its heartfelt gratitude to all the judges and partners that have offered awards for our next generation of science entrepreneurs, and most especially to the DOST-SEI for recognizing this pertinent need of nurturing the cream of the crop of Philippine society to mold them into future leaders of the science and technology industries in the Philippines.
We are looking forward to making sure that these ideas become a reality, and also to nurturing more of our scholars in the country and support them in challenging to solve Philippine issues – and maybe even later on – issues at the global level.
If you have any questions or inquiries about this initiative, please reach out to the Leave a Nest Philippines team at [email protected].