DOST-SEI Scholars of Project SET: Scholars' Entrepreneurship Training successfully complete their comprehensive module series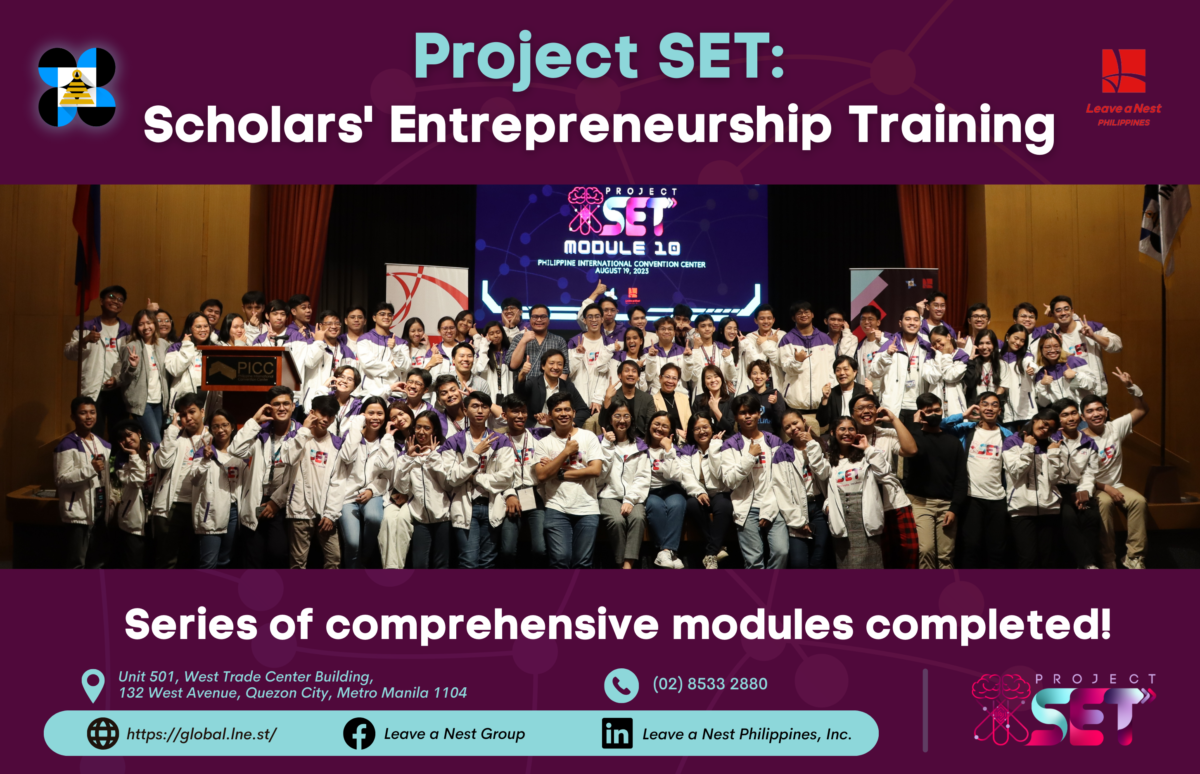 Leave a Nest Philippines, Inc., in partnership with the Department of Science and Technology – Science Education Institute (DOST-SEI), has just finished the last set of modules of Project SET: Scholars' Entrepreneurship Training at the Philippine International Convention Center, Pasay City, Philippines. In the last set of modules, DOST-SEI scholars gained first-hand experience of a pitch presentation in TECH PLANTER in the Philippines 2023, and they learned valuable insights on intellectual property, collaboration, effective presentation, and startup development from people in Leave a Nest's network.
Viewing of TECH PLAN Demo Day in the Philippines
May 13, 2023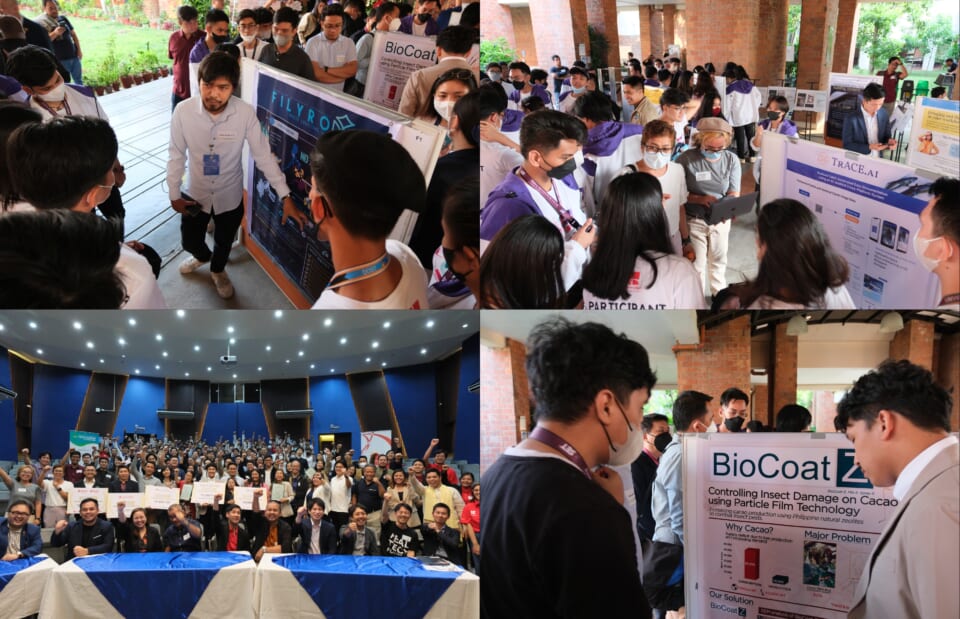 On May 13, 2023, the Project SET participants attended the Demo Day of TECH PLANTER in the Philippines 2023 at the Ateneo de Manila University. The participants were able to witness the pitch presentations during the Demo Day and interact with the startups and research teams during the poster session. This is important because they would be also doing a Demo Day at the last leg of Project SET. 
Modules 7 and 8: Intellectual Property and Looking for Collaborators
June 24, 2023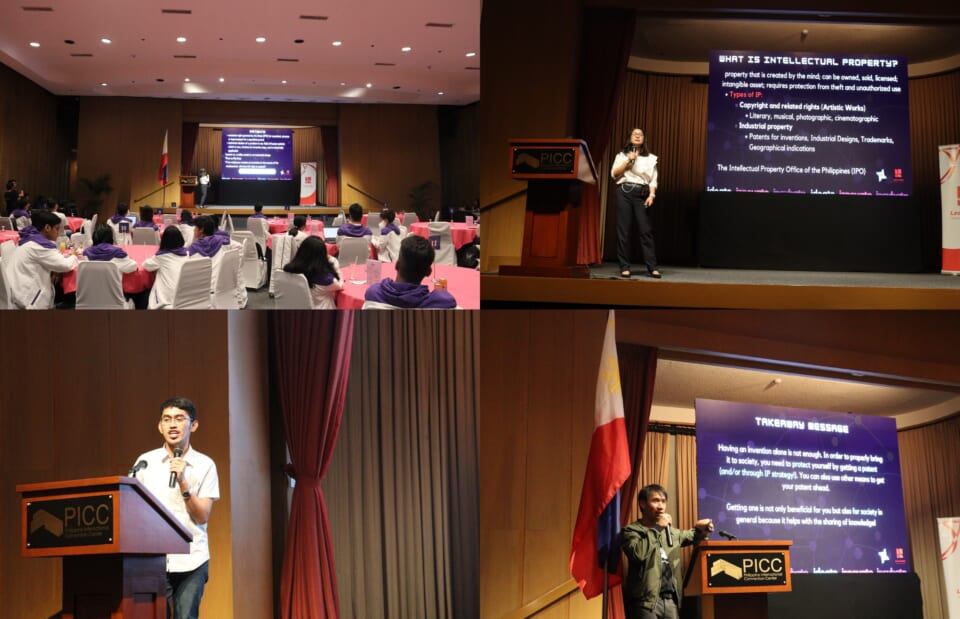 On June 24, 2023, the Project Set participants got together again for  Modules 7 and 8. Module 7 delved and discussed on the topic of Intellectual Property in the Philippine context. The speakers for this session were Atty. Amy Irene Ofrin from Flores and Ofrin Law Office and Mr. Mark Kennedy Bantugon from Pili Seal, an alumnus of TECH PLANTER in the Philippines 2022. Pili Seal is the first technology supported by the Intellectual Property Office of the Philippines (IPOPHL) through their program that allowed a patent to be acquired in a record breaking 1 year (as opposed to most cases taking 3~5 years). Project SET participants learned valuable insights and crucial information as they were still in the process of finalizing their startup ideas – especially since protecting their ideas would be of utmost importance when they start getting serious in the near future.
Module 8 discussion was led by Dr. Yevgeny Aster Dulla, Managing Director of  Leave a Nest Philippines. Project SET participants learned the importance of finding partners that are compatible with their startup idea. They also learned steps on how to find the right and potential partners, as well as, ways to make successful collaborations with these entities.
Module 9: Getting Your Point Across
July 29, 2023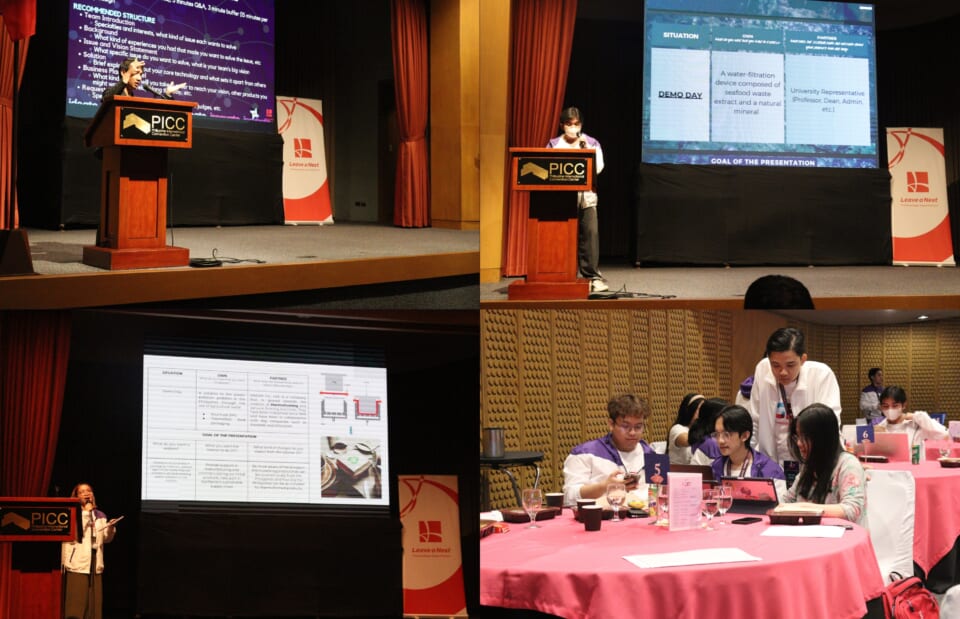 Module 9 was also led by Dr. Dulla. The module revolved around the process of making an effective presentation. Maximizing their given time when presenting, as well as, focusing on the most important points within their projects was emphasized in this module. The teams were also able to create their draft pitches and present them in front of everyone. 
Module 10: Learning from the Senpais
August 19, 2023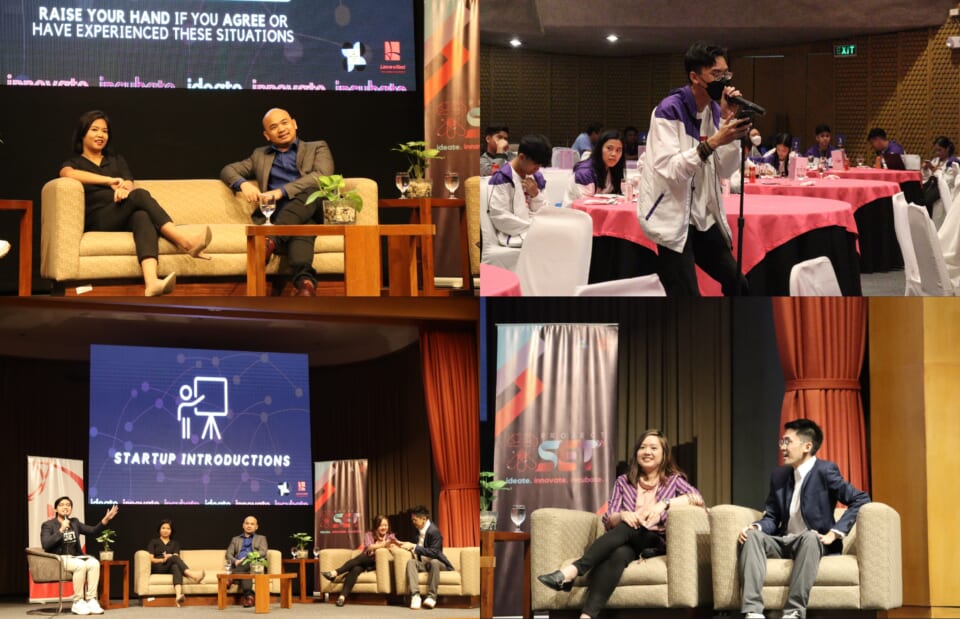 Module 10 was different from the rest of the modules because the participants listened to the insights of startup development and entrepreneurship from panel discussions with Philippine and Japanese startups – and this is one of the most unique aspects that only Leave a Nest can offer as the creator and implementer of Project SET.
The morning panel discussion with Philippine startups was led by Mr. Bryan Foronda. The panel consisted of  Ms. Gillian Santos, CEO of Anihan Technologies (farm monitoring), Dr. Ryan Corpuz, CEO of NanolabsLRC (nanomaterials), Ms. Noreen Bautista, CEO of Panublix (fabrics and weaving), and Mr. Sergius Santos, CEO of SOLX Technologies (energy management). The panel discussed and shared their experiences in building their startups, the challenges they faced, and the solutions they made to overcome said challenges. The participants learned a lot through their advice. Ms. Noreen Bautista was able to demonstrate an elevator pitch to the participants.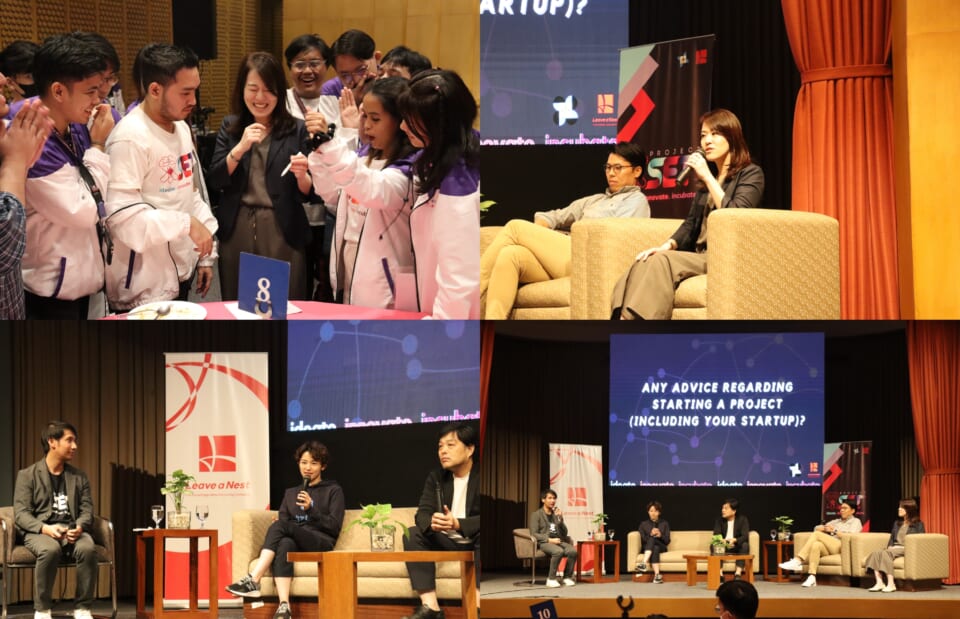 The afternoon panel discussion with Japanese startups was moderated by Dr. Yevgeny Aster Dulla. The panel consisted of Ms. Naho Yashiro, CEO of Mizlinx (aquaculture and fisheries monitoring), Mr. Yutaka Tokushima, CEO of Instalimb (leg prosthetics), Mr. Shigeto Mizumoto, former director of Challenergy (Magnus wind turbine), and Dr. Yuko Ueno, General Manager of Leave a Nest Co., Ltd. The panel shared their experiences while building their startups and being a part of an organization. They shared different viewpoints in startup creation and entrepreneurial challenges faced in an international context. 
The participants then presented their elevator pitches. Their pitches were assessed by Dr. Yukihiro Maru, Group CEO of the Leave a Nest Group. Dr. Maru was able to share his comments and share important points and lessons that the teams took into consideration in their startups. The participants were able to widen their understanding on startup building and development. 
What's next for our Project SET participants?
At the end of Module 10, the seven finalists and seven lightning talk teams for the Demo Day were revealed to the participants. On October 25, they will pitch their ideas in front of local and Japanese judges during the Demo Day of Project SET. The Demo Day is the first major competition in the National Youth Science and Technology Festival. We hope that we are able to find supporters for our dear scholars who will be changing the Philippines through the ideas and startups that they will be challenging.
Further details about the finalists and lightning talk teams can be accessed through this link:
[Project SET: Scholars Entrepreneurship Training: Finalists and Lightning Talks Announcement]
For more information, please contact Edilyn Grace Odero ([email protected]) for Leave a Nest related concerns or Robby Reyes ([email protected]) for DOST-SEI concerns.