"The Fun of Mentoring Young Scientists!"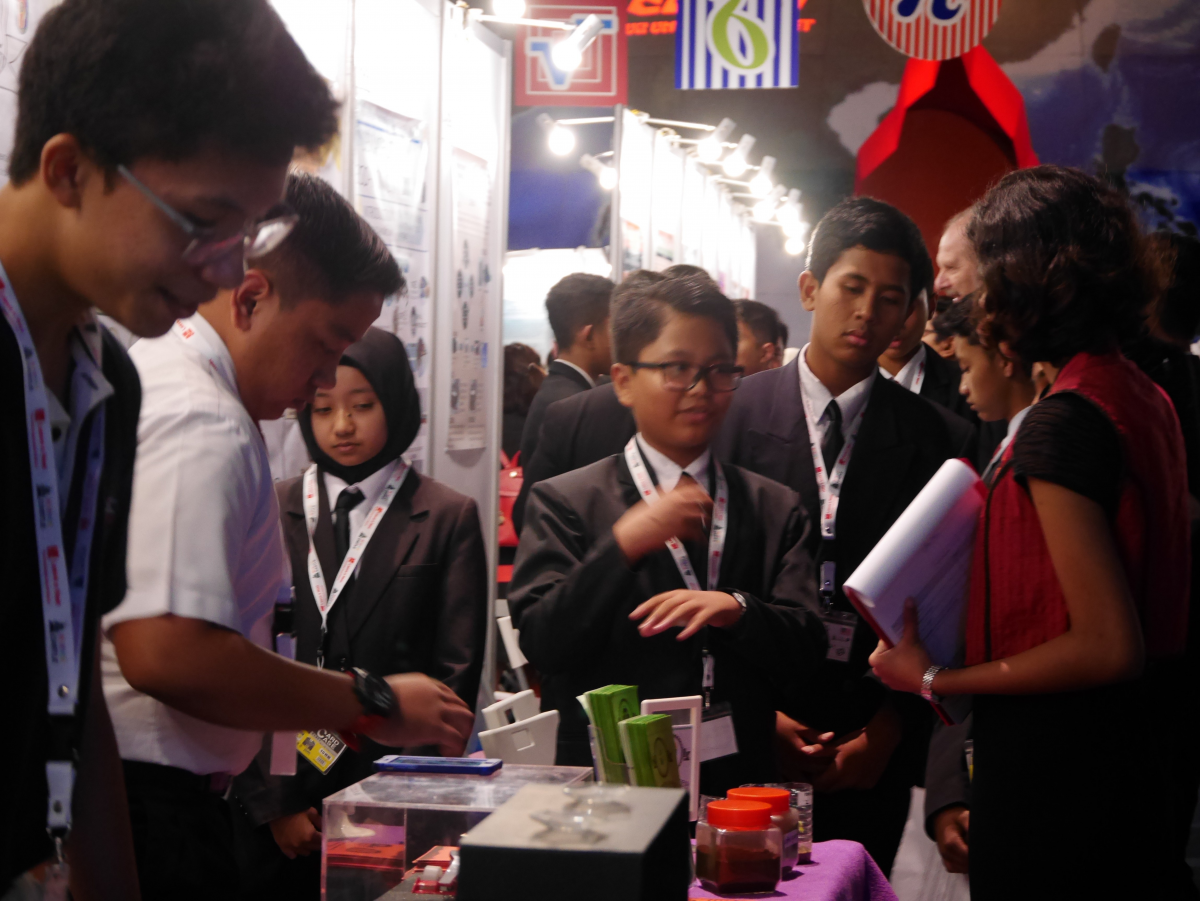 One month prior to SCIENCE CASTLE Singapore held on 19th Nov 2017, five passionate internship students joined Leave a Nest. Christine, Mridul, Samyuta, Sathya and Swaati (from NUS, NTU and SIM) were involved in mentoring the Singapore SCIENCE CASTLE teams and running a mentor's booth on the event date.
Each intern was attached to a team who qualified for the oral presentation round, for a period of 1 month to conduct weekly mentoring sessions. By mentoring the secondary school students, they were able to share their knowledge and experience regarding science communication techniques to help teams prepare for the final event.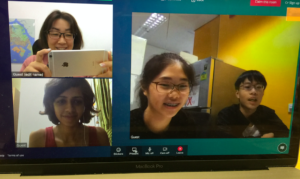 Samyukta conducting an extra mentorship session for her team via internet
They were also given the opportunity to run a booth at the event, and together had decided on the theme "Small Ideas, Big Impact". The aim was to get secondary school students interested in science and technology by sharing with them stories from around the world about how scientific knowledge was employed to overcome challenges faced by society. For example, they shared how "Life Straw" was designed with physical filters and no chemicals, to create a simple but elegant straw that could filter water in disaster stricken areas to save many lives.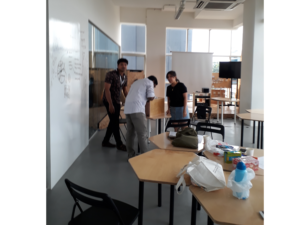 Sathya, Mridul and Christine testing out their experiments for the booth preparation during the Sunday meet-up at Leave a Nest office
The interns had also set up an interactive station at the booth with just cornstarch, water and food colouring to share the concept of non-newtonian fluids. Many students were fascinated by the 'simple' experiment, and learnt how external forces could affect the state of a material.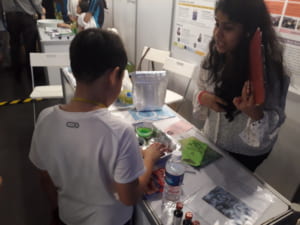 Swaati explaining non-newtonian fluids to a visitor at the booth
Lastly, during the poster presentation timeslots of the event, the internship students were involved in listening to students share their research, and judging the poster presentations. The aim was to give teams that did not qualify for the oral presentation round a platform to share their work as well as receive constructive feedback and encouragement from more experienced researchers.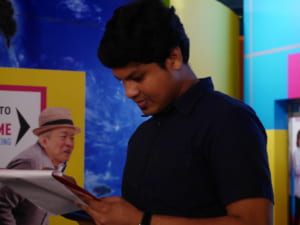 Sathya filling up the judging form at the poster presentation round
We truly appreciate the dedication and enthusiasm of all our interns and look forward to collaborating with them again in the near future. At Leave a Nest, we always welcome passionate individuals to join us so that we can learn from one another, and improve the ecosystem for science and technology!*
Here is what our interns have to say about their experience:
"At the tail end of my PhD, I remembered the reason why I decided to pursue a higher degree to begin with – and that was to be able to use the knowledge to encourage interest and confidence in pursuing science in the youth.  When I saw the internship opportunity with Leave a Nest to join Science Castle, it was an easy decision to make if I wanted to spend my Sundays on this activity. I myself gained refreshing and new insights from some their research presentations.  With science being such a vast field, there is definitely room for more young investigators to discover and share things that may have been overlooked by more senior researchers. After all, creativity has no bounds and that is why it is important to create environments that nurture it."

– Christine

"It's was a great experience for me to be a part of Leave a Nest which promotes the growth of science and technology-based knowledge among students and academicians at a different level of education. I had a great experience as a participant of Tech Planter Demo Day 2017 earlier this year where my team had won a prestigious award. Now, participating in science castle, is another taste of the experience. We had organised two different kinds of games for students where they could gather knowledge about revolutionary scientific ideas. We believe, the way these revolutionary but simple ideas changed the life of mankind, it also a spark in the mind of young scientist who will represent science in the near future."  


–Mridul
"It's a great pleasure to mentor high school students for the competition. Their scientific curiosity attracted me a lot. The basic work they did was very interesting and gave me a nice platform to start guiding them for the competition. The mentoring sessions also honed my skills as a graduate student, as I was doing a lot of homework for preparing myself to help the students face the competition with confidence. I was happy with the fact that students picked up my suggestions and incorporated it into their presentation during the competition. I was proud as a mentor to see their performance in the finals to secure a company award (Mitsui Chemicals)!!!" –Sathya


"I have always been in the participating side of science competitions, and I always wondered how it would be to be on the other side. My wishes indeed came true when I joined Leave a Nest organization. I was exposed to a new and enriching experience where I was given the full responsibility and freedom to plan for the booth which we were setting up during the day of Science Castle. I value each moment I have spent on the internship, as each aspect I was involved in, let it be planning,mentoring or judging, was something I have not put particular effort in before. Being a first year undergraduate, I definitely learnt ample of skills which I know will be helpful for not only my studies, but also beyond my academic realm. " –Swaati
 "The team I was assigned to were working on DNA repair technology. Though quite complex to understand, the techniques they used were systematically designed which is a good takeaway for my work as well. The way the students identified key problems (mostly country specific) and resolved to find solutions to them was inspirational. One of the posters I judged was by some Japanese students talking about generating electricity from rain. Their passion towards the topic and their ability to deliver the message on the importance of renewable energy was enriching."– Samyukta
*Expression of interest for upcoming internship opportunities