Selected Japanese Startups exhibited in SWITCH 2022 via GIA program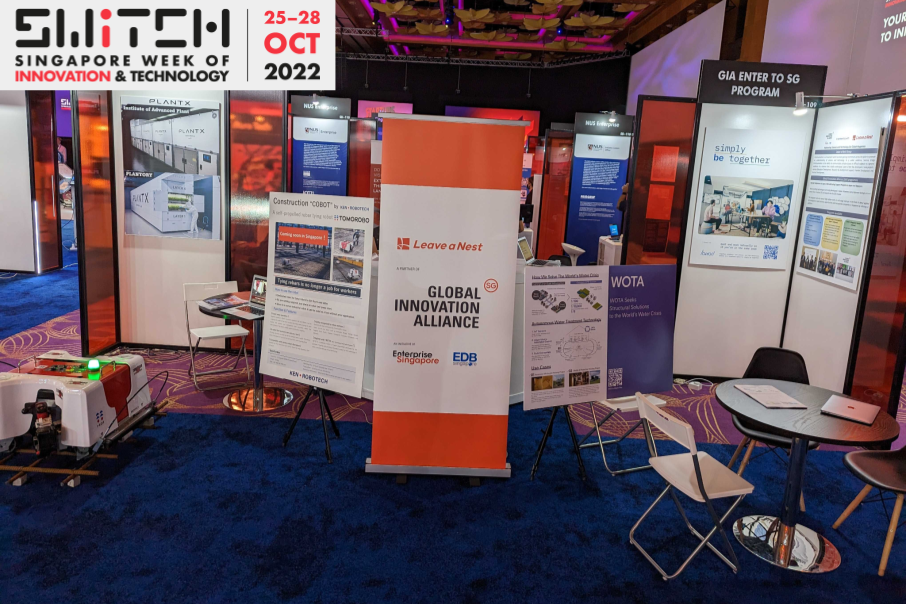 We, Leave a Nest Group is pleased to announce our exhibiting booth on SWITCH 2022 at Singapore Week of Innovation & Technology. This booth exhibition is supported by GIA program run by Enterprise Singapore partnered with Leave a Nest.
As previously reported, we've selected 4 Japanese Deep Tech startupus who has strong will to Singapore market this year as part of GIA program. With Leave a Nest communicators, all the 4 startups have exhibition on our booth from Oct 25th to 27th, 2022.
Please come visit our booth to touch Japanese technologies!
Selected four starups at glance
KEN ROBOTECH CORP: Ken Robo is a  construction tech company that offers original labor-saving solutions that will increase productivity & safety of construction sites  and reduce the burden on workers
PLANTX Corp.:  PLANTX is developing the world's first closed type plant cultivation device "Culture Machine". In the Culture Machine, each cultivation shelf is individually sealed, and the cultivation environment on each shelf can be controlled with high precision by incorporating an air conditioning and nutrient solution circulation system inside the device.
tonari Inc. :tonari is a social venture and startup that develops a life-sized video system that seamlessly connects two spaces as if one is in the same room for natural face-to-face communication.
WOTA Corporation: WOTA corp is a  water tech company that works on the development of IoT, AI and Big Data technologies for autonomous control of small-scale, de-centralized water recycling systems for urban environments.
About GIA program "Enter to Singapore"
[Announcement]: Four Japanese startups selected for the Ingaural "Enter to Singapore Market Prog 2022"