Realizing the world's first life sized connected space between "BLOCK71" and "Center of Garage" – Established an 'always-on' connection for innovation ecosystems of Singapore and Japan through "tonari" –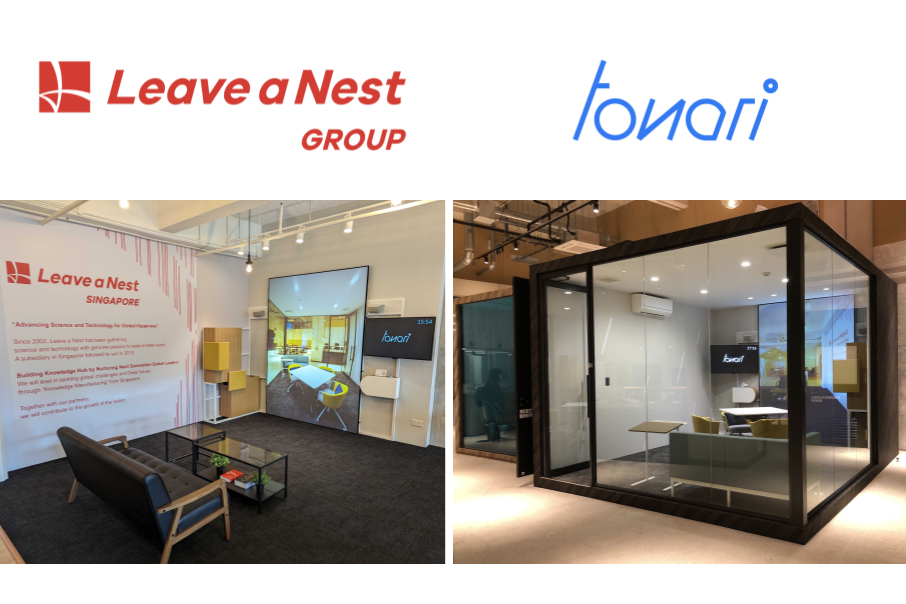 Leave a Nest Co., Ltd. (LVNS, Head Office: Shinjuku-ku, Tokyo; Founder & Group CEO Dr. Yukihiro Maru) and Leave a Nest Group established an 'always-on' connection between Singapore and Japan through "tonari" system from Oct, 2022.  The system connects "BLOCK71", one of the leading incubation centers in Southeast Asia where Leave a Nest Singapore Pte. Ltd. (LVNS SG) has its headquarters, and Center of Garage (COG) , one of the leading incubation centers specializing in Real Tech ventures run by Glocalink Co., Ltd.
Installation of the system realizes a life sized connected space between two offices. And this is the world's first example of cross-border real-time 'always-on' connectivity through tonari.
*Both LVNS SG and Glocalink are subsidiaries of LVNS
Since 2014, Leave a Nest Group has been working on the Tech Planter, an ecosystem to nurture Deep Tech ventures in Japan and Southeast Asia. Today, it has grown to a large platform providing a panoramic view of ASEAN6 (Singapore, Malaysia, the Philippines, Thailand, Indonesia, and Vietnam), and has gathered more than 3,000 entrepreneurial teams.
In 2018, Leave a Nest started "Inbound Globalization" projects to attract startups from Southeast Asia to Japan, by forming collaborations to create prototypes with Japanese Super Factories, as well as promoting joint research and business alliances with large corporations in Japan. In particular, LVNS SG and Enterprise Singapore (ESG) signed a Memorandum of Understanding in 2019 with the aim of supporting Singaporean Deep Tech startups' expansion towards the Japanese market, resulting in a total 27 companies assisted so far. 
Starting in 2019, the above activities expand to Japanese startups' international expansion called "Go to ASEAN Market". Many startups, such as tonari, KEN ROBOTECH, WOTA, PlantX, and ACSL, have already started their penetration of ASEAN markets. Through these efforts, Leave a Nest Group is trying to connect innovation ecosystems of Japan and Southeast Asia, supporting the growth of Deep Tech ventures to solve Deep Issues around the world.
In order to further deepen the connection between Japan and Southeast Asia, we implemented tonari system to connect the leading incubation facilities "BLOCK71" in Singapore and "Center of Garage" in Japan in real-time with an 'always-on' connection, so that startups, large corporations, VCs and accelerators in both locations can resort to easy and immediate communication at any moment without having to physically travel. 
Tonari provides a life sized connected space that seamlessly connects two distant locations without connection delay* in order to build a world without the boundaries of physical distance. Low latency and clear audio of the system allow you to exchange glances, and feel the immersive atmosphere felt when sharing the same room. Compared to conventional online systems that have become commonplace due to the development of internet connections, non-verbal communication conveyed through facial expressions and gestures can also be exchanged to experience the sense of space and intimacy felt when interacting with others in the same physical space.
*The delay we can sense is said to be 150 milliseconds, and tonari achieves a latency of 120 milliseconds or less.
With this system, entrepreneurs can transfer their passion for challenging global issues that define their startups in real-time, creating an environment where people can travel across physical distances while still being in their own countries. Leave a Nest Group will continue deepening communication between Japan and Singapore by providing even more opportunities for collaboration that would not have been achievable without traveling. Thanks to tonari it will provide people the intimacy only experienced when meeting in person, normally unobtainable through online meetings, so as to cultivate the ecosystem that unites Japan and ASEAN countries, now welcoming their 50th anniversary of friendly cooperation.
<Comments from users>
Enterprise Singapore, Regional Director  Fabian Tan
"Enterprise Singapore, together with Leave a Nest, is committed to connecting Singapore and Japan's innovative ecosystem. We help Singaporean startups penetrate the Japanese market, and the need for our service is constantly increasing. We also started a project to support the expansion of Japanese startups into Singapore and other ASEAN countries starting this fiscal year. We think that tonari is a great tool to accelerate even further the flow that connects our two countries' ecosystems despite their distance." 
The National University of Singapore, Head of NUS Executive MBA  Paul Yong
"It was amazing to be able to feel like the person you are talking to is standing right in front of you, while being hundreds of miles away! It certainly helps improve communication, especially in high-context cultures, which is predominant in Asia. It also gives you a true sense of connectedness! This technology can help bring a true classroom experience when travel is restricted. For example, during lockdowns or when students cannot get visas to travel. Students can feel like the professor is actually in the class when he/she is in another location. It is also helpful when conducting classes in two different locations and the students can interact better." 
Leave a Nest Singapore Pte. Ltd. Representative Director Tokue Kihoko
"When I came close to the screen, it felt like I was sharing the same air and heat with my interlocutors, so thought I would be able to meet anyone without having to travel to distant places. I think that Tonari may also be able to speed up projects that until now couldn't progress unless everyone came here to meet in Singapore."
<Related releases & articles>
tonari's gallery
Leading the way with tonari's first international installation, Leave a Nest connected their co-working spaces at Block71 in Singapore and Center of Garage in Tokyo. As a shared space, tonari is open for use by staff, partners, startups, and researchers in their community.
Article from e27 (Nov. 30th 2022)
Is "teleporting" between workspaces truly possible?
Japanese articles
nikkei (Nov. 24th 2022)
NNA Asia (Nov. 25th 2022)
<Inquiries>
Leave a Nest Co., Ltd.
Attn to Dr. Ryuta Takeda
MAIL: [email protected]