20 passionate researchers in Japan, Singapore, Malaysia, and the Philippines were selected for the Global Challenge Award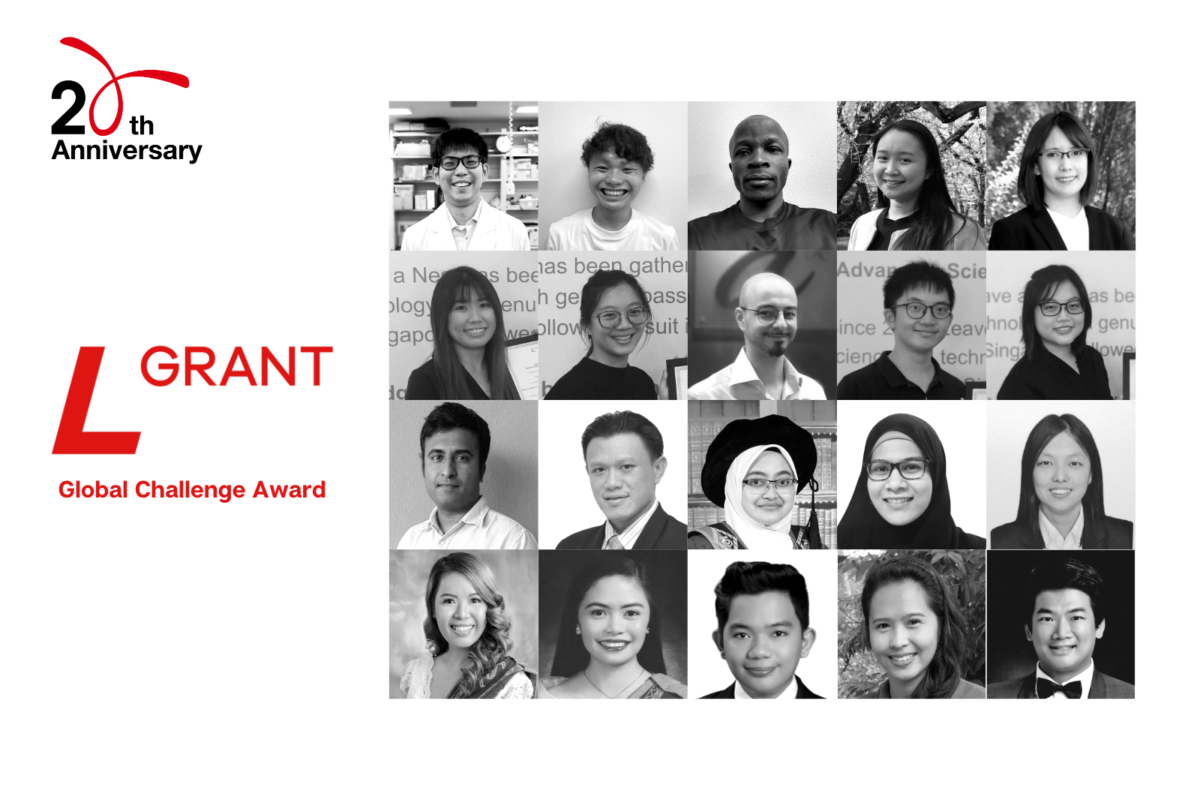 On the occasion of our 20th year anniversary in 2022,  Leave a Nest launched the new global brand "Leave a Nest Grant", which aims to assist and nurture researchers in various ways to boost the activities of researchers around the world and create even more opportunities.
To commemorate the launch of the Leave a Nest Grant, we introduced the "Global Challenge Award" to provide grants for research that has the potential to lead to solutions to global issues and called for applications from researchers residing in four countries (Japan, Singapore, Malaysia, and the Philippines), to select five from each country, for a total of 20.
A total of 176 applications were submitted (56 applications from Japan, 34 applications from Singapore, 70 applications from Malaysia, 16 applicatoins from the Philippines), whose research fields are in various such as healthcare, environment, agriculture and food, nature, society, and education. The awardees of each country was selected based on shared criteria: the level of novelty and feasibility, the potential of the research to change the world, and passion of the researcher. The list of selected topics is listed below. 
Leave a Nest will keep contribute to solving global issues by suporting these researchers in their endeavors, participating in collaborative research projects, and providing the necessary environment through the Knowledge-based Platform. In addition, we will also plant to contact with those applicants not selected in this award for "Advancing Science and Technology for Global Happiness". 
<Awardees in Japan>
Kento Koyama/Hokkaido University
Developing automatic detection model for fungal contamination of fruit using X-ray imaging and investigating fungal control
Kohei Takahashi/Tsukuba University
Development of Thin Layer Biofilm Membrane Bioreactor (TBMBR): New Wastewater Treatment System for a Sustainable Society
Bwire Denis/Tokyo University of Agriculture and Technology
Improving the Agriculture Management and Yields of Paddy Rice for Smallholder Farmers through IoT-Cellular Precision AWD Irrigation
Diane Gubatanga/Tokyo University
Development of a two-stage catalytic cracker and reformer for hydrogen production in sub- and supercritical water gasification of lipid biomass
Shoda Vera Paola/Kobe University
Research on "fake news" consumption and preference across age and gender groups using Artificial Intelligence (AI)
<Awardees in Singapore>
Ms Boon Siew Kheng/Nanyang Technological University
Efficient Nitrogen Fixation with Three-Phase Plasmonic Superlattices Design
Dr Chia Wan Ni Geraldine/National University of Singapore
Novel optical probes for disease detection through liquid biopsy
Mr Davide Coppola/Bioinfomatics Institute, A*STAR
Assessment of upper/lower limb drift in recovering stroke patients using mobile cameras in a clinical setting
Mr Ng Yi Ming/Singapore University of Technology and Design
Hybrid Organisations for Meaningful Work and Urban Community: The Case of Singapore's Volunteer-Run Public Libraries
Ms Rachel Koh/Singapore University of Technology and Design
Decarbonizing the ASEAN power grid through water-energy system analytics
<Awardees in Malaysia>
Bryan Raveen Nelson/University of Malaysia, Terengganu
4.8 V implosion module for global hypermobility and persistence
Mardeni Roslee/Multimedia University
Smart IoT Monitoring Algorithm for Palm Oil Plantation
Nur Najahatul Huda Binti Saris/University of Technology Malaysia
DEVELOPMENT OF OPTICAL PLANAR WAVEGUIDE SENSOR BY EMPLOYING EUROPIUM ALUMINIUM DOPED POLYMER COMPOSITE FOR TRANSPARENT AND TRANSLUCENT MICROPLASTICS DETECTION IN WATER
Nur Ayunie Zulkepli/MARA University of Technology
Development Of Herbal Tooth Mousse Infused With Bromelain Isolated From MD2 Pineapple Core Wastes
Sim Kai Ling/University of Putra Malaysia
Production of Laundry Detergent Bio-additives Using Poultry Waste and Palm Oil Refinery By-product
<Awardees in the Philippines>
Julienne Stephanie Fabie-Agapin/Western Mindanao State University
Paper-based materials from Cacao (Theobroma cacao) pods and Dried Banana (Musa acuminata) leaves
Mary Sharolen Jean B. Leyson/University of the Philippines – Visayas
Turmeric: its Properties and Possible Application in Hatchery Production
Edgar Clyde R. Lopez/Adamson University
Optimized Removal of Metal Ions in Water using Nanostructured Electrodes
Novelyn S. Malaluan/Department of Health / University of the Philippines Open University
Factors influencing Health Care Workers in Reporting of Notifiable Diseases
Paul K. Yu/De La Salle University Manila
Systems biology approach of understanding azole resistance mechanisms in Candida albicans
<Research topics called for in each country>
Japan: Research that can potentially contribute to solving issues in our world
Singapore: Research that are can potentially contribute to solving unique Issues around ASEAN or globally with high impact to the society.
Malaysia:  Research that are can potentially contribute to solving unique Issues locally (in Malaysia) or globally with high impact to the society.
Philippines: Research that are can potentially contribute to solving unique Issues locally (in Philippines) or globally with high impact to the society.

<News Releases releated to the Global Challenge>
<News Releases releated to the Global Challenge>
Leave a Nest Co., Ltd.
Attn to: Dr. Ryuta Takeda
Email: [email protected]