Inaugural Career Discovery Forum in the Philippines 2023 Draws Successful Participation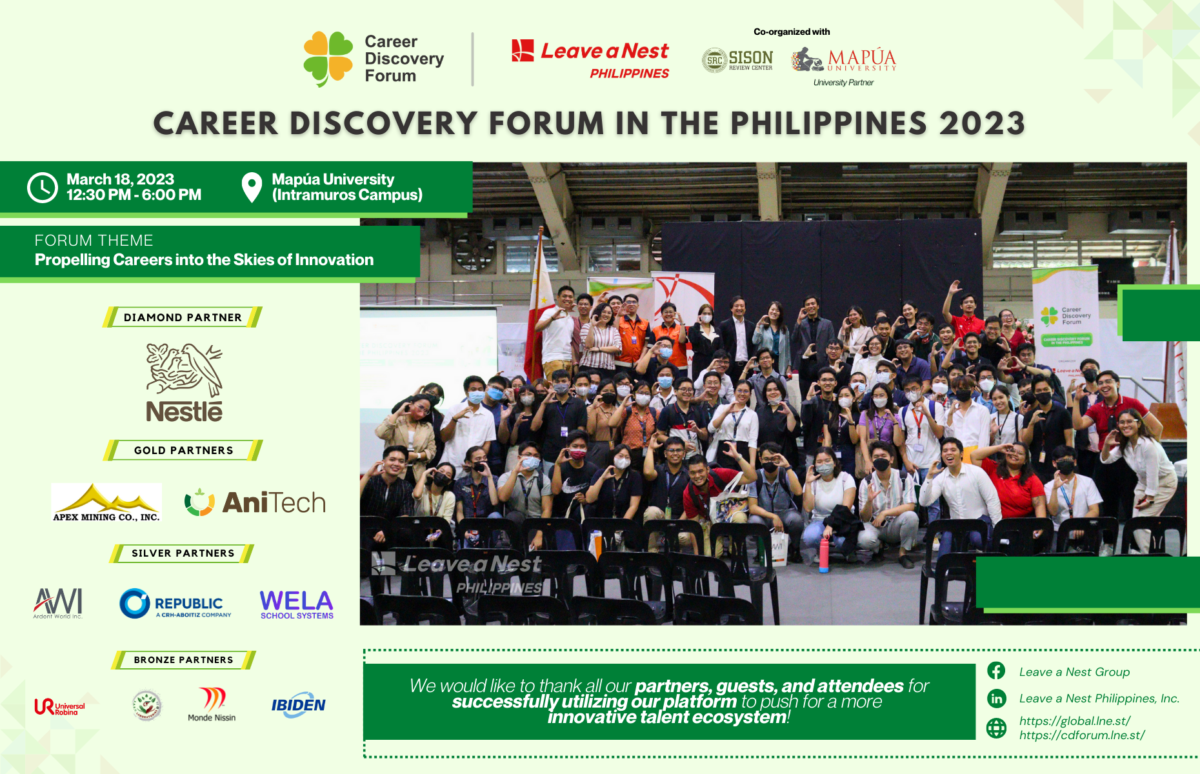 MANILA, Philippines – The highly anticipated Career Discovery Forum received successful participation from 450 attendees who belong to esteemed universities such as Mapúa University, Polytechnic University of the Philippines, Centro Escolar University, Cavite State University, and the Technological University of the Philippines. Innovative and creative minds filled the Mapúa Gymnasium as they set their sights toward future careers that are momentarily out of reach. To capture that elusive ideal career path only requires them to sit back, learn, and participate in what this forum has to offer.
Leave a Nest have bridged more than 400 young engineers, scientists, and talents to a mix of big and startup Philippine-based companies. This year's Career Discovery Forum is supported by 10 partner companies: Nestlé Philippines as Diamond Partner; Apex Mining and Anihan Technologies as Gold Partners; Ardent World, Republic Cement Group and Wela School Systems as Silver Partners; and Universal Robina Corporation, Ibiden Philippines, Monde Nissin Corporation and FAST Laboratories as Bronze Partners. Many attendees have participated in their own personal career development by creating a bond with each partner company, and discussing current opportunities available for them.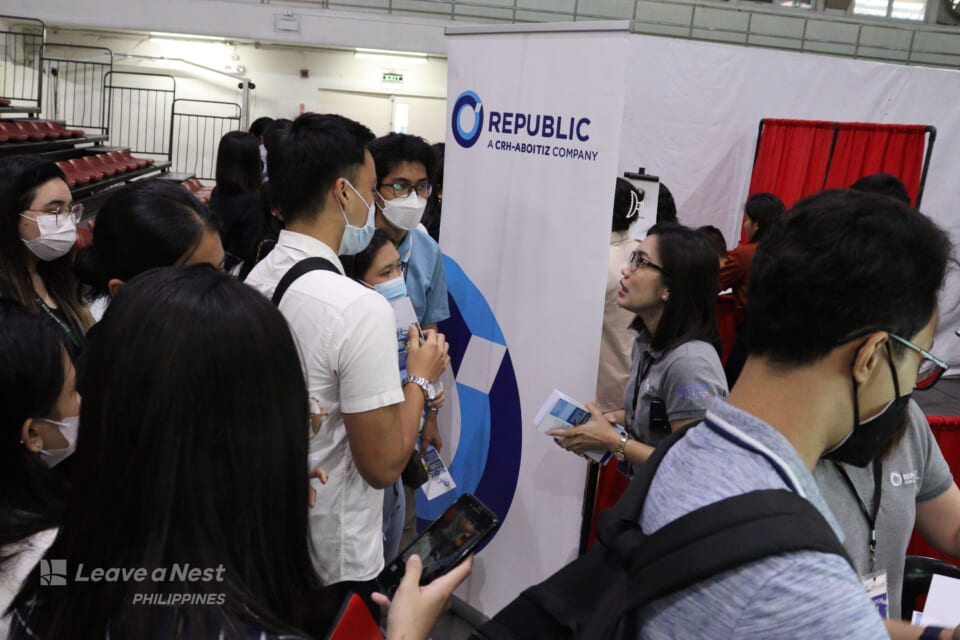 The forum started off with a few words by the incumbent CDF PH Project Leader, Migui Acosta. After introducing Leave a Nest's vision, ethos, and initiatives, he went on to raise the banner of "Propelling Careers into the Skies of Innovation." The theme for this year's forum resonated throughout the eager crowd. The attendees were told about the uncertainties of innovative jobs; and then they were led to take a glimpse at the horizon ahead, a point where all the leaps and bounds of Science and Technology begin to show its rays bursting at the seams: innovative jobs do exist!
A solemn Memorandum of Understanding Signing Ceremony between Leave a Nest Philippines and Mapúa University followed after the Opening to initiate the first step of a far-reaching partnership. Both institutions are committed to advancing Science and Technology for the overall happiness of human beings. To mark this momentous occasion, Dr. Yukihiro Maru (Leave a Nest Co., Ltd.) and Dr. Lilibeth Sabino (Mapúa University) shared their invigorating and hopeful visions of a future enabled by this partnership.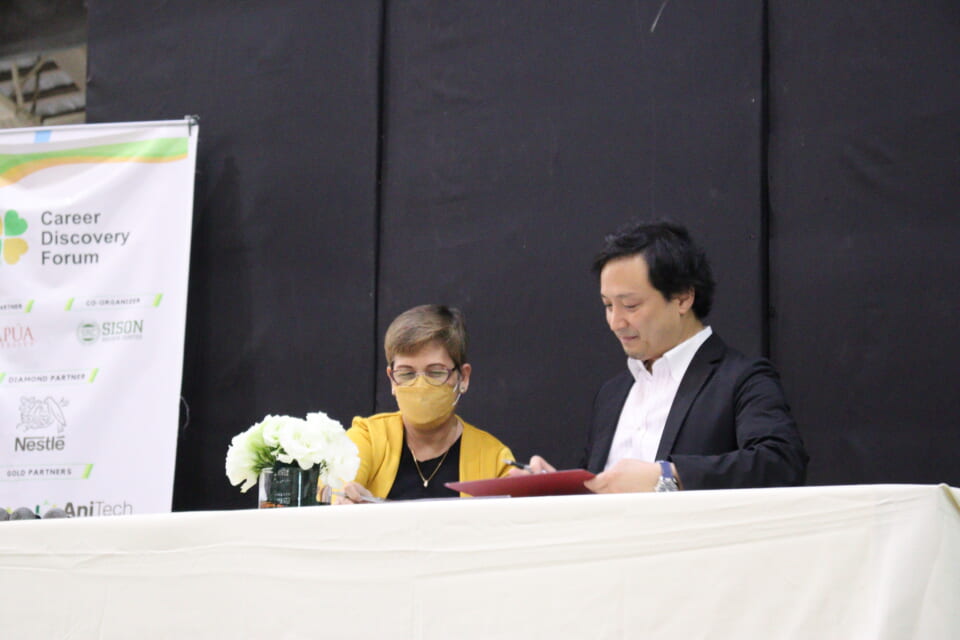 Rica Rivers (Wela Online Corporation) took to the stage to deliver her Keynote Speech. Her speech centered around the foundation of Wela, and how it grew to provide innovative tech-based jobs. After the Keynote Speech, a panel discussion composed of Dr. Yuko Ueno (Leave a Nest Co., Ltd.), Niño Cabredo (Globe Telecom), and Engr. Marlon Llana (NASAT Labs) quickly ensued to hold the attendees' attention. The moderator, Ludhovik Luiz Madrid, steered the discussion to elucidate the potential of STEM careers in the Philippines. They successfully established a connection between both job markets of Japan and the Philippines. The session ended with hundreds of excited attendees brimming with new ideas and a fresh outlook, and talking amongst their peers about their plans for the future.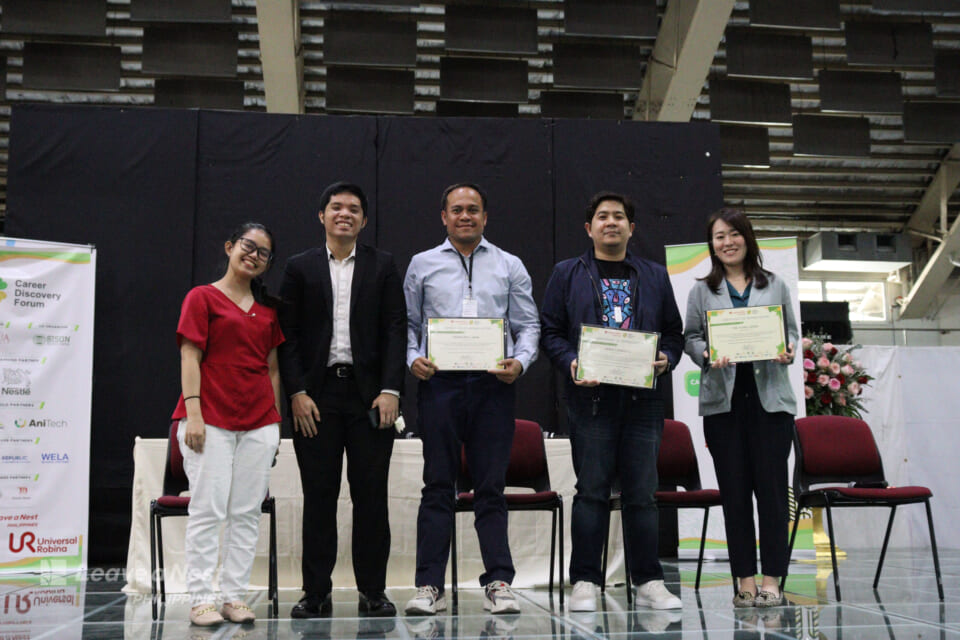 To kickoff the Career Pitching Session, Nestlé Philippines began with an energizing talk about how the attendees can join their company and be a Force of Good. Apex Mining, Anihan Technologies, Ardent World, Republic Cement Group and Wela School Systems also went on stage to pitch about their own companies, telling the attendees about the jobs that await them and the activities happening in their respective booths.
Out of the total 561 pre-registered attendees, 196 fresh graduates and students were selected to participate in CDF's flagship Mini-Career Workshops. Partner companies were able to maximize the enthusiasm displayed by the attendees by conducting workshops that are relevant in their company orientation and hiring processes. From Rock Bolt Simulations to Built It, Break It, Fix It Toolkits, partner companies explored the career development of each workshop attendee.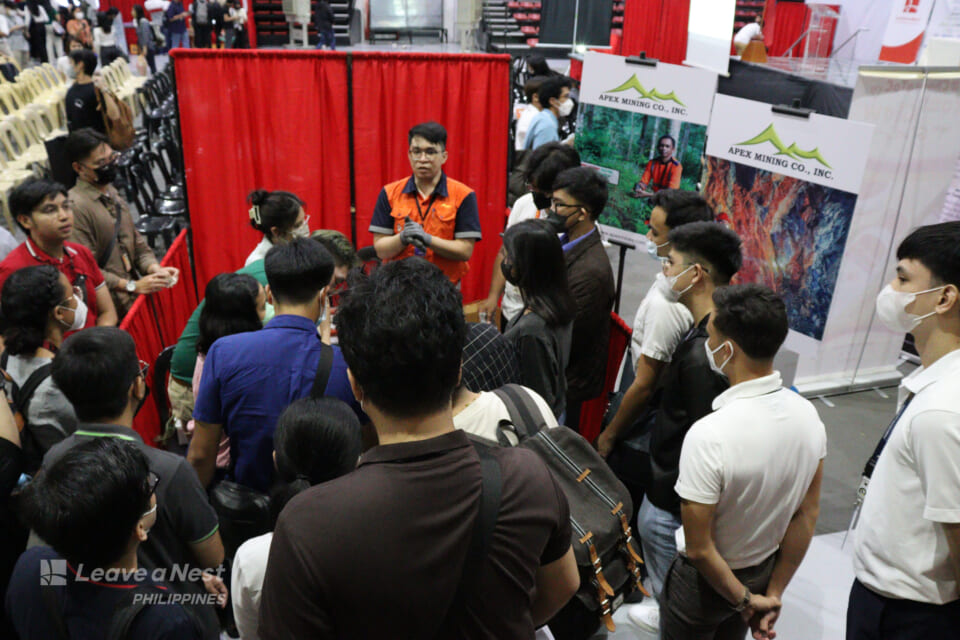 The forum ended with a few inspiring words by Leave a Nest Philippines' newly appointed director, Ronezza Delos Santos. Overall, it was deemed successful with positive feedback on various aspects of the program. Attendees were definitely propelled to reaching new heights of innovative and STEM careers.
Career Discovery Forum in the Philippines is organized by Leave a Nest Philippines and marks the beginning of a new era in promoting career development in the country.