Meet the Forum Panelists For This Year's CDF in the Philippines 2022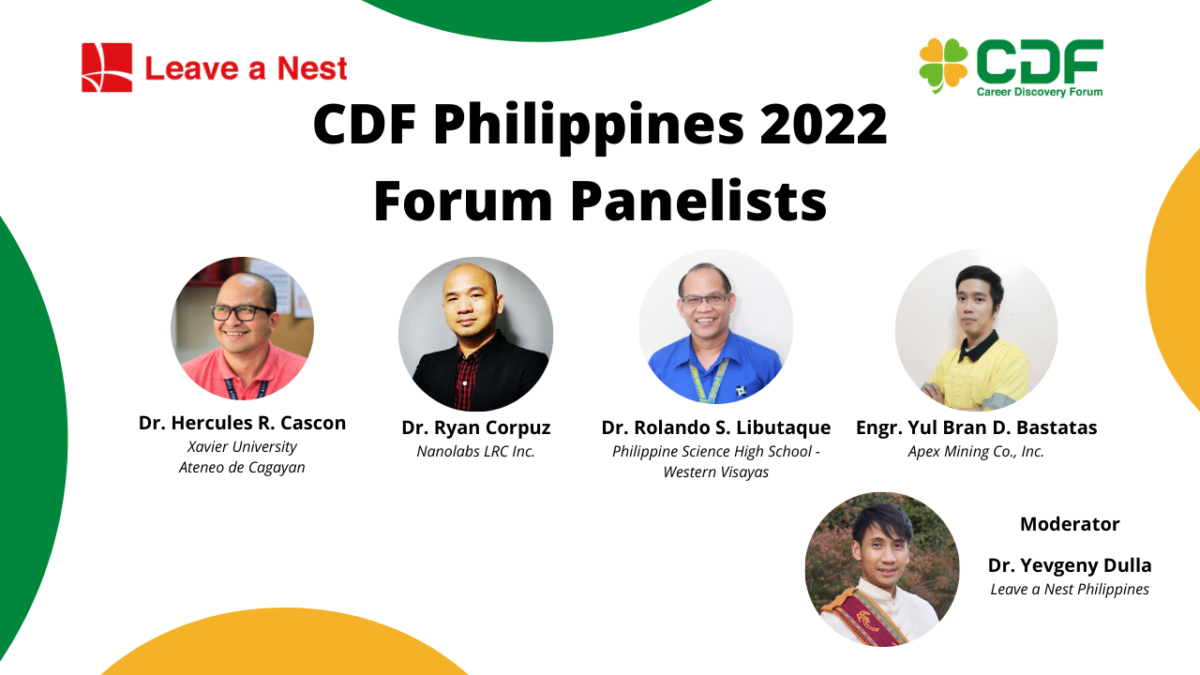 The Career Discovery Forum in the Philippines 2022 is happening this March 19, 2022 and we would like to introduce the panelists for this year's Forum Session. The theme of the forum would be "Expectations and Changes in the Current Work Environment" and we invited several representatives from different sectors of society in order to hear their perspectives and experiences during these past 2 years.
---
The academia sector would be one of the sectors mostly affected by the on going pandemic as the whole country shifted to online classes to continue educating the young. As the Philippines is still a developing country, not everyone was able to go with this change. Not every school nor every student had access to computers or a fast internet connection which led to a lot of students dropping out and a lot of schools closing their doors in the meantime. We invited representatives from this sector to hear their perspectives regarding this difficult situation and know what actions they took in order to continue teaching the young.

Hercules R. Cascon, PhD
Dr. Hercules R. Cascon is an Associate Professor V at the Xavier University Ateneo de Cagayan, College of Engineering and also the current Dean of the college ever since May 2015. He graduated from XU in 1993 with a B.S in Chemical Engineering and was also the 9th placer in the November 1993 board exam for Chemical Engineers.

Rolando S. Libutaque, PhD
He has been in the teaching profession for 31 years. He is currently the Curriculum Instruction Division (CID) Chief of Philippine Science High School – Western Visayas Campus, an attached agency to DOST, and a premier provider of STEM education to scholars
---
A few industries, such as the metal industry sector would probably be less affected given their way of work being an open-place environment, and so we would like to hear from their perspective the problems they encountered and the actions they took in order to lessen the negative impact of the new proposed work protocols.

Engr. Yul Bran Bastatas
Yul is a metallurgist with seven years (7) of experience in mineral processing. Working in both copper and gold processing plants has widened his experience in mineral processing, allowing him to apply his university training to the mining industry. He finished a Diploma of Chemical Engineering Technology and a Bachelor of Science in Metallurgical Engineering at the Mindanao State University – Iligan Institute of Technology.
---
We also invited from the startup sector to hear the challenges they faced when doing their research. As being a startup company is hard in itself since they are still trying to build up their connections and technologies, their way of working would most likely have changed these past 2 years.

Dr. Ryan Corpuz
Dr. Corpuz is the founder of Nanolabs LRC Co. Ltd, a research and development company that provides nano-based solutions to pressing problems in the environment and the society. He obtained his PhD in Materials Science and Engineering in Hokkaido University, Japan, MS in Materials Science Engineering in University of the Philippines-Diliman, and BS in Ceramics Engineering in MSU-IIT.
---
To find out more details regarding the forum speakers and the Career Discovery Forum Philippines 2022, please visit our website at:
https://cdforum.lne.st/cdfph2022/
Feel free to contact Ronrick Arayata at [email protected] for any questions or inquiries.