Japan Market Insights – Organized by A*ccelerate x ACE x Leave a Nest Singapore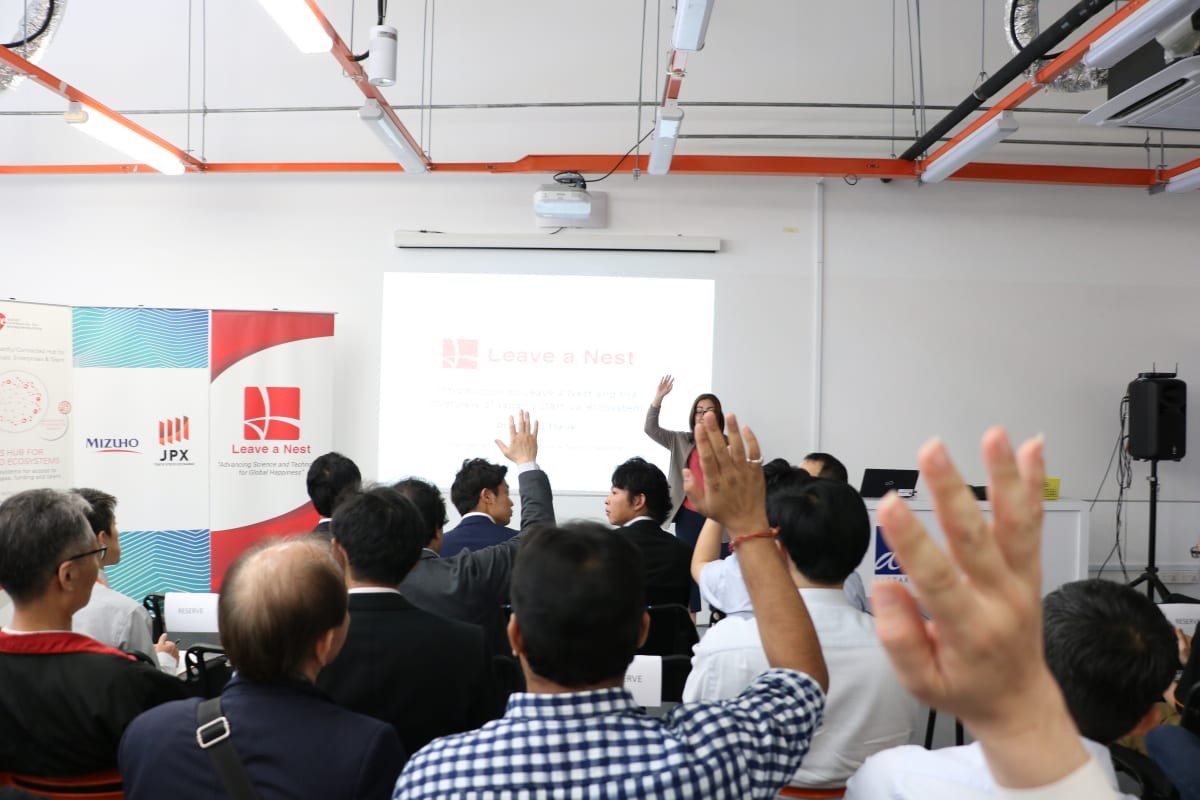 Leave a Nest Singapore had an opportunity to co-host a Japan Market Insights seminar with A*ccelerate and Action Community for Entrepreneurship (ACE) on the 1stJuly 2019 at A*StartCentral.
Many wonder about the Japanese market but have limited understanding to it primarily due to the language barrier. The difference in business culture further fend interested individuals and companies from tapping into the Japan market. Therefore, together with A*ccelerate and ACE, Leave a Nest Singapore has taken the opportunity to bridge this gap.
Opening and Organizer Speech by Mr. Bobby Ngor, Vice President of Incubate & Startup Management, A*ccelerate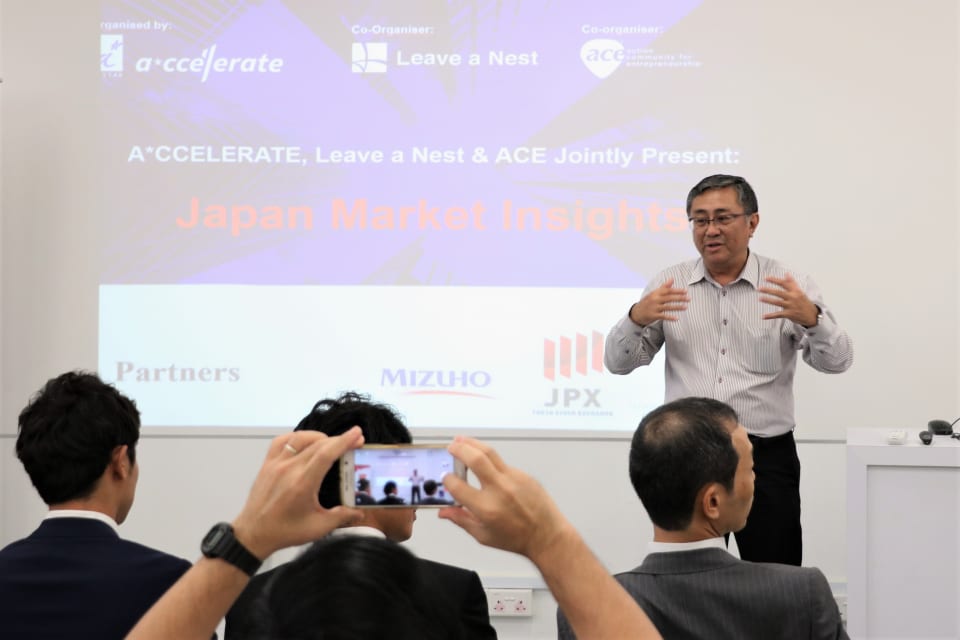 The session started off with Mr. Bobby giving the opening to the Japan Market Insights seminar as well as introduce partners and startups to A*ccelerate. A*ccelerate is the commercial branch of A*STAR. Researchers from A*STAR interested in commercializing the technologies and products are able to create their own spin-off company and receive support from A*ccelerate. It was great knowing how A*ccelerate is able to provide various supports to their startup from setting up of the company to expanding to other areas of the world!
Organizer Speech by Mr. Brian Patrick Tan, Deputy Director of Advisory & Startup Growth, ACE
Next, Mr. Brian presented ACE organization to the audiences. He provided the audience with an overview about the Singapore startups ecosystem, with interesting information such as the percentage of startups by the sectors. In addition, Mr. Brian introduced the connections ACE had built up over the years to government agencies and private entities worldwide. It was impressive knowing all the hard work behind ACE in order to provide Singapore startups with a larger network from Asia to Europe.
Organizer Speech by Dr. Kihoko Tokue, Managing Director, Leave a Nest Singapore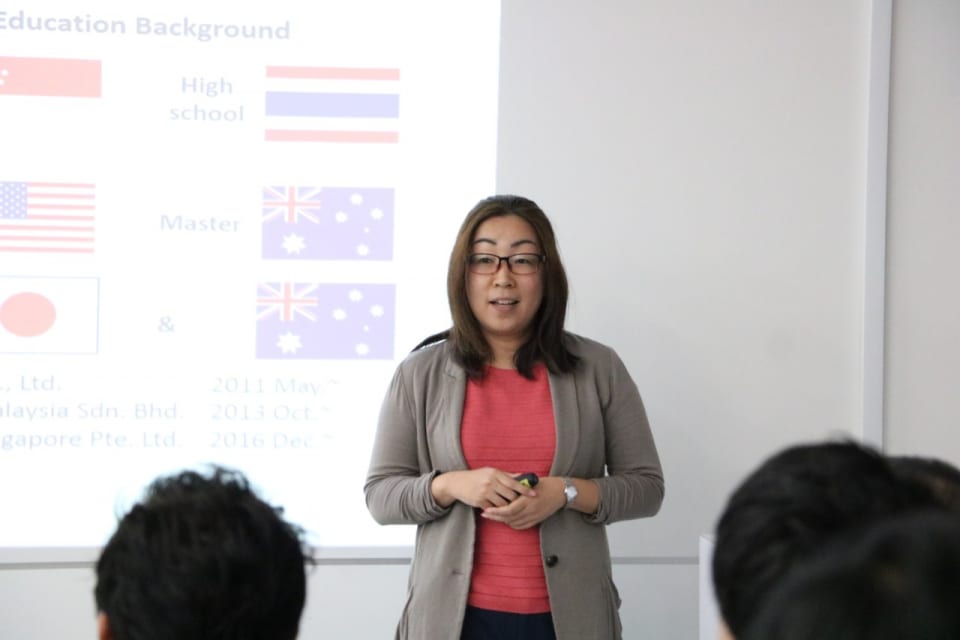 Following, Dr. Tokue gave an introduction to Leave a Nest as well as an overview to the Japan startups ecosystem. She talked about the challenges startups and small medium enterprises faced when entering Japan market – which I believe are what big corporations faced similarly when they research about the Japanese market. She ended off with how startups can partner with Leave a Nest Singapore as well as Mizuho and Japan Exchange Group (JPX) in order to lower the risk when going into Japan.
Presentation by Mr. Takuhiko Tochiori, Executive Officer and Deputy Head of Asia & Oceania, Mizuho Bank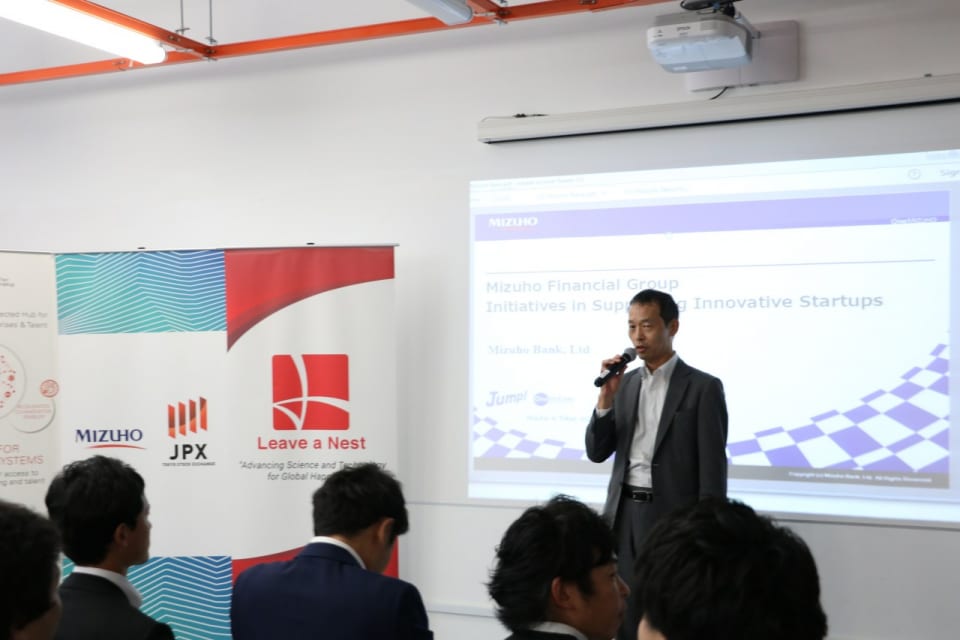 Starting off with the next session, we had Mr. Tochiori talk about the venture support from Mizuho Bank to help startups that are looking into the Japanese market. He introduced the audience to Mizuho Bank, followed by the operations worldwide with the supporting system in Japan by the Mizuho Financial Group. Mr. Tochiori presented M's salon, a membership service that offers matching of business partnerships and finance, giving the audiences more knowledge into how they can partner with Mizuho bank as well as the support trial for Asian startups.
Presentation by Mr. Yoichiro Hama, Deputy General Manager of IPO Department, Mizuho Securities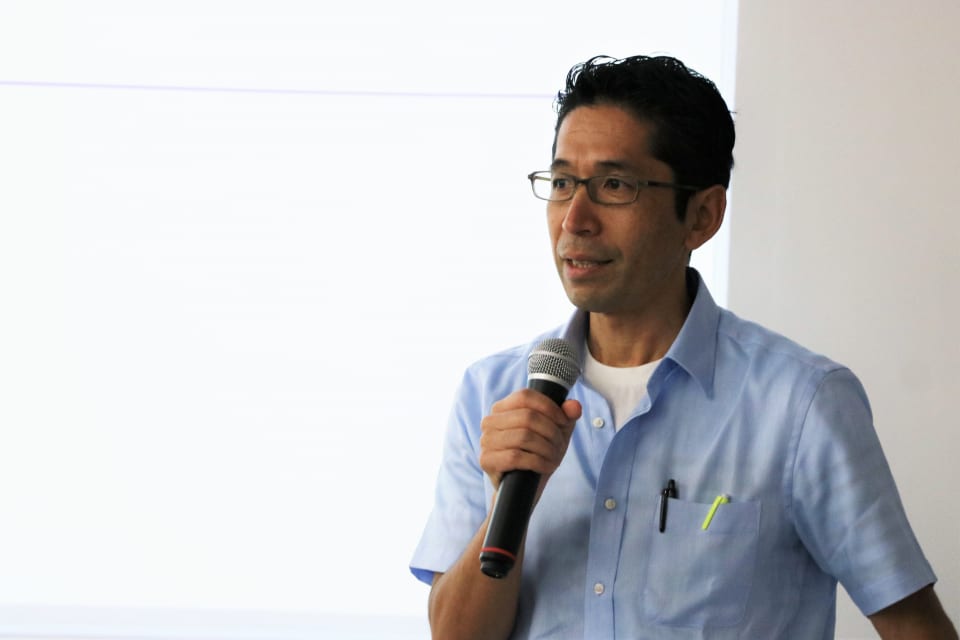 Mr. Hama explained how Mizuho Securities have the network and system to support startups. With a #1 stock exchange in Asia by market capitalization as well as high liquidity with investor base, Mizuho Securities showed the attractiveness of the Tokyo Stock Exchange. Explaining how Mizuho Securities can contribute in supporting the startups as well as the strength in engaging Mizuho Securities as compared to other Japanese banks and corporations, Mr. Hama was able to put across the different aids startups can receive if they enter the Japan market.
Presentation by Mr. Yoriyuki Sugiyama, General Manager and Chief Representative, JPX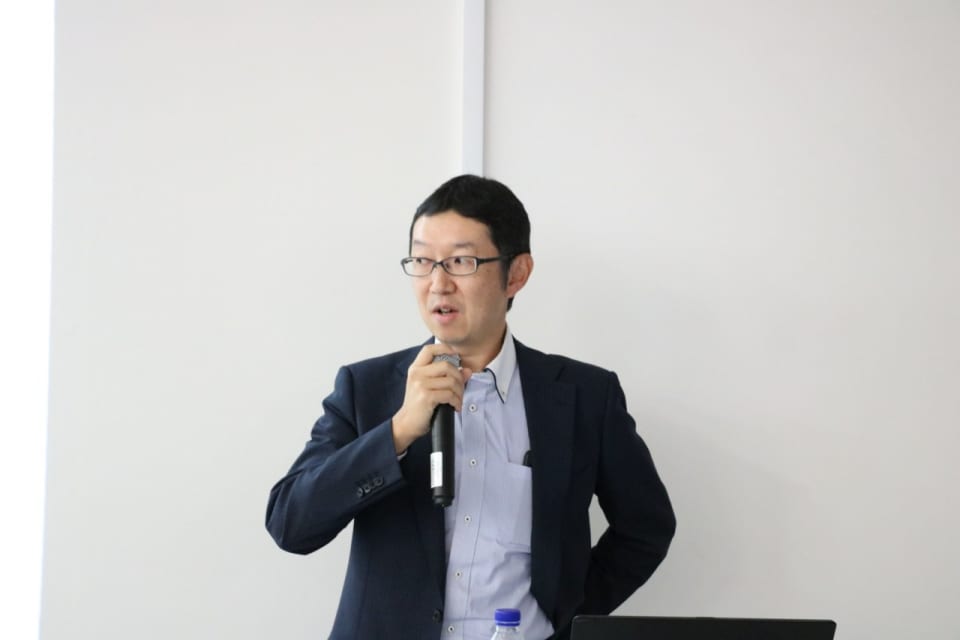 Mr. Sugiyama-san described how startups can get listed on Tokyo Stock Exchange and the merits. As Tokyo Stock Exchange is the world third largest and Asia largest exchange by the market capitalization, it attracts companies worldwide to list in Japan. He also shows the IPOs in Japan by the markets & sectors, stock trading value by investor category, comparison of emerging enterprise markets, and more. These valuable information are extremely beneficial in helping startups understand the pros of listing in the Japan market.
Presentation by Mr. Satoshi Washiya, Chief Operating Officer, Autonomous Control Systems Laboratory (ACSL)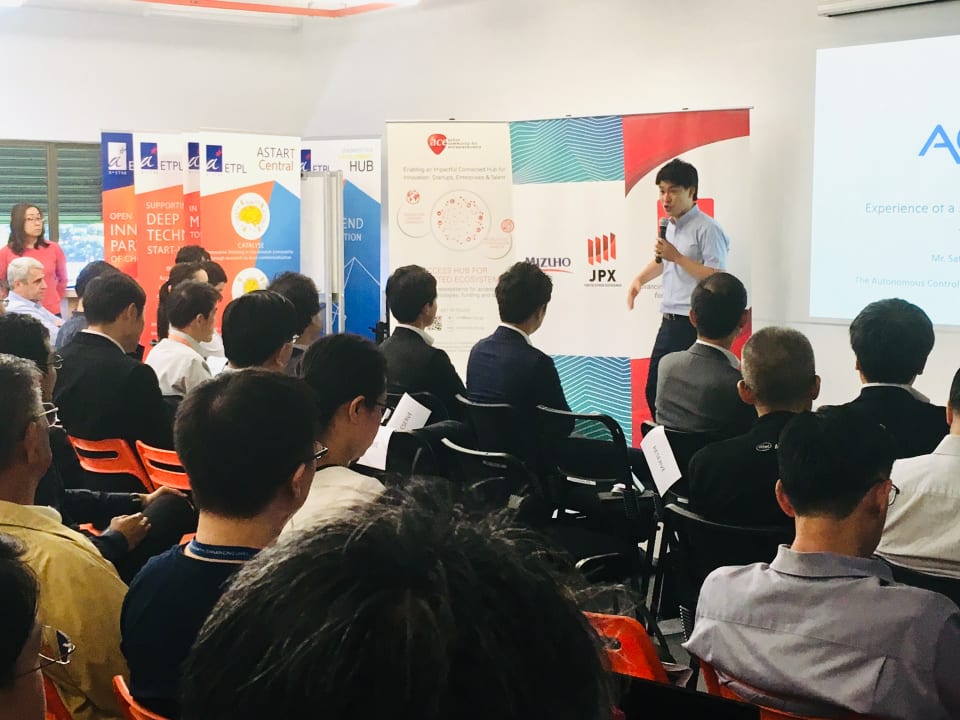 Our last speaker of the day, Mr. Washiya talked about his experience as a startup that succeeded in Japan. ACSL provides a fully unmanned drone systems for industrial applications. It IPO-ed in December 2018 with a value of 21.8 million USD and has since grown tremendously. In this session, besides introducing about his company, Mr. Washiya had also given his experience working with Mizuho and JPX as an example to how both corporates can help Singapore startups to get into the Japan markets and succeed.
The Japan Market Insights was an enriching time for everyone involved and this would not have been possible without the support from our partners Mizuho Bank, Mizuho Securities, and JPX; our start-up speaker ACSL; our co-organizers A*ccelerate and ACE; and last but not least, all of the audiences.
Coming Up
We will be having another session of Japan Market Insights 2 on the 26thAugust 2019 (Monday). More details will be shared soon. Should you be interest, do sign up here.
Additionally, if you are interested in more of Leave a Nest Singapore activity, I would like to invite you to sign up as an observer to our TECH PLANTER Singapore program here.
Information on TECH PLANTER in Singapore
TECH PLANTER in Singapore is Leave a Nest's international seed acceleration program for STEM (Science, Technology, Engineering, Maths) start-ups who have the desire to bridge into the Japanese market. This free participation program has been running in Singapore since 2014, where we set up a series of meetings with the top management from Japanese MNCs.
Researchers and start-ups can showcase their developments to Japanese conglomerates for research collaborations, licensing and strategic partnerships etc. Participants will pitch their technologies to our Japanese partners through the TECH PLANTER Singapore program. 
[DEMO DAY]
3rd August 2019 (Saturday)
[Schedule] (Registration starts from 12 noon)
13:00 hrs – 18:30 hrs        Pitching
18:30 hrs – 19:30 hrs        Networking
[Venue]
Platform E (SIM Management House)
41 Namly Ave, Singapore 267616
[Fee]
Free for start-ups to watch. Please register by 24thJuly 2019.
*For corporates, please drop us an email at: [email protected] and  [email protected]