Commencement of Day 1 of Online Workshops – Enter to Japan Market Prog- Batch 3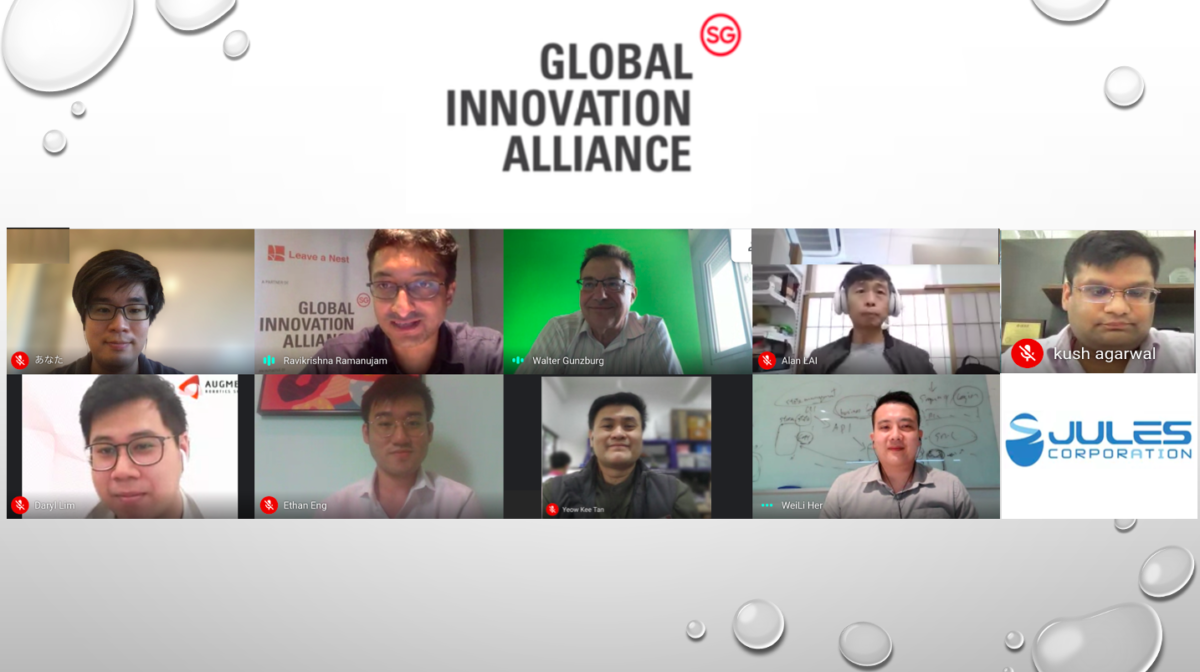 Workshops (Day 01)
After the successful completion of Batch 1 , Batch 2 of the Global Innovation Alliance -Enter to Japan Market Prog last year, we are now happy to announce that workshops for  Batch 3 is now underway. The program is being conducted completely online.
The program  was conceived by LVNS in partnership with Enterprise Singapore (ESG) & Economic Development Board, Singapore (EDB), under the umbrella of the Global Innovation Alliance (GIA) acceleration program towards bringing Singapore based startups to Japan.
Program Overview

Workshop Contents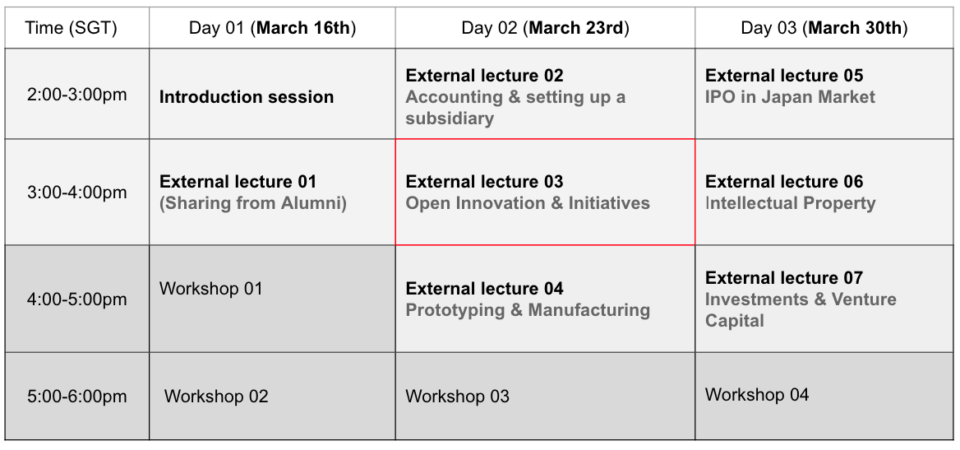 Day 01, March 05th
Day 1 of the workshop, started with an introduction to the GIA program and brief self introductions.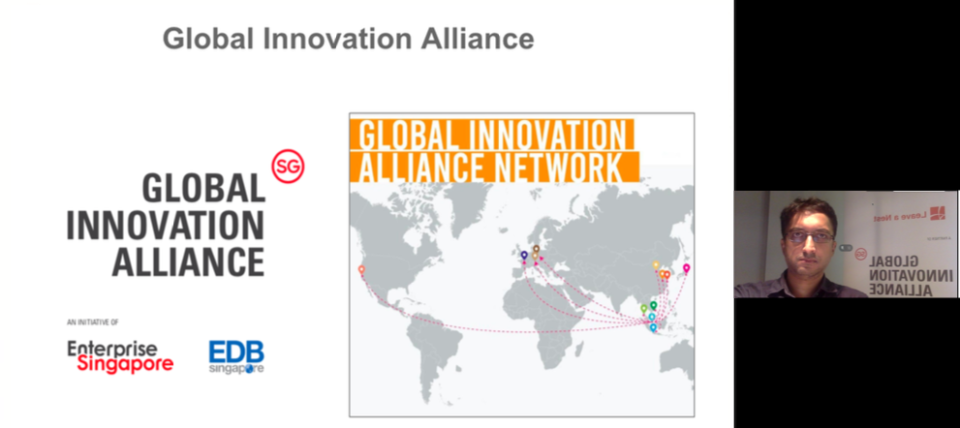 Sharing by Alumni
Dr Kush Agarwal, Founder and CEO of WaveScan Technologies ( Alumni of Batch 1), shared his experiences during his visit to Japan as part of Batch 1. He shared insights and his personal experiences on challenges deep tech startups face trying to engage with Japanese corporates as well as tips on how to prepare for some and navigate others. He also shared about his journey so far, post batch 1, including his experiences during his recent fund raise. Incidentally,  the success that WaveScan achieved through the GIA Japan program, including investment by Leave a nest, post GIA program, was highlighted by DPM Heng, during his recent Budget speech  2021.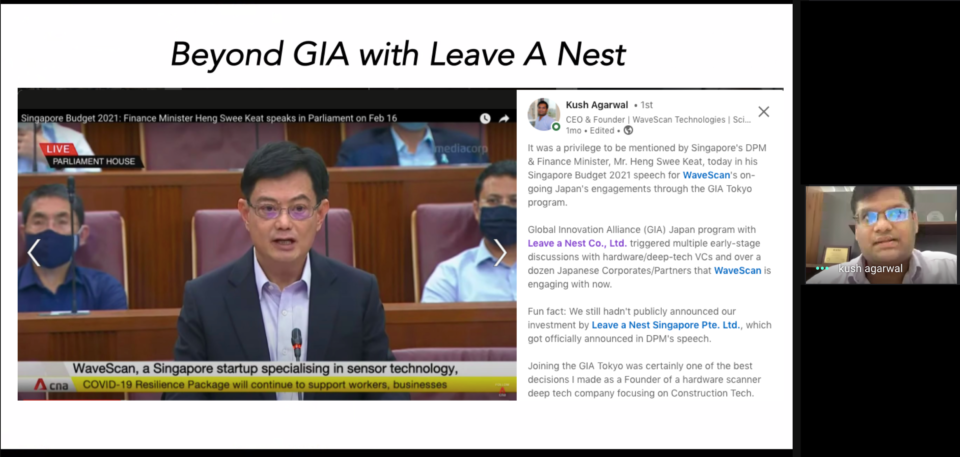 Next Prof Walter, Founder and CTO of Austrianova ( Alumni of Batch 2), also shared his experiences about Japan ecosystem, current challenges as a startup with technological applications in Med/ Bio/ Agri/ Food tech. He also shared his insights, importance of cross-border collaborations, compared and contrasted about the mindset of corporates in different parts of the world. During this session, the discussions also touched on the possible avenues for inter- as well intra- cohort collaborations (among the cohort, leveraging on each others expertise, strengths and experiences).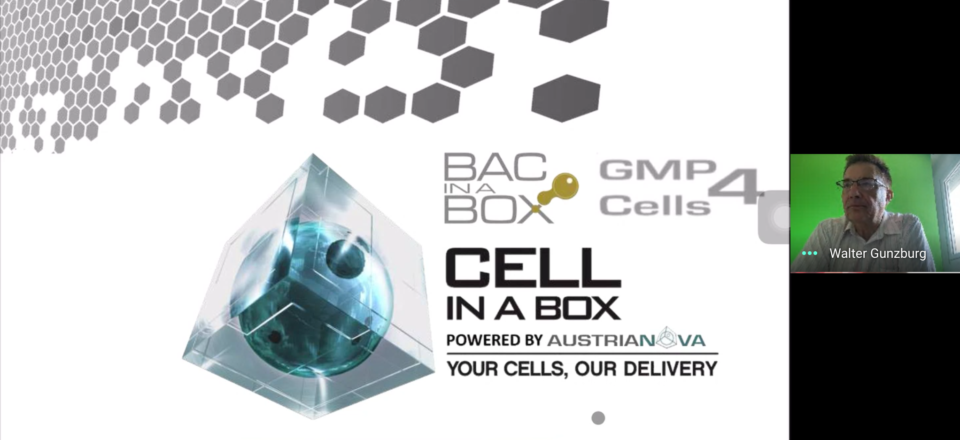 All in all it was very interactive session and provided a great start to the event. Leave a Nest is looking forward to working with the batch 3 startups towards supporting them achieve their missions in Japan.
For more information on deep tech startups participating in batch 3 please click here
For more information about the program and feedback from our batch 2 alumni please click here
Register your interest for ESG-Batch 4 here
For additional information or enquiries :
Please write to [email protected]
(Attention Ravi or Michael)