[Announcement]- Applications are now open for Batch 3 – " Enter to Japan Market Prog"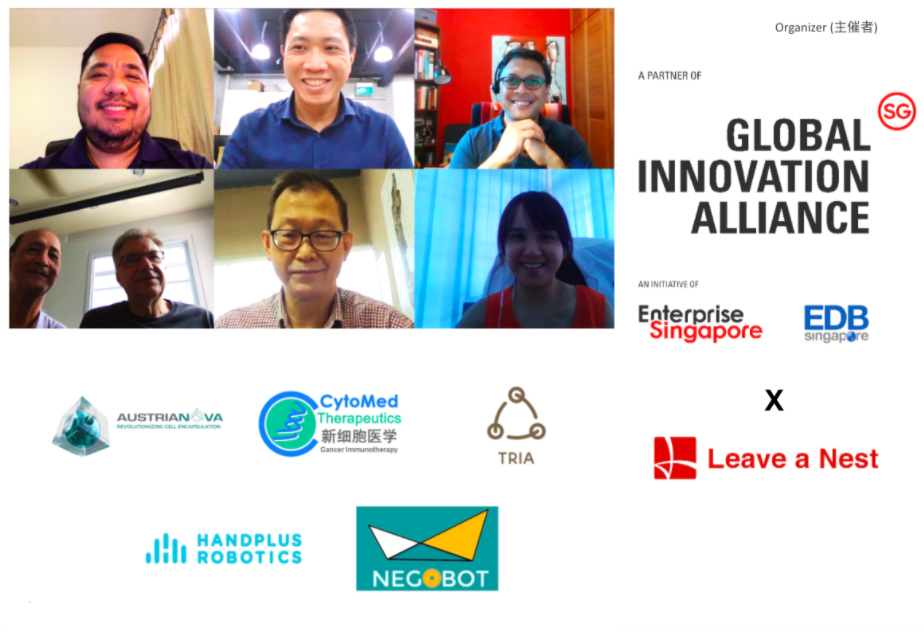 Applications are now open for Batch 3 participants:
After the successful completion of Batch 2  of the "Enter to Japan Market" program we are now calling for applications for batch 3 . Due the prevailing COVID situation, the current batch will again be held completely online.
This program  was conceived by Leave a Nest (LAN) in partnership with Enterprise Singapore (ESG) & Economic Development Board, Singapore (EDB), under the umbrella of the Global Innovation Alliance (GIA) acceleration program.
CLICK here to APPLY for BATCH 3
Application deadline is the 26th of Feb 2021 ; 23:59 hrs
---
Batch 3 online prog overview: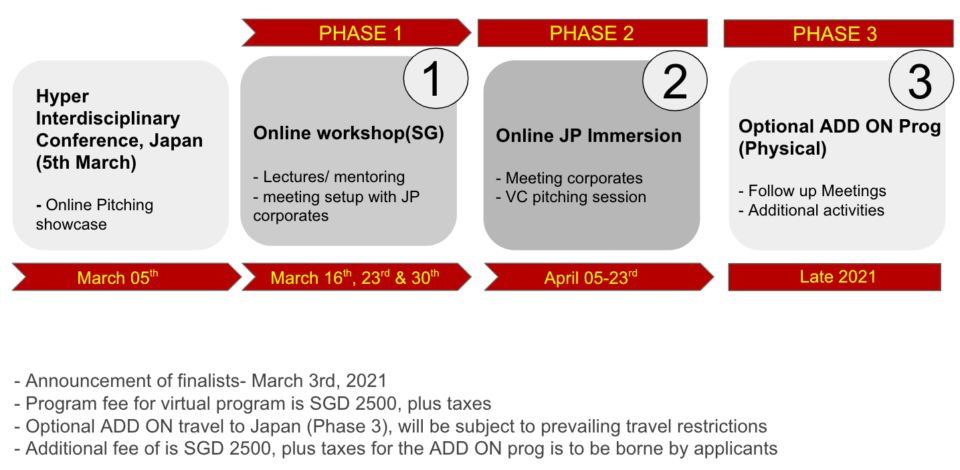 ---
Key dates:
| | |
| --- | --- |
| Application deadline | February 26th |
| Announcement of finalists | March 03rd |
| Online Pitching session (Hyper Interdisciplinary Conf, Japan) | March 05th  |
| Online workshop Day 1 | March 16th |
| Online workshop Day 2 | March 23rd |
| Online workshop Day 3 | March 30th |
| Online Japan Immersion  | April 05th-23rd |
---
Eligibility:
Up to 6 startups will be selected for Batch-3
Singaporean startups with minimum 30% or greater shareholding from Singaporean or PR are eligible to apply.
Program Fees:
Program Fee of SGD 2500+ 7% GST (fully online program, phase 1 & 2)
Optional ADD ON Prog (Phase 3) is subject to additional fee of SGD 2500 + 7% GST & subject to prevailing travel restrictions
---
Additional news links and information about Batch 2:
---
Feedback about the Program from startups
1. Austrianova Pte Ltd:
This has been a unique opportunity for Austrianova and the other participants of the "Enter to Japan" programme. With the guidance, support and help of "Leave a Nest" and "Enterprise Singapore", new contacts and conversations with leading Japanese investors and partners/customers, that are usually not accessible to non-Japanese companies, have been made. The support we have had has helped in facilitating communication, as well as in gaining a greater understanding of the Japanese market, that has been invaluable, not only for our current business but also for our future interactions with Japan.
2. CytoMed Therapeutics Pte Ltd:
 The program introduces and connects collaborators locally and internationally, playing a role as a mega venue by helping to forge strategic alliances, especially for SMEs like us that often face challenges with market access. Through this unique platform, ideas exchanged have provided us with useful insight on IPO option, clinical trial plan, and ultimately helps to shape our future business plan.
3. Handplus Robotics Pte Ltd:
Kudos to the Leave A Nest team for a job well done on this Enterprise Singapore GIA Enter Japan Market (Batch 2) program! The talks and sharing provided useful information on how to do business in Japan. The mentoring sessions gave us the much-needed push to improve our business plan and pitch. And as for the company meetings — we really appreciate the hard work to connect us to as many potential partners and investors in such a short period of time despite the limitations imposed by the pandemic! The meetings were specially arranged to ensure meaningful connection between us and the Japanese companies. The whole program has given impetus to our plan to explore overseas markets, especially Japan. The program was thoughtful, well planned, and perfectly executed. We hope to be able to go on an immersion week in Japan once travel situation has improved. This program is highly recommended to any start-ups looking to make inroads to the Japanese market and companies!
4. TRIA Pte Ltd:
 The Japan Immersion Program has worked great for us. We have been linked to a number of Japanese corporates and active discussions are ongoing. This is a rare opportunity considering the language barrier and high bars to work with Japanese corporates. We enjoyed first hand advice from the Leave a nest consultants who not only provided translation, but also insights, business and investment advice. The integration of these expertise allowed us to sync and above all, hit the road running. We will gladly work with Leave a nest again on the next opportunity.
5. Negobot Pte Ltd:
Leave-a-Nest provided us at Negobot, a very structured, focused and practical program to help us penetrate the Japan market. Right from setting the context and expectations of the program very clearly, to the very customised care and attention Michael paid Negobot – to help us sharpen our value proposition – it was super helpful for an early-stage startup like us. The best part of course, was the very productive meetings we had with potential customers and investors, that got us great feedback, and gave us confidence in the viability of our solution. Thank you Leave-a-Nest!
---
For more info about the prog contact:
Ravi or Michael @ [email protected]
---
CLICK here to APPLY for BATCH 3