Dr. Kihoko Tokue will be giving a career seminar at her Alma Mater, Rikkyo University (立教大学) on 22 Jan. 2022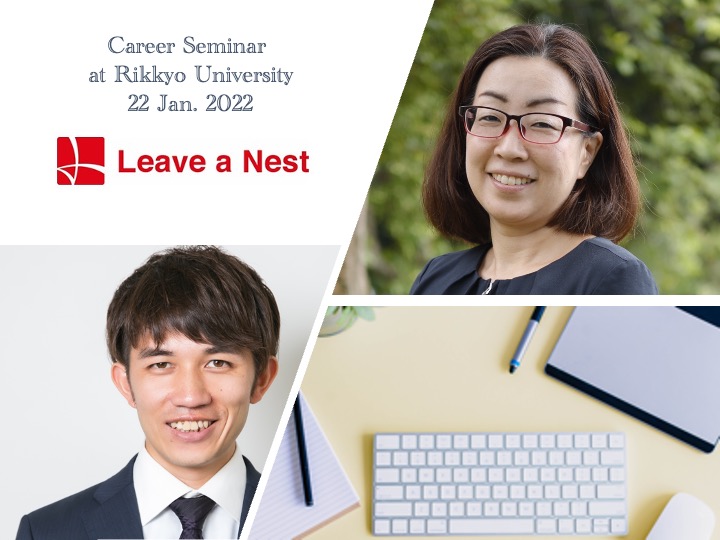 Leave a Nest Group was originally founded in Japan in 2002 by the scientists in Tokyo, Japan to solve issues with the power of Science and Technology. Since then it has expanded its business to the US, Singapore, Malaysia, UK and the Philippines.
On 22 Jan. 2022, Dr. Kihoko Tokue (picture upper right) and Dr. Takumi Jindo (picture lower left) will be giving a career design presentation at Rikkyo University. This is a closed session catered to 3rd year bachelor students who are studying to become Science teachers. 
On the day she will be sharing about the Leave a Nest group, her career so far and how researchers have various ways to contribute back to society. She graduated from Rikkyo University in 2011 and started working at Leave a Nest Co., Ltd. in the Human Resource Development Division until she moved to the Global Development Division in 2012.
Leave a Nest's mission is to bring "Advancing Science and Technology for Global Happiness" Our pillar covers, education, research support, training and startup support to bring solutions into society. Dr. Tokue co-founded Leave a Nest Malaysia in 2013 and has been working in Singapore since the end of 2016. 
Leave a Nest group is hiring all year around so we can grow together with you. If you are keen to explore opportunities in the tough yet exciting journey of building startups with our local members, come join us.
We are open to give such career design talks to share and aim to inspire next generation leaders from ASIA for career designs (development), how researchers can benefit from having an entrepreneurial mindset etc.
Upcoming free career seminars with pre-registrations