Calling for Schools to participate in Tsunagu Research Project 2023!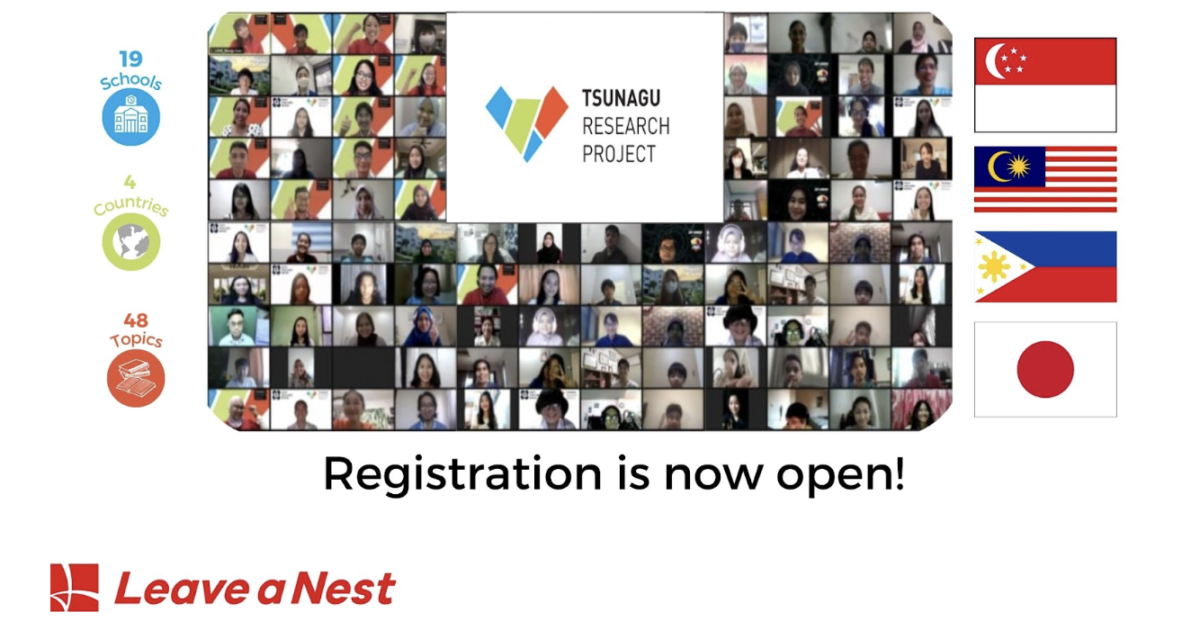 Leave a Nest Group is calling on schools in Singapore, Malaysia, Philippines and Japan to participate in the upcoming Tsunagu research project. This is an international research initiative for students where students will come together across 4 countries to present their science project and research
The Tsunagu research project is open to all Secondary school/High school students and aims to promote interest in scientific inquiry and research, while also providing an opportunity for students to develop their problem-solving skills.
The Tsunagu research project will provide students with a unique opportunity to apply their scientific knowledge and skills. Students will be tasked with developing a research project or experiment that addresses a real-life problem in their community or the world at large. Teams will then present their findings and results during the interim presentations and final presentation day 
We believe that the Tsunagu research project is a great way for students to develop their critical thinking, research, and presentation skills. We would encourage you and other schools in the area to participate in this exciting opportunity and showcase their students' interesting ideas and scientific discoveries
Interested schools can register their teams for the Tsunagu research project by 30th May. For more information about the Tsunagu Research Project and how to participate, please visit https://tsunagu.lne.st/ or with the information provided below
Details about TSUNAGU Research Project
Group size: 3-6 students per group (Multiple groups are welcomed)
Research Theme: Food or water
Key Dates
Duration of project: June ~ October 2023
9th June 2023 : Tsunagu Kick off event  (Online)
30th June 2023: 1st interim presentation (Online)
8th September 2023: 2nd interim presentation (Online)
21st – 22nd October 2023: Final Presentation at Science Castle ASIA (Hybrid event* in Kuala Lumpur, Malaysia Venue: TBC)
Flexible project mentoring sessions for students in between June ~ October to guide them in their experiment and presentation
*Travel arrangements has to be arranged and paid by the participating school in the instance where schools decide to travel