Thank You For Making GREAT TEACHER SEMINAR 2020 A Success!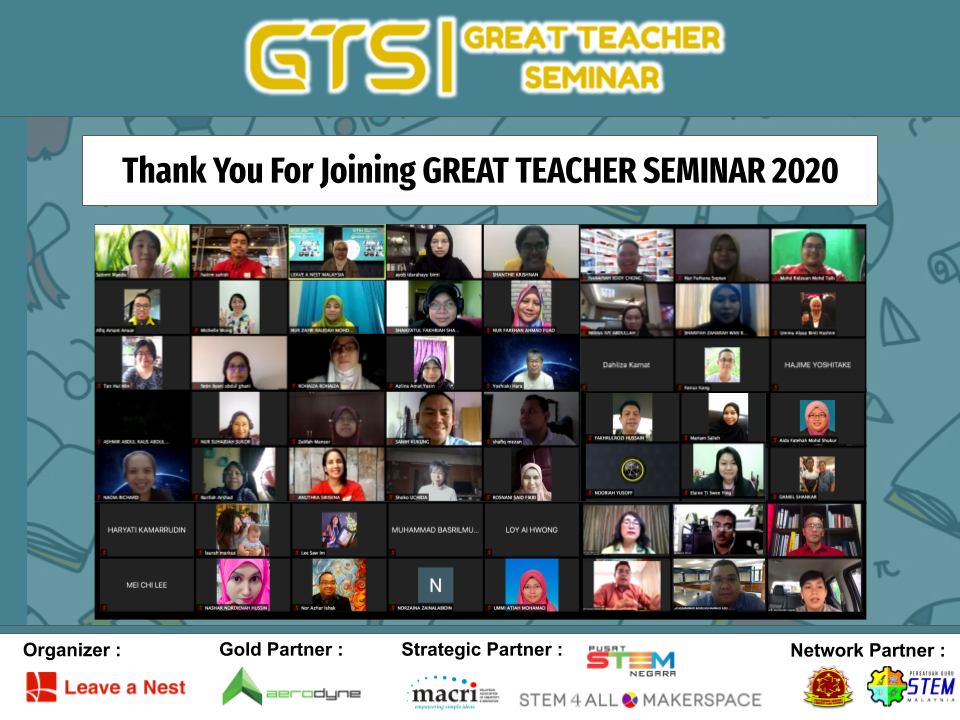 On 21st November 2020, Leave a Nest Malaysia Sdn Bhd hosted GREAT TEACHER SEMINAR 2020. GREAT TEACHER SEMINAR aims to equip teachers and parents with the right mindset and knowledge to enhance their teaching skills in educating the young generation.
This event was conducted online using Zoom Webinar with the strong support of Aerodyne Group as Gold Partner, National STEM Centre, Malaysian Association of Creativity and Innovation (MACRI), and STEM 4 All Makerspace as Strategic Partner, and Malaysia STEM Teacher Association and Persatuan Sahabat Pendidik Islam Selangor (PENSEL) as Network Partner.

Panel Discussion 1 : The Importance Of STEM Education For Future Career. This session was joined by Dr. Ihsan Ismail (Head of National STEM Center), Dr. Othman Talib (Faculty of Education, Universiti Putra Malaysia) and Mr. Kamarulazman Muhamed (Founder and Group CEO, Aerodyne Group). Session Moderator, Ms. Idarahayu Ayob (Director, Leave a Nest Malaysia Sdn. Bhd.)


Panel Discussion 2 : The Roles Of Companies And Organisations In Supporting STEM Activities.This session was joined by Mrs. Lee Saw Im (Vice President, STEM Teacher Association), Ts. Darween Reza Sabri (Founder & CEO, MyCRO Sdn. Bhd.) and Mr. Ramesh Pillai (Honorary Secretary, MACRI.). Session Moderator, Mr. Abdul Hakim Sahidi (Managing Director, Leave a Nest Malaysia Sdn. Bhd.)

In this GREAT TEACHER SEMINAR 2020, a total of 92 teachers, future educators and parents from various schools all over Malaysia, Japan and Singapore have joined as participants. This is the biggest GREAT TEACHER SEMINAR ever to be hosted by Leave a Nest Malaysia since the event was introduced in 2018.


EduTech Startups from ASEAN countries shared about their products and services.


Assoc. Prof. Ts. Dr. Mohamad Sattar Rasul, Chairman, STEM Enculturation Research Centre, UKM shared about Integrated STEM to the audience in Workshop 1.


Dr. Satomi Maeda shared about Waku-Waku research conducted by Leave a Nest Education Research Center, Japan in Workshop 2.

We would like to take this opportunity to thank all participants, partners, panelists and speakers for supporting this event. Without your support, this event would not have been successful.
Here are some feedback from the participants on GREAT TEACHER SEMINAR 2020 :
"All about STEM and to open my eyes about how wide and enjoy to do the STEM."
Samih Bin Kukung
SK Sungai Bedaun WP Labuan
"Relevant to current context and speakers really inspire us to generate some new ideas in making lessons more interesting."
Tan Hui Min
SMK Methodist ACS Ipoh
We hope teachers, future educators and parents will be inspired to continue nurturing our future science and technology leaders so that they can adapt with future challenges. Leave a Nest Malaysia would like to invite collaboration and participation from all parties including government, private sectors, NGOs, schools, teachers and parents to enhance STEM education in Malaysia and ASEAN region.
Next, Leave a Nest Malaysia will conduct the 3rd Hyper-Interdisciplinary Conference in Malaysia 2021 on 16th January 2021. To know details about this program, please refer to our HIC MY 2021 website at this link: https://hiconf.lne.st/conference/malaysia2021/
Our past Hyper Interdisciplinary Conference in Malaysia 2020: https://global.lne.st/news/my/2020/01/21/hicmy2020-a-success/
For enquiries,please contact [email protected]